Welcome to the BarkPost guide to dog breeds where we belly flop straight into the depths of dog breed origin, evolution, and purpose. Follow along each week as we publish new guides that highlight the strangest, most interesting, and most surprising stuff about these creatures who have been our best buds the last 30,000 years.
Intro / Overview
(All dogs are individuals, which means any single dog from any breed can be any number of ways, both good and not so good. Keep that in mind as we discuss breed generalities!)
Ain't nothing like a hound dog. Well, maybe that's not how the song goes. But when it comes to Basset Hounds, it's the truth. This sad-eyed, long-eared, short-legged breed has been howling for our hearts for centuries, and we still can't get enough.
Basset Hounds hold the record for longest dog ears. And the sniffing power of their big, wet boopable noses are second only to the Bloodhound, hosting 20 million scent receptors (humans have a totally lame 5 million). Needless to say, they love to track, but that's not all.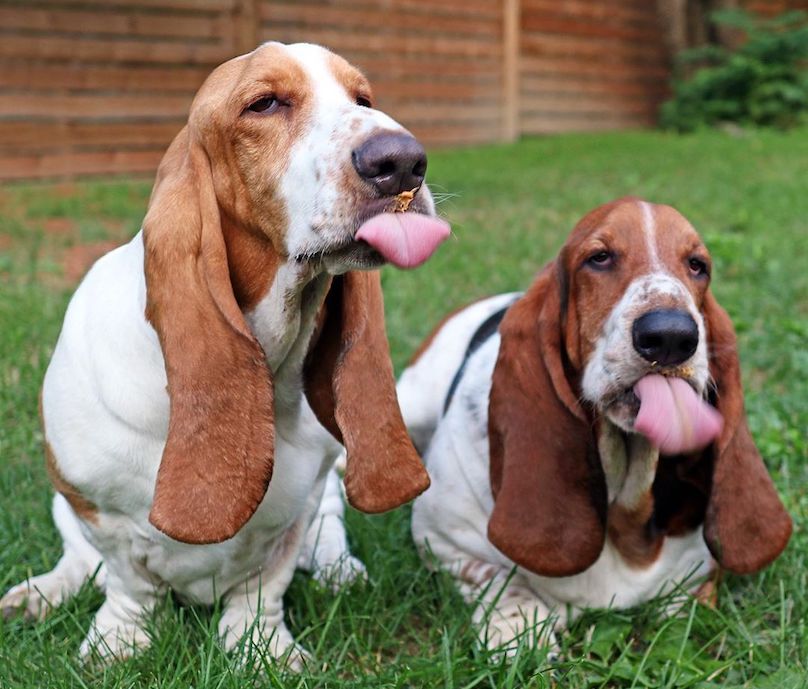 Bassets are always up for adventure, with a playful, energetic spirit. They also make great companions, happy to lounge around, and are very tolerant and sweet with kids.
While they can be notoriously stubborn when it comes to training, Bassets respond well to firm and positive repetition, and make a great addition to almost any pack, as they get along with just about anyone and anything. If you're looking for a dog that loves to play, relax, and just be adorable, this may be the breed for you.
Also Known As…
Basset. Hush Puppy. "Holy moly, that dog's skin is dripping of his body!" "Yeah! Pretty adorable, huh?"
Origins
The Basset Hound is one of many strains of hound originating from France, and, along with the Bloodhound, descended from the sixth-century hounds of St. Hubert of Belgium, the patron saint of the hunt.
A mutation of the breed led to the short legs and long backs of the Basset. Short but with very dense bones (supported by those big beautiful paws), Basset Hounds were found to be very useful hunting hares. Those little legs bring their tracking nose closer to the ground while their long ears help kick up the scent along the trail, keeping them alert and interested in the hunt. Their small stature also helped walking hunters keep up with them.
Around the 1950's, Basset Hounds started showing up all over America, becoming a cultural icon that still resonates today.
Size
12-15 inches tall for males; 11-14 inches tall for females.
Weight Range
50-65 pounds for males; 45-60 pounds for females.
Personality
Playful, friendly, energetic and also stubborn! The Basset Hound really has something for everyone. They love to play (especially games that involve using their nose!), but do not require very much exertion on our part due to their little legs not being able to carry them very fast. They're also down for relaxation and cuddle time and can make friends with anyone.
Bassets will let their nose lead them, and when they're tracking a scent, you may not even exist to them. Therefore, they sometimes require a lot of patience and positive, but firm, reinforcement in order to listen when they may not want or care to.
Intelligence / Trainability
When it comes to training, Bassets are smart yet stubborn, and are agreeable unless, well, they don't want to be. Then they'll simply give you those big sad eyes to say: "Sorry, but no."
Start training during puppyhood if possible. Finding creative ways to keep them interested and attentive will be your biggest challenge, but incorporating their desire to track and hunt into your training regimen is a good way to help them excel.
Ideal Environment
While they are generally happiest indoors with their family, the urge to hunt remains strong in Basset Hounds, therefore you'll want to make sure they are safely confined when outdoors or they will go off hunting on their own. They are excellent trackers and will continue to follow a scent, even if they get lost.
A yard is not mandatory, as a good long walk daily should suffice in keeping their minds active and their bodies in shape. But Bassets do love to play, so indoor and outdoor toys will go a long way to keep them from barking (and digging) out of boredom.
Good For Families And Kids?
Heck yes! Bassets are notorious for their kid-friendly, lovable, group mentality. In other words, they want to be part of the pack! Don't leave them out of the family fun or you will surely hear them howling to join in.
They're happiest when included in a group, and have a wonderful laid-back tolerance with kids. Of course, this good-natured breed should not be taken advantage of, and should always be treated gently and respectably. Care should be taken not to strain a Basset's back.
Average Lifespan
The average life expectancy for Basset Hounds is 10–12 years.
Health
Some of the physical features that make Bassets so adorable can also, unfortunately, be problem areas health-wise. A combination of the anatomical shape of their ears, which do not let in air, and an allergic response to environment or food set the stage for secondary yeast infections. The areas beneath those droopy, dreamy eyes as well as in the folds of their skin are also prone to infection. They can also develop Trichoepithelioma—a benign tumor stemming from the hair follicle.
Bassets have a tendency to overeat (don't we all?) and maintaining a healthy diet can help avoid serious yet common problems including bone and joint injuries, Gastric Dilatation Volvulus (bloat), and paralysis.
Energy
Don't let their good-natured, laid back look fool you. Basset Hounds are known to be playful and outgoing, not to mention very vocal. They like a lazy afternoon, sure, but if they get bored, they'll be sure to let you know.
Friendly With…(Dogs? Strangers? Cats/Other Pets?)
Due in part to their history of hunting in packs, Basset Hounds are renowned for being easy-going, if not friendly to all. Have another dog? A couple cats? Some strangers lurking around? The Basset Hound will most likely welcome them all with a howl. So, great greeters, but maybe not the best guard dogs.
Coat & Grooming
Bassets have a short, tight coat that is easy to maintain with a quick brushing once or twice a week. While all dogs have naturally oily coats, the oil in the Basset Hound's coat has a distinctive "hound scent", which is natural to the breed.
Due to their low stature and large feet, Bassets are prone to track mud and dirt in from outside, so bath time may be more frequent than with other breeds.
It is very important to keep those long ears clean as well as the wrinkles around their mouths which tend to trap drool which can lead to skin issues.
Toys Bassett Hounds Would Like Best
Bassets love to play and can be known to play rough when it comes to Dog Toys. They also enjoy doing what they were bred to do, hunt and track, which means tough toys that incorporate using their sense of smell are sure to be a hit. The Shuck n' Chuck Corn Cob is a durable Puzzle Toy by BARK will give your Basset something to hunt, sniff, and chew, all in one! Hide treats inside the tough, rubber cob and watch your Basset tease them out. Also features a ballistic nylon rope and crinkle-filled husk.
Looking for a more extensive list? Check out the following post:What Are The Best Toys For Basset Hounds?
Recommended Diet Or Supplements
Feeding your Basset (or any dog) the freshest whole food diet you can afford (trying to eliminate fillers, grains, or inflammatory proteins such as chicken), will go a long way to stave off any allergic skin conditions that can lead to infections, as well as keep them at a healthy weight so as not to put strain on their backs or encourage bloat.
Coconut oil and locally-sourced, season-appropriate honey can also help to prevent those common yeast or bacterial infections of the ear which are usually secondary to allergic seasonal atopy, atopic dermatitis or cutaneous adverse food reactions
Available in liquid form or soft gels, Nordic Naturals award-winning Omega-3 Pet formulas are made exclusively from sustainably-sourced sardines and anchovies. Giving your Basset the daily serving of omega-3 EPA+DHA they need to live active, happy lives. Omega-3 Pet does not contain rosemary oil, or flavorings, in order to ensure the safety of your pets.
Vetri Disc is designed exclusively to support connective tissues associated with the spine, which can help support those long beautiful Basset backs. This unique formuation combines bovine tracheal cartilage with amino acids, mineral sulfates, vitamins, pepsin, and natural silicon sources – all necessary for the support and maintenance of connective tissue
BARK's Full Spectrum Hemp Oil is made of organically grown whole plants, grown in Colorado, and is non-psychoactive. It comes in 100mg, 250mg, and 500mg varieties, and can help with pet anxiety and pain relief. ($17.99-22.99.)
This joint supplement is veterinarian-formulated, made with all natural ingredients (glucosamine, MSM, chondroitin, and hyaluronic acid), and comes in the form of 150 soft chews. Basically, it looks and tastes just like delicious treats, and it could really help your Basset with their hip and joint issues. ($32.99.)
Recommended Products
For older Bassets or ones suffering from arthritis or hip dysplasia (or just any dog that enjoys lying down!), a comfortable, supportive dog bed is probably a good idea.
This dog bed is great for supporting your pup's tired body. A high quality combination of ergonomic memory foam and gel foam helps ease body aches, joint pain, hip dysplasia and arthritis. This bed offers the best therapeutic support for your hardworking pal. ($27.99-64.99.)
Notable Rescues To Find The Basset Hound Of Your Dreams
Popular as ever, there are many Basset Hound rescues across the country. Here are a few notable groups:
Notable Instagram Basset Hounds
Dean is a ridiculously adorable Canadian Basset Hound with the droopiest (i.e., most beautiful) looking Hound body you've ever seen! Enjoy
Follow Olive's many outdoor adventures in beautiful Colorado. Whether it's sun or snow, this adorable Basset is ready to follow her nose to fun!
Baxter encompasses all of the wonderful traits of Bassets. He's cheerful, vocal, stubborn, friendly, and loyal. See for yourself!
This blind puppy mill rescue has a heart of gold and a stomach full of stolen toast. Follow this beautiful Basset for some sweet mischief.
***Looking for a gift to blow your Basset Hound's mind? Spoil them with BarkBox! Every month BarkBox delivers 2 original toys, designed in-house, 2 full bags of all-natural treats, and a chew. Sign up here and receive a free extra toy every month. <– This deal is worth up to $120 in value if you sign up for a 12-month subscription! 🙂
Featured image via DeanTheBasset/Instagram
Want More Helpful Breed Guides Like This?
What Are The Best Toys For Basset Hounds?
Black And Tan Coonhound Breed Information Guide
Jack Russell Terrier Breed Information Guide
Great Dane Breed Information Guide
Golden Retriever Breed Information Guide
Border Collie Breed Information Guide