Welcome to the BarkPost guide to dog breeds where we belly flop straight into the depths of dog breed origin, evolution, and purpose. Follow along each week as we publish new guides that highlight the strangest, most interesting, and most surprising stuff about these creatures who have been our best buds the last 30,000 years.
Intro / Overview
(All dogs are individuals, which means any single dog from any breed can be any number of ways, both good and not so good. Keep that in mind as we discuss breed generalities!)
The Cairn Terrier is a small working terrier that originated in Scotland. Used for hunting small prey and vermin, Cairn Terriers are known for their bravery, intelligence, and determination. Despite their feisty streak, these shaggy-coated companions also make great family dogs. They're fun, endlessly entertaining, and love to play. This breed also excels in obedience and agility classes.
Like most terriers, Cairn Terriers need moderate to high levels of exercise, as well as plenty of physical and mental challenges. Without the right routine, these alert and courageous pups could dig their way out of your backyard, terrorize the neighbor's cat, or bark into all hours of the night. If you're looking for an alert, independent, and sprightly dog, this little bundle of energy might be the right dog for you.
Also Known As…
Toto. Little pal. Zoomie. "Wait, Cairn Terriers are real? I thought they were fantastical creatures from Oz!"
Origins
Cairn Terriers originated in Scotland on the Isle of Skye during the 16th century. These terriers were bred to be small but mighty, as their original purpose was to hunt and chase small animals in the rugged Scottish highlands. These animals included mice, rats, foxes, badgers, otters, and other furry creatures that lived in the cairns (a.k.a. small dens in the rocky cliffs).
Originally named Short-haired Skye Terriers, this breed's name was changed to "Cairn" in the early 1900s. In 1912, Cairn Terriers were recognized by the Kennel Club of the UK. After becoming famous in "The Wizard of Oz" and on the "I Love Lucy" show, Cairn Terriers became more of a household name. Now, they're primarily used as companion dogs, although it's still very common to see them hunting rats or hiking with their humans in the Scottish countryside.
Size
10 inches (male), 9.5 inches (female).
Weight Range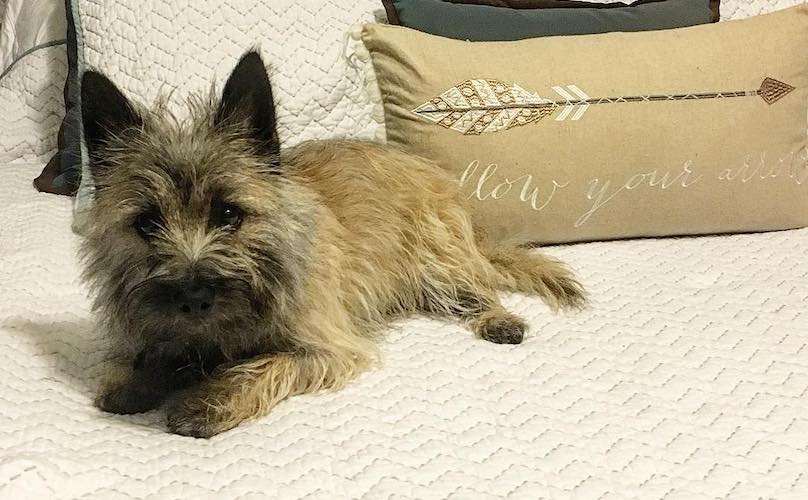 14 pounds (male), 13 pounds (female).
Personality
"Fearless" might be the best word to sum up a Cairn Terrier. As these little dogs used to leap over stones and cairns on steep cliffs in Scotland to track prey, they'll tackle about any task you give them. In fact, this busy breed often has a hard time sitting still.
With the right exercise and training though, Cairn Terriers often make wonderful, loving companions. They tend to excel with structured tasks, whether that be working on obedience skills, jumping over hurdles on an agility course, or joining you for a 10K walkathon. While they can be stubborn and strong-willed, an experienced human should find the world's best friend in the form of this little dog.
Intelligence / Trainability
Cairn Terriers are smart as a whip and often exhibit great natural instincts and problem-solving skills. Like most terriers, they also respond well to positive behavior reinforcement training. That said, due to their independent nature, this breed can be difficult for a novice human to control.
Most professionals recommend not only showing your Cairn Terrier that you're the leader, but also convincing her that you're both on the same team. By partaking in obedience courses or competitions—and demonstrating patience, affection, and assertiveness—your Cairn Terrier should become a loyal sidekick.
Ideal Environment
Clearly, a Cairn Terrier's size lends well to apartment living. In fact, with the right amount of exercise and outdoor playtime, these scrappy dogs can do well in an urban environment. As they're also up for adventure and meeting new friends, they can also make city living extra fun.
This Scottish highlands-bred dog is rugged enough to thrive in any rural environment though. Just keep in mind that this terrier has a high prey drive and can dig themselves out of a backyard if they're bored.
Good For Families And Kids?
Yes. This terrier is usually described as "very" kid friendly. They're protective of their families, love to play fetch and other games, and generally aren't afraid of children's unpredictable behavior. Just make sure your Cairn Terrier doesn't get into the habit of chasing and barking at small children.
Average Lifespan
13-15 years.
Health
Due to the fact that this breed has so far escaped the problem of overbreeding, Cairn Terriers are generally very healthy. Still, if buying from a breeder instead of adopting, it's important to screen for patella issues, cardiac and eye problems, and liver and kidney problems.
Energy
Cairn Terriers are usually described as having moderately high energy. Of course, depending on the individual dog, this terrier may be more laid-back or super-charged. Overall, humans with this breed should plan on at least two daily outings. Brisk walks should also be supplemented with lots of playtime.
Friendly With… (Dogs? Strangers? Cats/Other Pets?)
Terriers have a reputation for playing "tough guy" around other dogs. Yet, with proper socialization and training, Cairn Terriers should get along with any friendly canine they come across. This breed should also enjoy the company of a resident feline, although they may follow their instincts and chase cats outdoors.
While loving and affectionate with their families, Cairn Terriers are unlikely to be warm to strangers. That said, they'll alert you of the presence of any new human, as well as actively bark and protect their home.
Coat & Grooming
Due to their somewhat wiry coat, this breed needs less grooming than other medium-haired breeds. Still, a weekly brushing and combing session will keep this scruffy dog looking, well, less scruffy.
Toys Cairn Terriers Would Like Best
This cheery little dog loves to play. Which is why, for people with Cairn Terriers, the motto should be: "The more toys the better!" All Cairn Terriers should have a range of Fetch Toys, as well as Super Chewer Toys to take out some of their destructive behavior on.
Recommended Diet Or Supplements
Some Cairn Terriers may benefit from joint, coat, and anxiety supplements. As always, consult your vet before administering anything.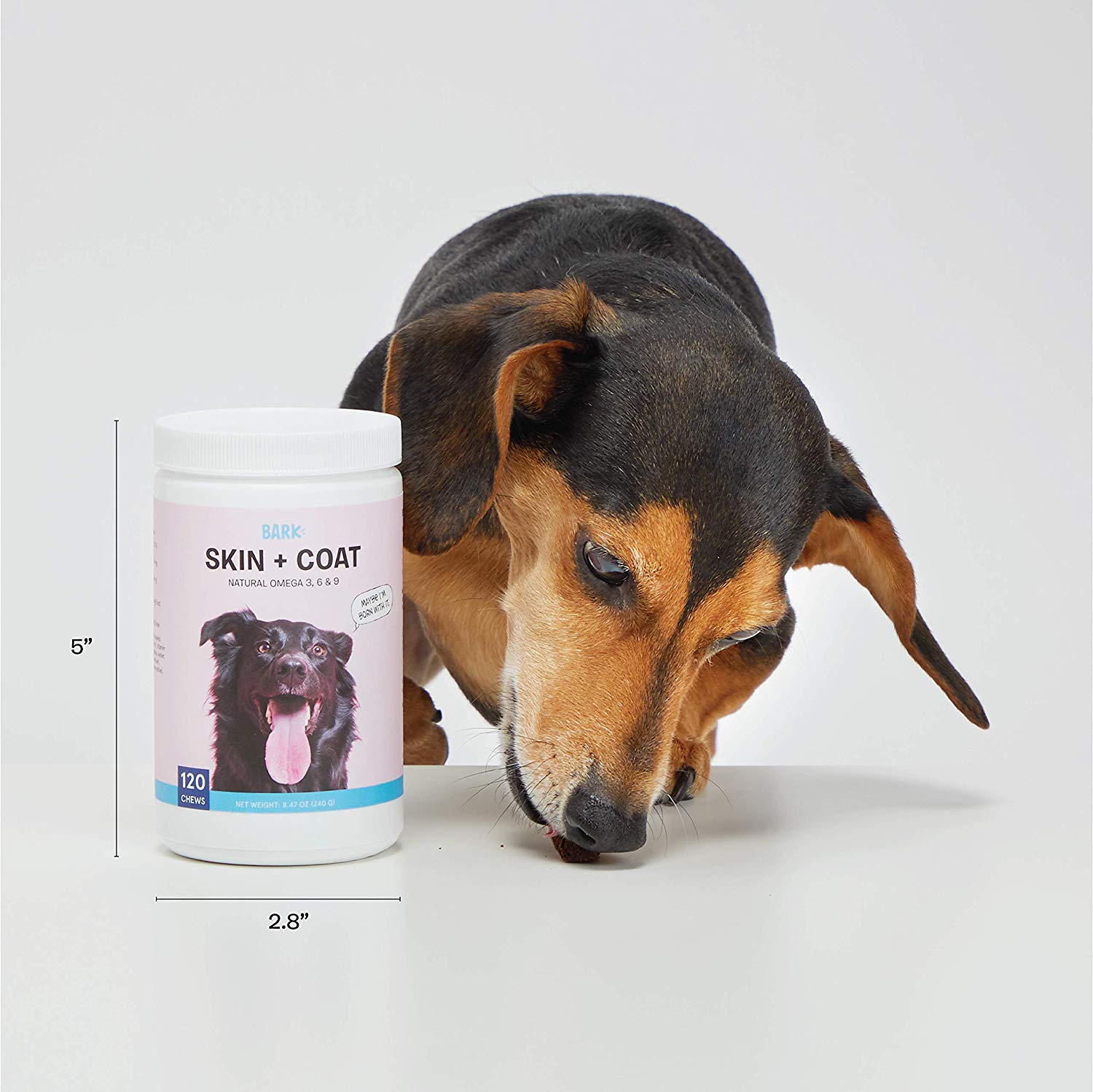 These delicious, vet-formulated chews are made with all-natural ingredients including Omega 3, 6, 9, and Vitamin E. They are designed to support immune health, provide relief from itchy allergic skin, and promote a healthy coat. ($19.99)
BARK's Full Spectrum Hemp Oil is made of organically grown whole plants, grown in Colorado, and is non-psychoactive. It comes in 100mg, 250mg, and 500mg varieties, and can help with pet anxiety and pain relief. Shih Tzus are known for hip dysplaysia, which causes joint pain. Full Spectrum Hemp Oil will help ease your pal's movements and get them up and playing again. ($17.99-22.99.)
This joint supplement is veterinarian-formulated, made with all natural ingredients (glucosamine, MSM, chondroitin, and hyaluronic acid), and comes in the form of 150 soft chews. Basically, it looks and tastes just like delicious treats, and it could really help your Cairn with any hip and joint issues. ($32.99.)
Recommended Products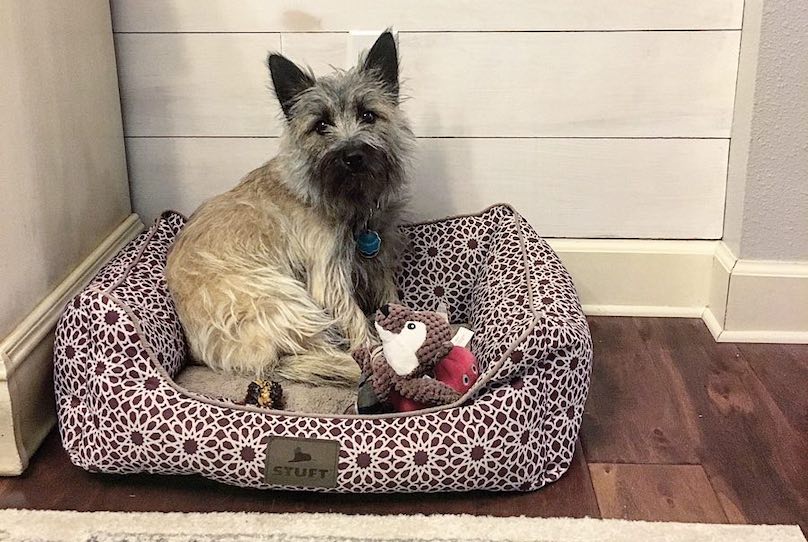 For older Cairns or dogs suffering with arthritis or hip dysplasia (or just any dog that likes lying down!), a comfortable, supportive dog bed is probably a good idea.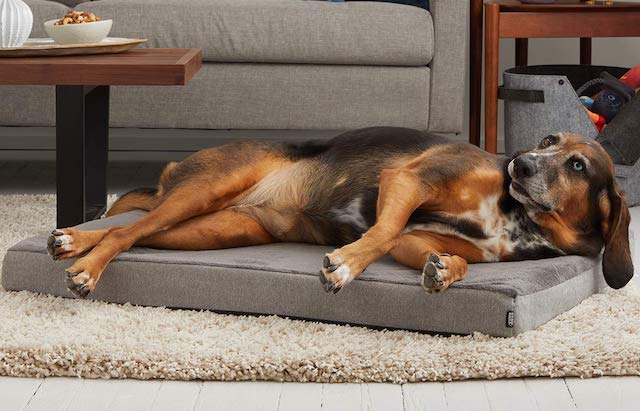 This ultra plush orthopedic dog bed provides support for dogs of all shapes and sizes! The combination ergonomic memory foam and gel foam relieves pressure points, and helps ease body aches caused by hip dysplasia, arthritis and other orthopedic issues. It offers the best therapeutic support for your Cairn. ($27.99-64.99.)
Notable Rescues To Find The Cairn Terrier Of Your Dreams
Col. Potter Cairn Terrier Rescue finds forever homes for Cairn Terriers that have been abandoned or used for puppy mill breeding. If you see a dog you like, apply quickly! Fortunately, these popular dogs find new homes fast.
Notable Instagram Cairn Terriers
2-year-old Duncan loves fetching, catching, destroying paper, and nibbling on ear lobes. He's also just plain adorable.
Alfie the Cairn Terrier lives in Sydney, Australia with his nephew, Monty. These two can be seen chasing tennis balls in the park, going for road trips to the seashore, and snuggling up in their dog beds.
This wide-eyed little Cairn Terrier named Maggie lives an active life near the ocean in Massachusetts. Take a quick peek at her photos—she's commonly mistaken for Toto from the Wizard of Oz.
***Looking for a gift to blow your Cairn's mind? Spoil them with a BarkBox! Every month BarkBox delivers 2 original toys, designed in-house, 2 full bags of all-natural treats, and a chew. Sign up here and receive a free extra toy every month. <– This deal is worth up to $120 in value if you sign up for a 12-month subscription! 🙂
Featured image via Duncan_The_Cairn/Instagram
Want More Helpful Breed Guides Like This?
Yorkshire Terrier Breed Information Guide
Vizsla Breed Information Guide
Dalmatian Breed Information Guide
American Bulldog Breed Information Guide
Jack Russell Terrier Breed Information Guide