Intro / Overview
(All dogs are individuals, which means any single dog from any breed can be any number of ways, both good and not so good. Keep that in mind as we discuss breed generalities!)
Sweet, sturdy and smart – all trademarks of the Cardigan Welsh Corgi. These dogs are long, low to the ground, expressive and have ears and cases of the zoomies that will make you smile all day long. Corgis, after all, are a favorite of Queen Elizabeth II. What could be a greater recommendation than that?
As with any type of dog, they come with their own set of personality traits, energy levels and quirks. Here's a guide to help you understand the Cardigan Welsh Corgi, in all their cuteness.

Also Known As…
Cardigan. Cardi. CWC. "Hey look! It's that other kinda Corgi!"

Origins
The word "Corgi" translates to "dwarf dog," in Welsh, which is appropriate since they have much of their origins in Wales. Corgis were brought in some form to Wales by the Celts around 3,000 years ago. Around 1,000 years ago, Corgis were working with herds of cattle in Wales, using their low stature to herd cattle without being kicked.

Cardis and Pembroke Corgis – a close Corgi relative without tails – were first recognized by Britain's Kennel Club in 1925 and later as their own separate breed in 1935. These dogs were first bred to work as guard dogs on farms, eventually making their way into herding, cattle droving, and today, as companions. They've been carefully bred over time to be work dogs that are both highly effective at their jobs, as well as affectionate with their owners.

Size
Cardigan Welsh Corgis are long and low to the ground, with an average height of just 10.5-12.5 inches.

Weight Range
Cardis are sturdy and dense for their size, and though some come in less than a foot tall, males weigh and average of 30-38 pounds, while females weigh an average of 25-34 pounds.

Personality
Cardis are loyal, affectionate, smart and loving. It's hard to resist their cute faces, which are matched by their friendly personalities. Because they were originally bred to be guard dogs, they may take a bit to warm up to someone, but once you're in, you're in with these pups.
They're loyal and intelligent, making them a great watchdog, and one you can play with as they bound around the yard. In short, these sweet, loyal and loving dogs make a great companion, whether you need a guard dog or not.

Intelligence / Trainability
Cardigan Welsh Corgis have some smarts, which makes them fun to train. In addition to focusing training on basics such as sit, come and other essentials, you may want to gear training to teaching them when it's appropriate to bark. As guard dogs, they have a larger bark than you may expect from such a small pooch, and they do tend to bark more often than other breeds. This differs from one dog to the next, of course, but if you have a barker on your hands, you can correct this behavior through proper training. Luckily, they're intelligent enough to learn to follow your commands.

Best Training Techniques For Cardigan Welsh Corgis
Socialize your Cardigan Welsh Corgi as early and as frequently as possible in their first days with you. Socialization is great for any dog, but with Cardis, bred to be guard dogs, it's especially important to train them to be gentle and friendly with other dogs. Use positive reinforcement to reward good behavior. Take some treats with you on your walks to reward a nice interaction with another dog.

Ideal Environment
Although they have quite a bit of energy, Cardis can be good apartment dogs due to their relatively small size. They're quite agreeable, so after a long walk to get out their energy, they're happy to stay by your side on the couch and relax, play fetch or chew on some toys at home. Mostly, they thrive when they're properly socialized, whether that's with their owners and other humans or with other dogs on walks or at the dog park.

Good For Families And Kids?
Once properly socialized, Cardigan Welsh Corgis can be great family dogs and can be friendly with kids. In fact, Cardis love kids, and with their high energy levels, can be a strong match for a young child's energy, as well. There's lots of playtime in your and your family's future if you bring a Cardi into your life.

Average Lifespan
Cardigan Welsh Corgis have an average lifespan of 12-16 years.

Health
Cardigan Welsh Corgis are considered to be a very healthy breed. Any creature will develop some health problems as they age, however, and for Cardis, those health issues tend to be joint-related. Their shape – long and low to the ground – can cause back and hip issues. If they exhibit signs of pain when jumping down from the couch or bed, this may be a sign of hip dysplasia, a condition that can make walking painful. Take your dog to the vet if you see them exhibiting worsening pain or limping.

Energy
Cardigan Welsh Corgis have a great store of energy, and you'll see it firsthand when they get a case of the zoomies, sprinting up and down your house. It's adorable, funny and a sign that it's time for a walk or a game of fetch outside. They love quick walks, long walks, chasing a ball in the yard, a game of tug of war – you name it, the Cardi is up for it.

Friendly With… (Dogs? Strangers? Cats/Other Pets?)
Socialization is extremely important for Cardigan Welsh Corgis – they thrive on interacting with other dogs, but sometimes need to be taught that other dogs and humans aren't to be feared. They're generally social with humans, although they may act a bit suspicious of strangers at first. Cardis can also be taught to get along well with cats and other pets, although their herding tendencies may make for some challenges at first.

Coat & Grooming
Cardis don't need much more than a solid brushing, but they may need them frequently, at least once or twice a week. Use a medium-toothed metal comb on their short and fluffy coats to keep up with their shedding. As double-coated dogs, Cardigan Welsh Corgis do tend to shed quite a bit during the spring. Give them extra brushings this time of year, up to once a day.

You can bathe them once a month, but during warmer months you can give them an extra bath to help speed along the shedding process.

Quirks
Corgis are known for becoming overweight easily. Treat-based training is still good for a Cardi, but keep an eye on their weight, diet, activity levels and nutrition. They'll eat anything you give them – do your best to resist those cute eyes when they're hankering for a bite of your lunch.

Toys Cardigan Welsh Corgi Would Like Best
The question is, what toys wouldn't a Cardigan Welsh Corgi like? These playful pups love a good game of fetch, so you can't go wrong with classic tennis balls to pass the time with your dog. You may also want to get them some Super Chewer toys to play with, gnaw on or chase after when they've got a case of the zoomies.

Cardigan Welsh Corgis also like plush toys that they can play with, tug on and maybe even cuddle up with in the house. Each dog has their own preference for toys, but with a Cardi, you can bet that when their energy is high, they'll be ready to play.
For a more extensive list, check out the following post: What Are The Best Dog Toys For Corgis?
Recommended Diet Or Supplements
If you notice your Cardigan Welsh Corgi experiencing joint pain, try incorporating supplements for any hip discomfort. But as always, consult your vet first.
This joint supplement is veterinarian-formulated, made with all natural ingredients (glucosamine, MSM, chondroitin, and hyaluronic acid), and comes in the form of 150 soft chews. Basically, it looks and tastes just like delicious treats, and it could really help your Corgi with their hip and joint issues. ($32.99.)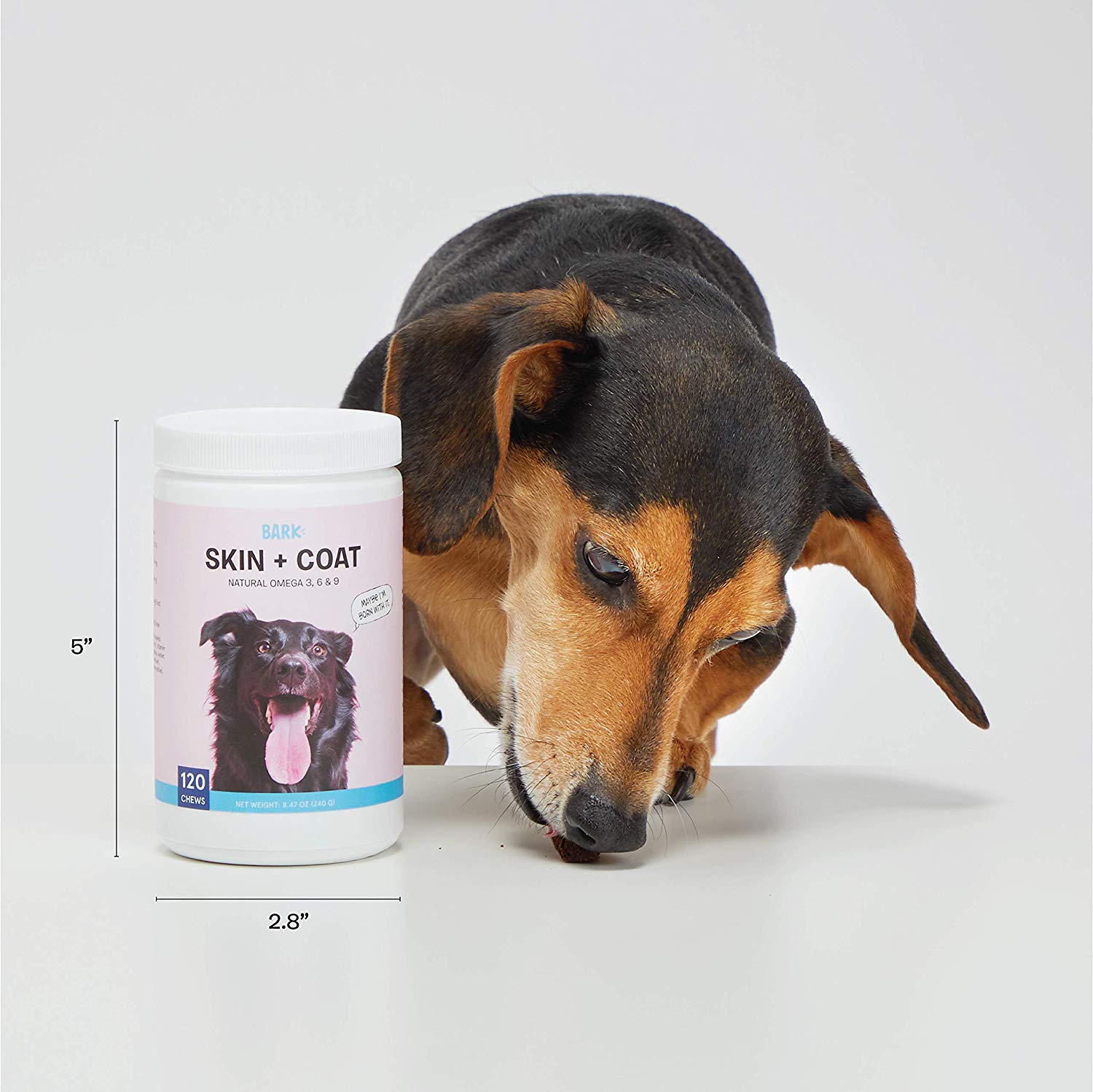 These delicious, vet-formulated chews are made with all-natural ingredients including Omega 3, 6, 9, and Vitamin E. They are designed to support immune health, provide relief from itchy allergic skin, and promote a healthy coat. ($19.99)
BARK's Full Spectrum Hemp Oil is made of organically grown whole plants, grown in Colorado, and is non-psychoactive. It comes in 100mg, 250mg, and 500mg varieties, and can help with pet anxiety and pain relief. ($17.99-22.99.)
Recommended Products
Cardigan Welsh Corgis are prone to hip dysplasia as they age. Give their joints a break by providing them with an orthopedic bed to take some pressure off of their hips while they sleep.
This ultra plush orthopedic dog bed is great for supporting your pup's small body and giving them a designated place to rest. A high quality combination of ergonomic memory foam and gel foam helps ease body aches, joint pain, and arthritis. This bed offers the best therapeutic support for your favorite buddy. ($27.99-64.99.)

Notable Rescues to Find the Cardigan Welsh Corgi of Your Dreams
Ready to adopt one of these adorable dogs? Here are a few rescue organizations that can help you find the Cardigan Welsh Corgi of your dreams.

Notable Instagram Cardigan Welsh Corgis
The faces, the ears, the zoomies – who doesn't want to look at more Cardigan Welsh Corgis? Here are a few Instagram accounts that can give you the extra dose of Cardi you so desperately need.
His name is SODA POP because he's so darn sweet!
@corgicribdenmark
Three Cardis living the life in Denmark!
@soulofcorgi
This lucky Cardi runs through the forest, through open fields and along the beach. Looking adorable the whole time, of course.
@littledudeamigo
Those eyes! Amigo knows how to relax.
***Looking for a gift to blow your Cardi's mind? Spoil them with BarkBox! Every month BarkBox delivers 2 original toys, designed in-house, 2 full bags of all-natural treats, and a chew. Sign up here and receive a free extra toy every month. <– This deal is worth up to $120 in value if you sign up for a 12-month subscription! 🙂
Featured image via PopGoesTheCorgi/Instagram
Want More Helpful Breed Guides?
What Are The Best Dog Toys For Corgis?
Pembroke Welsh Corgi Breed Information Guide
Dachshund Breed Information Guide
Basset Hound Breed Information Guide