***Looking for a way to keep your pup stocked with treats that are safe and tasty? Give BarkBox a go! Every month BarkBox delivers 2 original toys, designed in-house, 2 full bags of all-natural treats, and a delicious chew. Sign up here and receive a free extra toy every month. <– This deal is worth up to $120 in value if you sign up for a 12-month subscription! 🙂
In the wake of thousands of dogs becoming sick from treats manufactured in China or other locations around the globe, some U.S. suppliers have discontinued selling non-American made treats. This action has led many concerned pet owners wondering whether dog treats from other countries are safe.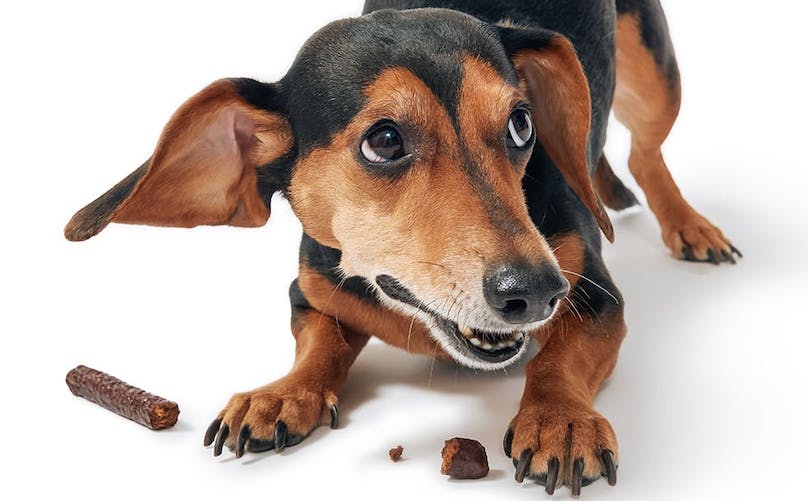 Unfortunately, dangerous contaminants do have a history of making their way into dog treats. Despite the Food and Drug Administration's (FDA) increased testing of pet food, products like jerky strips and other treats have been linked to salmonella, antibiotic residues, and other harmful substances. In some instances, dogs have become very ill. In others, they've even died.
Thus, in order to decide whether certain brands of dog treats are right for you and your pup, let's look at some of the background information.
FDA Monitoring Of Dog Treats
Federal law requires that all food, including dog treats, be safe and properly labeled. Yet, ultimately it's the manufacturer's responsibility to ensure that their products are safe to consume. Thus, although the FDA has the ability to fine or ban a company from selling tainted goods in the U.S., an investigation doesn't usually begin until the FDA receives numerous customer complaints.
The takeaway? Numerous dogs and other animals may have to become ill or even pass away before the manufacturer is issued a warning.
While a company is required to recall their tainted dog treats after receiving a warning from the FDA in order to having their products seized, this process can be time-consuming.
In light of the fact that the U.S. is home to an estimated 90 million household dogs, the incidence of sickness or death from dog treats is rare. Still, even if you buy internationally-manufactured dog treats from a trusted pet or grocery store, your dog may be susceptible to non-high quality ingredients.
What Can You Do to Prevent Potential Poisoning?
The FDA reports that dog treats manufactured in other countries are mostly safe. However, if past incidents of poisoning worry you, stick to U.S. dog treat manufacturers that value health, safety, and natural ingredients. In fact, the best choice for defending your pup against potential toxic contaminants in food may be to only buy American made treats.
Here's some advice to consider when purchasing treats for your pup:
Generally, less is more with dog treats. Therefore, avoid products with long and/of confusing ingredient lists. Instead, stick to treats that have few and mostly whole ingredients.
Avoid products with words like "meat by-product" or "animal meal." These are low-quality and questionable proteins that could potentially make your dog ill.
Don't purchase dog treats that use chemicals or fillers, such as soy, corn, and wheat.
With the above rules in mind, a good place to look for healthy, all-natural, and American-made dog treats is the
BarkShop
. None of BARK's treats contain chemicals or fillers. They also use safe, whole ingredients, including chicken, salmon, pork, sweet potatoes, and other healthy foods.
Here are a few categories of treats that your pup might enjoy:
BARK's crunchy-textured dog biscuits are made with whole ingredients. That means no fillers, no by-products, and, of course, no chemicals. These biscuits are also great for a dog who loves a bit of snap to their cookie. As always, these and other Bark treats are also manufactured in America with the highest health and safety standards.
Most dogs love sinking their teeth into a dense, savory, and soft treat. BARK's soft baked treats are also made with with all natural ingredients like chicken, salmon, tuna, pork, and many other whole foods. These flavorful bite-sized goodies are also great for training exercises.
Looking for a healthy outlet for your dog's need to chew? BARK's Jerky Chews are fun for your dog to gnaw on and super flavorful. They're also low fat and, of course, free from grain, wheat, corn, and soy. In fact, they're made by using only one ingredient: meat, such as freeze dried beef lung.
Looking For Articles About Treats?
Can Dog Treats Make A Dog Sick?
What Treats Should I Avoid For My Dog?
Can Dog Treats Expire?
What Dog Treats Are Low In Fat?
Should I Give My Dog Grain-Free Treats?
What Dog Treats Do Vets Recommend?