Have you ever been served a chicken breast without seasoning? It's boring! It's bland! That's the same way some dogs feel about their kibble. Our pups want flavor with their meal! They want a tantalizing tastebud fiesta. That's where this year's tastiest dog food toppers save the day!
What Are Dog Food Toppers?
Dog food toppers are anything that add a little zing, zip, kapow, and calories or extra nutrients to your dog's favorite meal—basically, some extra flavor to top off your dog's regular food. They come in a wide variety of textures, flavors, and wet and dry formulas, such as:
Freeze-Dried Raw Kibble Toppers—Raw ingredients freeze-dried naturally into kibble-sized bits.
Freeze-Dried Raw Sprinkles—Raw ingredients freeze-dried into sprinkle seasoning.
Dehydrated—Dehydrated cooked ingredients. Just add water to rehydrate.
Broth/Stew—Protein based broth or stew to top off or mix in with your pup's favorite food.
Purée—Single or mixed ingredients blended with water for mixing with kibble.
Whole Ingredient, Wet Topper—Whole, cooked ingredients to add protein or flavor to your dog's favorite food.
Gravy/Sauce—Similar to a purée.
Why Should You Use Dog Food Toppers?
If you or your dog haven't been introduced to the wonderful world of dog food toppers, you're in for a treat—and your dog is in for a delicious dinner. Here are just a few reasons why you might want to give a food topper a try:
Your Dog Is A Picky Eater
There are two types of dogs: those who eat everything in sight (including your tax returns and dirty socks), and those who will turn up their nose at just about anything you put in front of them. Food toppers are the easiest way to pack on loads of flavor, turning your picky pup's ordinary meal into a gourmet treat they can't resist. This is especially helpful if your dog needs a specific health diet or prescription diet that they're really not thrilled about.
Flavor Variety
Can you imagine eating the same exact kibble every day? Exploring different foods and flavors is a joy of life that everyone deserves—including our four-legged best friends! With the wide variety of toppers out there, your dog can stay on their regular diet and enjoy novel flavors that get them excited to eat.
Nutrients/Supplements/Probiotics
Toppers can be a great way to add extra protein, fiber, or nutrients to your pup's diet, depending on their individual needs. Some toppers have pre and probiotics or supplements (such as glucosamine or chondroitin) for additional support.
Extra Hydration
Toppers like broths, stews, purées, or whole-ingredient wet foods can be a great option to help your pup stay hydrated. This may be ideal for elderly dogs, dogs with health issues, or dogs that really just forget their hydro-homie routines of drinking enough water daily.
Softens Kibble
Some dogs really just don't dig crunchy kibble. Others may have difficulty chewing—though this may be an indication of a more serious dental issue, so you should consult with your vet. Broth, gravy and stew-type toppers can help soften kibble enough so your pup can munch away without trouble.
1. BARK "Pumpkin Spice Up Your Life" Dog Food Topper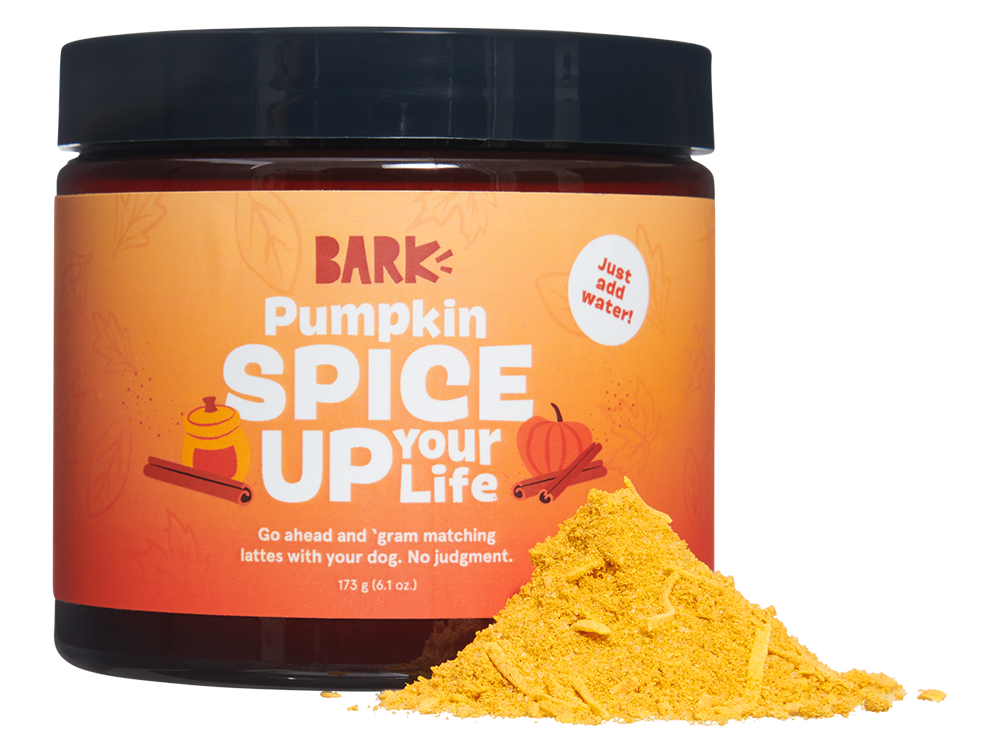 Go ahead and 'gram matching lattes with your dog—no judgment. Just add water to a scoop of this seasonal dehydrated broth, or sprinkle directly on food or a pup cup to bring a classic fall flavor to life.
Type: Dehydrated broth
Flavor: Pumpkin Spice
First 5 Ingredients: Pumpkin, honey, cinnamon, coconut flakes, vanilla
Manufactured:
Why We Love It
✅ 6 simple ingredients (last one is ginger!)
✅ Can use as a powder or broth
✅ Helps aid healthy digestion
✅ Broth is perfect for pouring in silicone treat molds
✅ Made in the USA
BUY HERE: $15.00 at BARK Food
2. Stella And Chewy's Meal Mixers "Super Beef" (+ More Flavors)
The natural cold-press process used to freeze-dry these scrumptious scoops allows your pup to try a raw ingredient diet without having to worry about the harmful bacteria associated with raw feeding. This super beef flavor will have even the pickiest eaters saying "moochas gracias!" (If your dog could speak… or knew Spanish.)
Type: Freeze-dried raw
Flavors: Beef, chicken, pork, duck, lamb, turkey, salmon, grass-fed beef super blends
First 5 Ingredients: Beef, beef liver, beef kidney, beef heart, beef tripe
Manufactured: Made in the USA (beef ingredients sourced from USA, Australia, and New Zealand)
Why We Love It
✅ Grass-fed beef raised without hormones or antibiotics
✅ 100% organic-certified fruits and vegetables
✅ No grains, gluten, fillers, artificial preservatives, or colorings
✅ Natural cold-press process eliminates harmful bacteria for safe raw-feeding
✅ Made in the USA
BUY HERE: $2.49–$79.99 (1oz bag–35oz bag) at Chewy
3. BARK "Bada Bing! Bada Beef!" Dog Food Topper
Beef up the flavor of your pup's next meal! You can expect mealtime tippy-taps amped up to warp speed when you add a few shakes of these freeze-dried, 100% beef liver sprinkles to your dog's next meal.
Type: Freeze-dried sprinkles
Flavor: Beef
Ingredients: 100% Beef Liver (That's it, folks!)
Manufactured: Made in the USA
Why We Love It
✅ Single ingredient—100% beef liver
✅ No wheat, corn, gluten, or soy
✅ Lots of flavor without packing on lots of excess calories
✅ Made in the USA
BUY HERE: at BARK Food
4. The Honest Kitchen "Whole Grain Chicken" (+ More Flavors & Grain-Free Options)
We love that The Honest Kitchen recipes can be served as either a meal topper or your pup's complete meal. Your dog is gonna love how these delicious human-grade ingredients taste just as good as stealing your dinner off the table!
Type: Dehydrated
Brand Flavors: Whole grain chicken, turkey, beef, or fish; grain-free beef, turkey, chicken or fish; limited ingredient chicken, beef, turkey, duck or fish
First 5 ingredients: Dehydrated chicken, organic barley, dehydrated potatoes, organic flaxseed, organic oats
Manufactured: Made in the USA
Why We Love It
✅ Can be served as topper or complete meal
✅ 100% Human-grade ingredients
✅ No artificial preservatives, feed grade by-products, fillers, GMO ingredients, corn, wheat or soy
✅ Whole grain, grain-free, or limited ingredient options
✅ Made in the USA
BUY HERE: $24.99–$74.99 (2lbs–10lbs) at The Honest Kitchen
BUY HERE: $21.80–$82.99 (2lbs–10lbs) at Amazon
5. Brutus Bone Broth—Beef (+ More Flavors)
Brutus Bone Broth knows how important zoomies and jumpy-bean dances are to the dinner routine. That's why these recipes have added glucosamine and chondroitin to support joint health for excited mealtime dance parties.
Type: Broth
Flavors: Beef, chicken, pork, vegan salmon
First 5 Ingredients: Beef broth, glucosamine hydrochloride, vegetable broth (sweet potato, carrot, celery), sea salt, beef flavor
Manufactured: Made in USA
Why We Love It
✅ Added glucosamine and chondroitin to support joint health
✅ 100% human-grade ingredients
✅ No artificial colors, flavors, or preservatives
✅ Free of gluten, soy, dairy, and wheat
✅ Recycled packaging
✅ Made in the USA
BUY HERE: $7.99–$89.99 at Brutus Broth
BUY HERE: $10.99–$99.00 at Amazon
6. Instinct Raw Boost Mixers "Gut Health (Pumpkin/Chicken) Recipe"
These freeze-dried nuggies are full of ingredients that make both taste buds and tummies happy. The cage-free chicken and pumpkin add a punch of flavor to your pup's kibble, and the added live, natural probiotics help support digestive health.
Type: Freeze-dried raw
Recipes: Gut health, frozen gut health, skin & coat, frozen skin & coat, immune health, mobility support (all recipes are chicken flavor)
First 5 Ingredients: Chicken (including ground chicken bone), chicken liver, pumpkin seeds, chicken heart, dried pumpkin
Manufactured: Made in the USA
Why We Love It
✅ Live, natural probiotics for digestive health
✅ Made with cage-free chicken
✅ Zero grain, corn, wheat, soy, potato, artificial flavors, or preservatives
✅ Made in the USA
BUY HERE: $14.81–$29.93 at Chewy
7. Cesar Simply Crafted – "Chicken" (+More Flavors)
Type: Whole ingredient
Flavors: Chicken, carrots and green beans / chicken, carrots, barley, & spinach / chicken, duck, purple potatoes, pumpkin, green beans & brown rice / chicken, carrots, potatoes & peas / chicken, sweet potato, apple, barley & spinach / beef, chicken, purple potatoes, peas, & carrots
Ingredients: Chicken, water
Manufactured: Thailand
Why We Love It
✅ Limited ingredients—just chicken and water!
✅ Free of artificial colors and flavors, as well as preservatives and fillers
✅ Flax-free, molasses-free, pea-free
✅ Lots of flavors to choose from
BUY HERE: $19.70–$37.42 at Chewy
BUY HERE: $39.98 at Amazon
8. Weruva Pumpkin Patch Up! "Puréed Pumpkin"
With only two ingredients—pumpkin and water—these Weruva Pumpkin Patch Up pouches are whisker-friendly for both the dogs and cats in your household. Although some pets just love the pumpkin flavor, the extra fiber also helps support gut health to give your pup poops you'd be proud to show off to your vet.
Type: Purée
Flavors: Pumpkin, pumpkin with coconut oil & flaxseeds, pumpkin with ginger & turmeric
Ingredients: Pumpkin and water
Manufactured: Thailand (manufactured in human-grade USFDA-certified facility)
Why We Love It
✅ Simple ingredients—just pumpkin and water
✅ Pumpkin fiber helps promote healthy poops and tummies
✅ No GMOs, gluten, or artificial flavors
✅ Pouches are BPA-free and recyclable
BUY HERE: $13.08–$14.99 at Chewy