All things expire, even dog treats. That's definitely not what your pup wants to hear, but it's true. Dog treats have a long shelf-life, but they're still food made of perishable ingredients. Trick-worthy, tantalizing, perishable ingredients.
It's good practice to check the date on packages, whether the treats are ones you already have at home or new treats you're looking at in the store. The "best by" date isn't an expiration date. It determines how long an item should sit on a shelf. This info lets you know the last day of the manufacturers can guarantee freshness and nutritional value. It doesn't mean the treats are spoiled or unsafe if they're still on the shelf past the date. But as a pup parents it's always up to you to decided what you give your canine companion. If it were up to the pup, they'd eat everything on the shelf!
If your pooch likes to take their time with a bag of treats, you're probably wondering "How long can treats last?" and "What should I do with treats past their sell-by date?" As long as you make sure to store the tasty morsels in the proper place, your pal will have plenty of time to get to the bottom of the bag.
That said, we've come up with some tips on how to store your dog's treats, in addition to some information on how long they should be kept…just in case.
Treats are great. They get your pup to do things like roll over, high five, and jump through hoops. Training treats like Merry Turkey or Whatever are the ultimate bribe…I mean reward for a good little puppy. Store your pal's favorites in cool and dry places away from light. It's best to let them stay in the original packaging or in air tight containers.
If you have a surplus of fruit and vegetable treats, it's a good idea to throw a few bags in the freezer. Preserve them as quickly as you can. The suggested length of time to keep treats in the freezer is up to 8 months.
Keep all treats away from damp environments like basements and garages – especially in super hot summer months. A year is the longest length of time suggested for keeping treats in a cabinet. Anything kept longer than a year would indicate that your pup isn't really a fan of those treats, so it would probably best to toss them!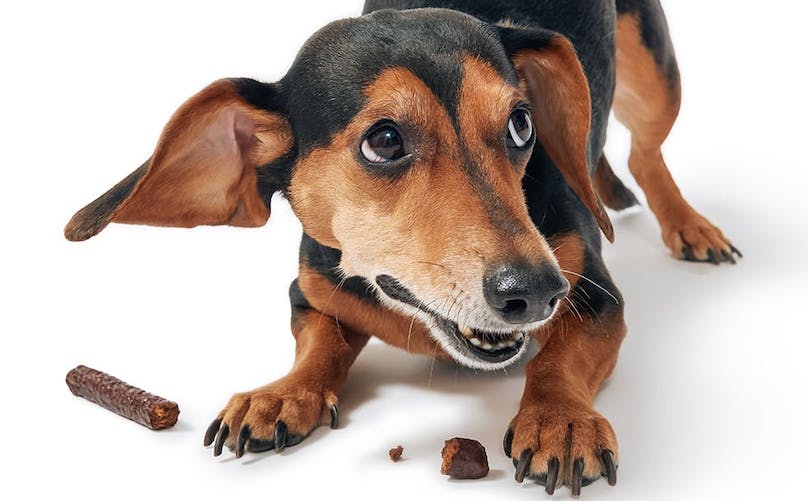 Jerky Treats are easy to store in resealable bags or air tight containers. The smoked meaty treats may last a bit longer than other treats, but they tend to attract unwanted visitors over time. Bugs are tricky little pests and your jerky treats will be safe if handled with care. Jerky Treats sitting on the shelf for a while as your pup works on another bag of goodies need to be checked for any indication – through appearance, smell, and texture – of spoilage before serving to your pal.
Long term storage of jerky treats is easy! The suggested length of time to keep them on the shelf (unopened) up to four months and (opened) up to two months. Unopened, you can toss them in the freezer up to 6 months. If you have the time and tools to do so, you can even vacuum seal the jerky to preserve the freshness of your pup's treats.
Who doesn't love a light, tasty, crunchy snack? Freeze-Dried Treats are the dog equivalent of a banana chips. With all of the water evaporated, these treats can last a pretty long time. In rooms with little to no humidity, it's possible for freeze-dried treats to last from 15 to 18 months unopened. These types of treats can last up to a year opened on the shelf. Just make sure to keep them in proper conditions for the best results.
Pups love a good chew session. Dog Chews are more of a challenge than soft treats, they help clean teeth, and they keep your pal busy for a while. It may take a bit longer than you expect for your little one to get through the pack of bully sticks or pig ears, so how long can they be kept in the cabinet?
According to the American Kennel Club, "Bully sticks are long lasting, in more than one way. They can last a long time while your dog is chewing them, and they also stay fresh for up to three years." Just be sure to keep them in a cool and dry environment and in a safely sealed container.
Treat your pup to drool-worthy treats every month. Whether your dog has a taste for biscuits, chews, jerky snacks, or even freeze dried treats, consider getting them a BarkBox subscription! These treats won't be on your shelf for long! Sign up here and receive a free extra toy every month. (<– This deal is worth up to $120 in value if you sign up for a 12-month subscription!) If you have any questions, don't hesitate to reach out to the friend Happy Team via [email protected].
Looking For More Treat-Related Articles?
What Dog Treats Are Low In Fat?
What Are The Best Treats For Dogs With No Teeth?
Should I Give My Dog Grain-Free Treats?
What Dog Treats Do Vets Recommend?