We know how deeply you care about your dog, and most of us are especially sensitive to the kinds of food we put in our pups' bellies. Our dogs are family, and so they should be fed with the same care we take with our two-legged family members.
After a bit of digging and contact with representatives from each of the following companies, we present to you a list of 11 high-quality dry dog foods with no recalls, ever.
Please note that this small list certainly does not contain every single brand of dog food that is recall-free. You can check here if your dog's brand of food has ever been recalled.
1. Life's Abundance
With natural, wholesome ingredients and the option to go grain-free if your dog has specific allergies, Life's Abundance has got it all, and their small-batch cooking system ensures the best quality in each bag.
2. Zignature
Specializing in foods "based on the nutritional science of the glycemic index," and with the goal of mimicking a raw diet without the inconvenience, Zignature brings your pup one step closer to nature.
3. BARK Eats
Crafted by nutritionists and designed to sway picky eaters with optional drool-worthy toppers and supplements, BARK Eats comes delivered to your door in perfect meal portions (and with probiotics for gut health). Each subscriber even gets their own "Dog Food Expert" to help them design the perfect plan.
4. Holistic Select
Holistic Select functions on the belief that total body health begins with the digestive system. Their "Unique Digestive Health Support System" uses natural ingredients along with pre and probiotics, fiber, digestive enzymes, and botanicals to make one happy belly.
5. Eagle Pack
Eagle Pack boasts no fillers or artificial preservatives and the right balance of ingredients results in healthy skin, a shiny coat, and bright eyes. In other words, your dog will have the energy and spirit to play ball as long as his heart desires.
6. Nature's Logic
Nature's Logic dog foods are a "reflection of the safe and wholesome foods nature supplies," and the brand emphasizes that they never cut corners with ingredients or quality.
7. Canine Caviar
Founded by a man whose Great Dane lived to be 17, Canine Caviar is known for its alkaline-based diet. The company claims this "helps put more oxygen into the blood to allow the DNA's self-recovery mechanism to function more efficiently and effectively." AKA, long live your pup!
8. VēRUS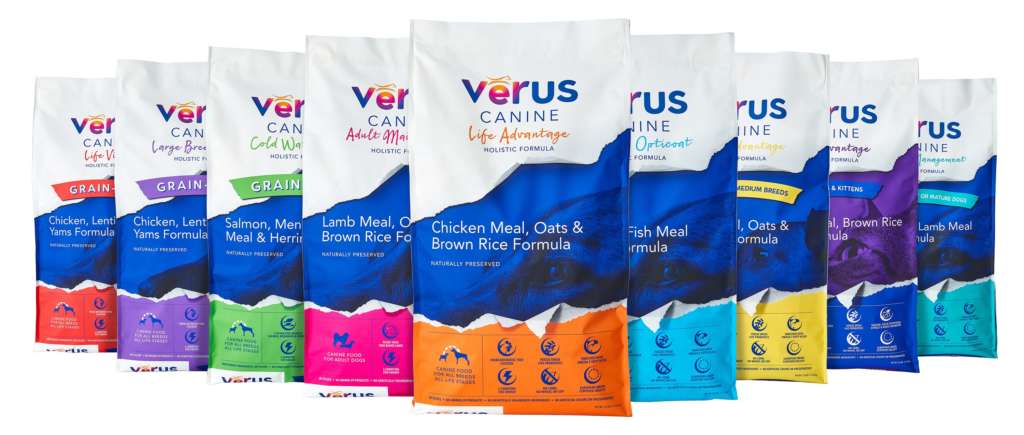 Currently the only formulas to contain freeze-dried live probiotics, VēRUS is the convenient equivalent to a homemade meal with high-quality nutrients sourced from whole foods.
9. Annamaet
Annamaet dog food is continuously analyzed by independent labs to "maintain [their] strict standards of quality control." With holistic and natural preservation methods as well as antibiotic-free ingredients, they live up to their precise standards.
10. Now Fresh
With a team of dedicated nutritionists and strict quality and safety standards, Now Fresh has excellent nutrition and safety measures for themselves, their suppliers, and their partners. Testing is done with every batch and at every step of the production process.
11. Blackwood
Slow-cooked for easy digestion and manufactured in small batches, Blackwood is extremely passionate about the care and quality of their pet foods. The bag even gives you all the important information, including the percentages of protein, fat, and fiber in each bowl.
To see if your dog food has ever had a recall or to check the status of a brand you are interested in, visit the FDA recalls & withdrawals page, or use Dog Food Advisor for free alerts about any new dog food recalls.
---
Barbara. [email protected] (Holistic Select), 6 Dec. 2021.
C., Val. [email protected] (Now Fresh), 7 Dec. 2021.
Deb. [email protected], 6 Dec. 2021.
"Dog Food Recalls." Dog Food Advisor, 29 July 2021, https://www.dogfoodadvisor.com/dog-food-recalls/.
"Recalls & Withdrawals." U.S. Food and Drug Administration, FDA, https://www.fda.gov/animal-veterinary/safety- health/recalls-withdrawals.
Myles, Meoshae (MiMi). [email protected], 6 Dec. 2021.
Skaggs, Cydnei. [email protected], 8 Dec. 2021.
Stastny, Hilary. [email protected], 9 Dec. 2021.