Celebrate the U.S. National Park Service's Centennial by hitting the open road with your pup to visit a national park this summer. Although most of the 58 national parks in the country don't allow dogs, so as not to disturb the wildlife, a few permit dogs on leash and in designated areas (with the exception of service dogs who are allowed to move around more freely). Take your pooch out for some much deserved outdoorsy quality time at one of these pet-friendly national parks.
1. Grand Canyon National Park (Arizona)
Enjoy the amazing views of one of the Seven Wonders of the World with your dog in tow and leashed at all times. Dogs are only allowed on trails above the rim, Mather Campground, Desert View Campground, Trailer Village and throughout developed areas. Pets are not allowed below the rim (also called the inner canyon), on park buses, and in park lodging. Grand Canyon also offers a kennel for boarding.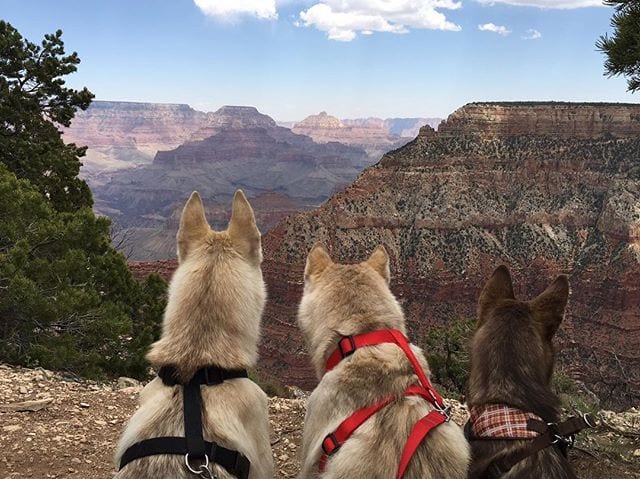 2. Yosemite National Park (California)
Spanning nearly 1,200 square miles of gorgeous deep valleys, beautiful meadows, giant sequoias, unusual rock formations, and breathe-taking waterfalls, Yosemite is a nature-lover's paradise. Dogs are allowed in developed areas, on fully paved roads, sidewalks, along bike paths (except for when signed), and in campgrounds (except for walk-in campgrounds). Your pup must be on a leash no more than six feet long at all times and may not be left unattended. Pets are not allowed on trails, in undeveloped wilderness areas, in public buildings, on shuttle buses, in lodging areas, and in other areas as signed. Yosemite offers a kennel from late June through Labor Day weekend.
3. Acadia National Park (Maine)
The first national park on the East Coast, Acadia National Park is home to the tallest mountain on the U.S. Atlantic coast. The rugged coast of Maine is home to beautiful granite peaks, historic carriage roads and large woodland areas. One of the most dog-friendly of all national parks, pups are permitted on 100 miles of hiking trails and 45 miles of carriage roads throughout the park! They must be leashed at all times and are NOT allowed on Sand Beach, Echo Lake Beach, Isle au Haut campground, ladder trails, public buildings, and lakes that are public drinking water supplies.
Stunning sandstone cliffs naturally-colored in brilliant orange and pink hues leave visitors amazed in this 229-square-mile national park including a 15-mile long narrow canyon, popular for hiking through. Dogs must be on leash no longer than six feet at all times and are allowed on the Pa'rus Trail. All other trails and wilderness areas are off limits. Pets are allowed along public roads and parking areas, in developed campgrounds and picnic areas, and on the grounds of Zion Lodge. No pets, other than service animals are allowed on shuttle buses.
5. Rocky Mountain National Park (Colorado)
Go for a little rocky mountain high at Colorado's popular national park. The 415 square miles include breathe-taking mountain views with the Trail Ridge Road cresting over 12,000 feet. Dogs are permitted in Rocky Mountain National Park, but are NOT permitted on trails or in the backcountry. Basically, pets are only allowed in areas accessible by vehicles including roadsides, parking areas, picnic areas and campgrounds. They must be on a leash that's no longer than six feet at all times.
6. Shenandoah National Park (Virginia)
One of the few national parks that allow pets on most trails, Shenandoah National Park encompasses 200,000 acres of protected lands featuring cascading waterfalls, stunning vistas, and peaceful wooded hollows. Dogs must be on a leash no longer than six feet at all times. Pets are allowed in campgrounds and pet-friendly lodging. With over 500 miles of trails, it's a hikers' paradise and with only less than 20 miles of trails prohibited to pets, your pup can enjoy a majority of the park with you!
7. Mammoth Cave National Park (Kentucky)
The world's longest known cave system, Mammoth Cave National Park boasts over 400 miles of explored caves. An early guide called it a "grand, gloomy, and peculiar place," Pets are not allowed in any of the caves, but are permitted on hiking trails campgrounds and in guest rooms at the Mammoth Cave Hotel, Sunset Point Lodge, the Hotel Cottages, and Woodland Cottages. The hotel also provides a kennel.
8. North Cascades National Parks (Washington)
The park encompasses a temperate rainforest on the west to a dry ponderosa pine ecosystem on the east. Beautiful landscapes include glaciers, streams and over 1,600 species of plants. Dogs need to be leashed at all times and are allowed on the Pacific Crest Trail and within 50 feet of roads. Pets are permitted within the Ross Lake and Lake Chelan National recreation areas and on most surrounding national forest lands.

9. Cuyahoga Valley National Park (Ohio)
Located close to the urban areas of Cleveland and Akron, this may not have the sprawling feel of other national parks, but rather a cozy feel that offers a quick escape from the city. A refuge for native plants and wildlife, the Cayuga River winds its way amidst deep forests, rolling hills, and open farmlands. Dogs must be on a leash no longer than six feet and are allowed on over 110 miles of hiking trails and 20 miles of the Towpath Trail. Pets are also permitted in the Stanford Campground. They are NOT permitted in any park building or on the Cuyahoga Valley Scenic Railroad Train.
10. Badlands National Park (South Dakota)
Visitors take a trip to the prehistoric past when visiting Badlands National Park, known to contain one of the world's richest fossil beds. Ancient rhinos, horses, and saber-toothed cats once roamed the area that's now home to bison, bighorn sheep, prairie dogs, and black-footed ferrets in the 244,000 acres of protected grass and prairie lands. Dogs must be on leash no longer than six feet at all times and are only allowed in developed areas such as campgrounds, picnic areas, and other areas open to motor vehicles. Pets are NOT allowed on hiking trails, public buildings, and backcountry areas.