There are lots of Doodles on the internet. Oodles of them. They are all unique in their own doodly way, but if they share one quality, it's that they are all basically dogs trapped in the body of a teddy bear. So without further adoodle, here are some of Instagram's top doods and poods.
1. There is no Doodle quite like Monty, @Montydoodledo. He is an adorable hurricane of fluff that we have the privilege of experiencing every so often in our pawffice. Despite looking like a full grown man, he is only 1-year old.
2. Hudson, or Huddy, @Hudsonthegoldendoodle is a mini goldendoodle with a great stache, a phenomenal smile, and he makes omelettes so good, they call them "The Bomblette".
3. Our next Doodle is one of Huddy's brosephs. I'm convinced @Neptunethedoodle is part giraffe. He has legs for YEARS. If he were a human he would totally get the "Hey man do you play basketball?" question the second he walks into a party.
4. Another core member of the IG doodle squad takeover is Samson. @Samsonthedood is a straight up baller. You know when you're at a hotel, and you put on their luxurious bathrobe, and you walk around like "I'M SO FANCYYYYY"? Yeah, that's just a typical Saturday morning for Samson.
5. When your name is Taco, you're basically telling the world, "Yes, I am always down to party."
And when a sombrero comes out, you know it's getting weird. #gohometacoyouredrunk
6. This is Somer, @somerinthecity. She's a mini goldendoodle and her fluff is on point.
7 This is Cliff, @cliffthedoodle. He is all about that yogi life. You should see his downward facing Doodle. It's the real deal.
8. This is the @tinybandit. He has a marvelous white soul patch and fluffy white feet to match. He also knows how to rock a #tongueouttuesday.
9. This is Bird, the doodle, @doodlesbirdarnholdgordon and he has mastered the art of the "Can I please haz a treat?" face.
10. @Rosenbergthedog might be the most appropriately named doodle on this list. Or in the universe. I mean, just look at this dog. Make sure to follow his mom @thedogstyler for all the fashion oodles (see what I did there?) you can handle.
11. @Baileydoodle is not your average doodle. He's a therapy doodle. He was the inspiration for the dog "Power Of The Paw", after putting a smile on hundreds of faces at his local hospital.
12. Nelson can usually be found on a vespa, probably on his way to steal your girl. You get yours, @nelsonthegoldendoodle. You GET yours.
13. @Parkerthelabradoodle has the silkiest doodle mustache you've ever seen. It is glistening.
14. Teddy, @teddygramnyc lives in Brooklyn, is down for adventure, and has read ALL the bougie books.
15. For the creative types, @Indythegoldendoodle isn't just artsy. He's got a fartsy side to him as well, and he is not afraid to show it. If you ever feel artsy and fartsy, you should jump in on the #artsyfartsyfriyay hashtag.
16. DOGGLE DOODS. Yes. Doodles in doggles are a thing. They are the future of eyewear. You heard it here first. (Unless you didn't, in which case, way to be on top of your fashion trends).

Featured Doggle Doods: Peanut @thenuttydoodle, Mochi @mochi_doodle, Franky @franky.dood, and Charlie @charlie.dood.
17. Charlie. Oh, Charlie. He is one of our pawffice dogs and he likes to play this game where he stares at you and melts your heart and your will power until you give him a treat. He is undefeated. Because, look at him. You can find more of him at @adogintheapple
18. Ralphie, @Ralphiethecockapoo knows how to party. And by party I mean lounge around on the couch in a onesie eating peanut butter with a spoon. KILLIN' IT.
19. Even when @PS.NY's not wearing stylish clothing, it kind of looks like he is because of his long slender limbs which flare out into furry bell bottoms.
He also created the iPhone. No big deal.
20. Bobby Flay (The Poodle), a.k.a @bobbyflaythedog .There's no point in trying to even with this dog because you just can't.
21. Francis the Poodle, @francisthepoodle wears a top hat better than anyone you've ever seen. Or does the top hat wear him? Whatever the answer is, it's adorable.
22. Yoshipoo, @yoshipoo is an adorable ginger that fits in a mailbox. But if you want to reach him he prefers e-mail, because it's 2016 and he is a Maltipoolennial (Millennial Maltipoo).
(He also has a gigantic sexual appetite and does not seem to know how small he is).
23. This is Chase, @littlechasebigworld He makes a mean batch of cookies. And yes, he demands to lick the spoon.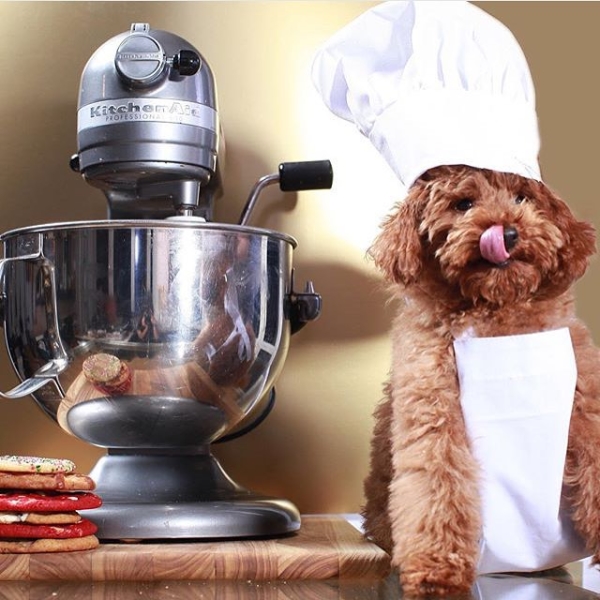 When he's not in the kitchen, he's chasing tail, professionally.
24. We can't forget about this lady, Charlie. @puppynamedcharlie She is also a professional tail chaser.
25. It's only appropriate to end this list with a bang. So here is another Teddy, @ted_gram's hair is straight out of an 80's aerobics video. Do not try and take him out in the rain.
To be honest, all I want in life is to be part of the doodle crew. They're basically like Entourage, but with doodles.
Featured Image via @adogintheapple and @indythegoldendoodle