Does your pup blow through toys like a starving velociraptor? Here are a few ideas to make some toys out of items you already have around your home!
DIY dog toys are a resourceful way to make use of old items around the house. They're fun and engaging to make, and a joy for your pup to behold once you're finished! Check out these awesome DIY dog toys that will perk up their ears and get the tails wagging!
**As is the case with any toy, think of your pup's safety first. Supervise your dog when they're playing with all toys and regularly inspect them for damage. Be sure to get rid of any toys that are falling apart– you don't want your four-legged love to swallow anything harmful! Main image from Tattle Tails. : )
Stimulate your dog's mind and their whiskers with this easy to set-up muffin tin game. Hide treats underneath tennis balls and let your pup sniff them out!
Here's How:
Find muffin tin
Find tennis balls
Hide treats underneath
Voila!
Tie some spare rope into a monkey's fist, but before you finish, slip in a dog treat! This pooch-puzzle is like an elevated Kong toy.
Here's How:
Tie a monkey's fist (this might take some practice)
Slip a treat inside
You've got yourself a doggy first!
It's the perfect toy for a pup that likes crink-crinkley sounds. (Let's hope you like them too!)
Here's How:
Find empty water bottle
Find old t-shirt
Cut strips of fabric
Wrap the bottle in the t-shirt and tie with strips!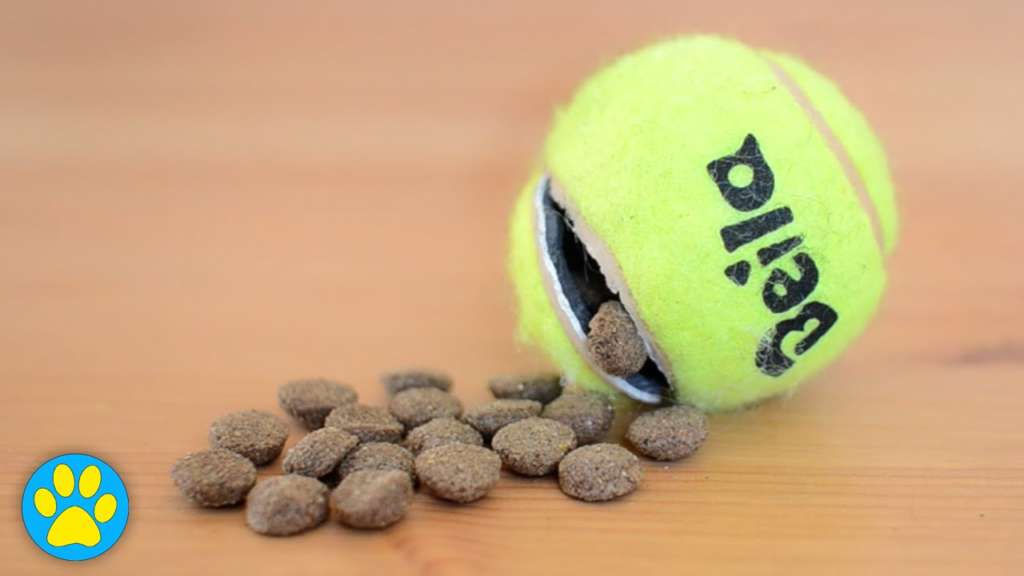 Make a cut along the seam, stuff with your dog's favorite treats or kibble, and voila! (Best part? The felt on the tennis ball keeps the rubber from tearing).
Here's How:
Find tennis ball
Make incision along the seam
Stuff with kibble!
Hide Treats Inside a Cereal Box, Then Tape It Shut
(Destruction intended.) Tape up some treats inside an empty box and watch your pup tear it to shreds. : )
Here's How:
Find old cereal box
Tape treats inside
Tape it shut
Just grab two t-shirts, some scissors and you can quickly fashion this T-shirt dog toy!
Here's How:
Cut strips
Braid together
Start the tug-o'-war!
Here's How:
Cut fabric into wide strips
Wrap tennis ball inside
Tie with ribbon
Tie one of your dog's favorite toys to the end of a PVC pipe and go fishin'!
Here's How:
Drill hole in PVC pipe
Attach dog toy to the rope
Tie rope to the pipe
Here's How:
Cut a 30 x 9 piece of fabric that tapers down to 2 inches
Fold and sew a cone
Stitch tennis ball inside with needle and thread
Toss that baby across the yard!
Interested in more posts like this? Here are 6 long-lasting chews that will keep your pup satisfied.
For more, check out these articles!
21 Easy DIY Projects for Dog Lovers 18 Lifehacks Every Dog Parent Needs to Know 12 Rainy Day Entertainment Ideas To Keep Your Dog Busy14 Resilient Dog Toys Tough Enough For Your Monster Of Destruction16 Beautiful Dog Toys You'll Want To Keep For Yourself