Don't let Aladdin's signature pout fool you – this is one happy Pibble! In the three years since his rescue, Aladdin has taken his history of pain and abuse and channeled it into making the world a happier place for humans and dogs alike. He is a licensed therapy dog, the spokespup for the amazing rescue Lilo's Promise, and a voice for exploited Pit Bulls the world over.
In April of 2013, a far different version of this heroic pup appeared at the Camden County Shelter in New Jersey. Aladdin's legs were broken, his tail had been fractured in several places, he was missing twelve teeth, and he was in an advanced state of emaciation that left him weak and skeletal. His Pit Bull frame is designed to carry a lean muscular dog of 45 – 50 pounds, but Aladdin was a shocking 18 pounds at the time he was found.
Mark Peters worked for the Camden County Shelter in 2013, and is currently with the rescue organization, Don't Bully Us. As soon as he laid eyes on Aladdin, he knew exactly who to call. Michelle Schaffer-Stephens specializes in fostering emaciated Pit Bulls, and Laddy definitely fit the bill! Michelle works closely with Lilo's Promise, and they agreed to take Aladdin in as one of their own.
His road to recovery was long and arduous – there were times that Michelle wasn't sure that he would survive at all. As Aladdin grew stronger, he underwent laser and dry needle therapies to treat the pain in his legs. He still walks with a bow-legged, stunted gait as a result of the fractures he suffered prior to his rescue.
Strikingly, Michelle says that from the moment she met Aladdin outside of the shelter, his tail has never stopped wagging. He was starving, in unimaginable pain, and barely able to stand on his own, but Laddy had hope for a better future.
Within 8 months of meeting Michelle, Aladdin had earned his certification from Therapy Dogs, Inc. Together they visit The Ronald McDonald House in Philadelphia each Monday. Patients, family and staff eagerly anticipate his soothing and uplifting presence. Aladdin even serves as an Ambassa-Dog for the Philadelphia Eagles through the Show Your Soft Side program, as well as Tito's Vodka, a brand that donates a portion of their proceeds to local Spay/Neuter initiatives.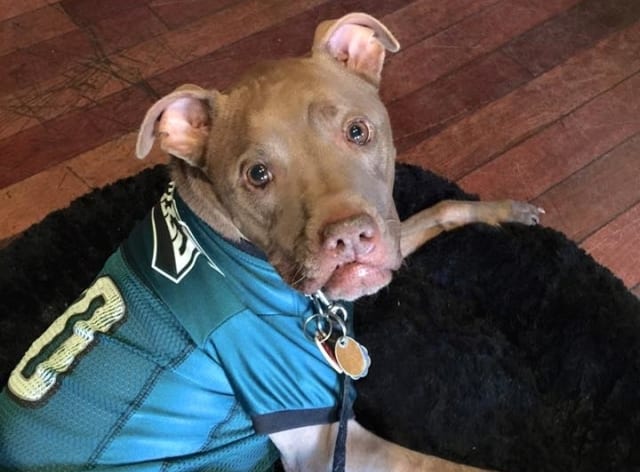 Aladdin is one busy Pibble, but he wouldn't have it any other way. According to Michelle he "bunny hops" for joy every time she announces that it's time to go to work. This past week he visited Rutgers University to help more than 300 college students decompress on the college's "De-Stress Day."
[bp_related_article]
He recently attended the Tatum fair to participate in a program where children with disabilities strengthened their skills by reading to the ever-supportive pup. Aladdin had his own kissing booth at the fair – for the record, I am excruciatingly jealous of the folks who got to smooch those pouty lips!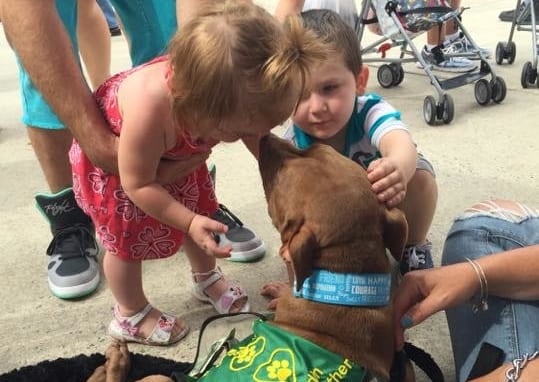 This year the American Humane Society Hero Dog Awards have recognized Aladdin's great works with a nomination for Hero Dog of the Year in the Therapy category! If Laddy is victorious, he will win $5,000 for the rescue group that helped save his life, Lilo's Promise. An additional $2,500 will be awarded to Animals for Therapy. You can cast your vote for Aladdin once a day through April 27!
Be sure to follow this handsome humanitarian and his philanthropic exploits on his Facebook page, Aladdin Nation.
H/T to Lucy Noland Fox 29/Facebook
Featured Image via valeriebruder.com