After a harrowing few months, Bosco is finally home.
Since December, dog lovers have watched as the Bosco situation in Fulton County, Ohio situation has unfolded. They cheered the efforts of the Lucas County Pit Crew to save Bosco's life and help him find a family of his own.
The Lucas County Pit Crew has always held a special place in my heart.  When the Fearing Six fighting dogs were rescued in Toledo, Ohio, Jean Keating, the LCPC Director, was the first person to fight to have the dogs evaluated.  She arranged for representatives from Bad Rap to complete assessments on all the dogs.  Due to her persistence and efforts, our dog McCaela the Turtle's life was spared, and she ultimately ended up in our home. Turtle is a living embodiment of all that is best about Pit Bull Terrier-type dogs.
Turtle
Because of my emotional connection with the group, I have followed Bosco's story from the very beginning.  It was so compelling to me that I wrote several blog posts about the situation. When it became apparent that Bosco needed to leave Ohio, I even offered our home as an emergency foster placement. Jean quickly assured me that Bosco was in an appropriate foster home, just beyond the Ohio border.
Last month there was a court hearing on Bosco's "dangerous dog" designation. The LCPC was disputing that Bosco was anything but a goof and snuggle-bug.  Unfortunately, the judge upheld the original determination.  The hope had been that Bosco could be adopted by a LCPC volunteer.  However, the dangerous dog label made that unlikely. By Ohio State Law, dangerous dogs must wear special tags, be confined by a fence, be spayed or neutered and be microchipped.  Owners must post signs that a dangerous dog lives there and, if a judge orders, maintain liability insurance coverage on their dog.
Shortly after the hearing, Jean contacted me via email, and asked if Kevin and I would be willing to bring Bosco into our home as a permanent family member. During the whole "save Bosco" debacle, dozens of people offered to adopt him, but Jean wanted to make sure he went to a home with experienced dog people who understood canine behavior.  Many of the potential adopters were wonderful people who loved dogs, but they might not have the qualifications to care for a dog who had been bounced around repeatedly since he'd been found as a stray.
In a scant four months, he'd been in 7 different environments: shelter, rescue, foster, adoptive home, foster, pound, and foster. This was not going to be a normal adoption.  Bosco needed to have a home where people understood routine, and who would help him to realize that life can be calm and stable.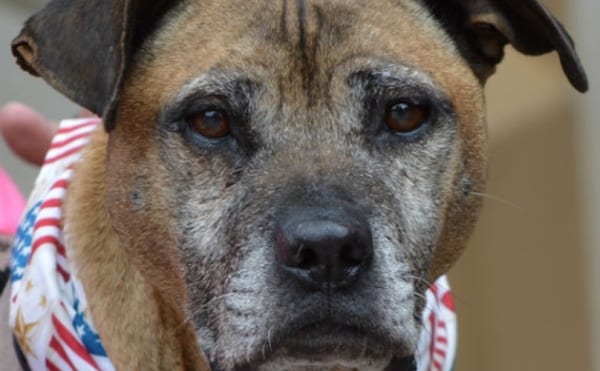 Ray the Vicktory Dog
Jean knows that Kevin and I have worked with several Pit Bull Terrier-type dogs who have come from less than ideal backgrounds.  Our first Pit Bull, RayRay had been rescued from the most infamous fighting dog bust in the country.  He suffered with what can only be described as Canine PTSD.  Certain sounds would terrify him and spark an incredible flight response.  One time a smoke detector beep caused him to scale to the very top of a 10-foot tall shelving unit.
RayRay had no dog skills, and had to be kept separate from other dogs his entire life.  With the help of excellent trainers, we were able to help Ray recover from many of his demons.
Our girl Turtle is also a former fighting dog, her body scarred and torn. She was found chained in an abandoned building in Toledo, Ohio, along with five other fighting dogs.  She is missing half of one ear, and the other ear is ribboned and torn.  A leg had been broken and never received medical attention.  She had obviously been bred multiple times.  And she has the blood parasite Babesia, which is incurable and can cause extreme, sometimes fatal anemia.
Bubba and Turtle
Turtle is dog-selective, which means that her interactions with unknown dogs must be carefully managed. When Turtle first came to us, she would pancake and scream if my husband moved too quickly, but she quickly discovered our home was a safe place for her to be just another dog.
Finally, our boy Bubba was found in an alley in Denver.  He was horribly injured with wounds consistent with dog fighting.  The worst injury was a scalp which was totally torn away from his head.  That injury cost him both of his ears and one ear canal.
At almost 90 pounds, Bubba's looks can be intimidating.  But his demeanor is so soft that he is training to become a therapy dog.  He is smart and picks up training incredibly fast.  He has the ability to generalize behaviors, which is rare.  I taught him to use a pull to open a cabinet at work where I keep his toys.  He used that skill to open my pantry door and get into the garbage. He is a happy boy with a joyous spirit.
Bubba G.
What Jean was asking of us wasn't going to be a fast or easy decision.  With two Pit Bull Terrier-type dogs already in the home, adding a third could upset the balance.  Turtle has had problems making new friends in the past. Bubba, a giant goober of a dog, bull-dozes into every canine he meets. He is attempting to play without having the first idea how to successfully do so.  Any new dog would need to be able to adapt to both personalities.
After family discussions and phone calls with Jean and Bosco's foster dad, we finally decided to give Bosco a chance.  Because of RayRay, our house has already been divided in half with installed dog gates, and the yard has been split in half with six-foot fencing.  Even if Bosco never became friends with Bubba and Turtle, we were committed to giving him a loving home.
Once the decision was made, things happened very quickly.  A transport was arranged for Easter weekend, with volunteers who were willing to drive Bosco all the way to our home in Arizona.  On Friday, March 25th, the three volunteers, Patrick, Scott and Jack, loaded up a Jeep and headed west with Bosco.  After a grueling 2000+ mile trip, they arrived late the next evening in Kanab, Utah with Bosco in tow.
Kanab is home to the nation's largest No-Kill Animal Sanctuary – Best Friends Animal Society.  To say this town is dog-centric would be an understatement.  We had posted about our decision to add a new family member on our Facebook pages.  Many folks in the community were well aware of Bosco's impending arrival.
Bosco meeting his new dad, Kevin
When the volunteers let Bosco out to stretch his legs, they were surprised when a woman asked them, "Is that who I think it is?" Volunteer Patrick replied: "That depends…who do you think it is?"  They were more than a little surprised when she said: "Bosco!"
Justyne Moore had been following Bosco's story from the beginning, and had even donated some of her art for a fundraiser for the Lucas County Pit Crew.  She was thrilled to be the first person to welcome Bosco home.
Moments later, Kevin and I arrived.  We had brought Turtle along with us to meet her new brother on neutral territory, something that is very important when adding a new dog.  I was so excited to meet our little guy that I didn't even notice the GoPro camera on his harness, recording every second of our joyous meeting.
After an exchange of paperwork, some basic discussion about Bosco's needs, and the unloading of three full bags of his gear,  Justyne helped us load him up and head for a local park to do our first parallel walk with Turtle.  The walk went extremely well and gave us hope that eventually Bosco could be part of an integrated household.
In the few days since, Bosco is starting to learn his new life. He has had brief introductions to his new siblings, going on parallel walks with them, and having some short one-on-one sessions in the yard.  His dog skills are tremendous, and all indications are that he will soon be an established member of the family.  This morning, he was finally allowed to play with Turtle in the house.  According to Kevin, it was a high energy play session with lots of play-bowing and prancing around the room.
I have taken him to work with me twice as he begins to settle in.  By having him with me all day, I am able to work on relationship building very quickly.  I am very, very lucky to have a job where dogs can come with me to my office.  And while I work on the computer, he sleeps at my feet, in the crate, or on top of Bubba's memory foam mattress bed in my office. Full disclosure: Bosco snores…a lot!
A friend asked me to describe Bosco.  All I could tell her was that Bosco pulls like a draft horse, drools like a St. Bernard and snorts like a piglet.  He is one of the biggest goofs I have ever met.  In many ways, he is very similar to our boy Bubba G. – full of joy and a total ham of a dog.
I inadvertently discovered that Bosco can have some fear issues with men, especially dark haired, bearded men.  This probably stems from all the insecurity of living in so many different environments in such a short amount of time.  Bosco needs stability and routine to help him begin to recover from his experiences.  We will be able to work through this issue quickly.  I have a male co-worker who has volunteered to help me modify Bosco's behavior.  All it will take is time, patience, and some really good, tasty treats.
In the next few weeks, Bosco will begin obedience classes to learn what is expected of him and to help him cement his bond with us.  Classes will also help with his minimal separation anxiety.  Formal training sessions are one of the most important tools you can use to welcome a new dog into your family.  It is a highly successful method of helping a dog understand the parameters of his new home.
Bosco is a great example of a wonderful dog who has been injured by breed discrimination and misperceptions.  Thank goodness there are groups in this country dedicated to helping rehabilitate, train and place dogs who have suffered at the hands of discriminatory laws and an outdated sheltering system.
The Lucas County Pit Crew, like many organizations of this type, relies on donations to continue the work they do.  You can support them by making a financial contribution or by buying their merchandise from their website.  This is an amazing group doing a lot of good work.  They could use your support.
Featured image via Justyne Moore & Lucas County Pit Crew