Dundee Boy, a Chow Chow/Australian Shepherd mix, found bestie status with a feral cat named Tabitha. This is their story.
Tabitha lived outside and was fearful of all animals and humans. That is, until Dundee Boy caught her eye. Soon, the pair was inseparable.
People described Dundee as "a dog who didn't like cats." After Tabitha, that all changed.
Tabitha would come to the house and wait for Dundee Boy to be let out. They would play and nuzzle together. Dundee's owner, Yvette, was floored by their bond.
Tabitha wouldn't let anyone except Dundee Boy touch her. Their friendship was that special.
One day, Tabitha got sick. Yvette and her husband, Francisco, devised a way to get her treatment. They knew she'd have to stay in their house to recover. Once they lived in the same house, Tabitha and Dundee grew even closer.
Then, Dundee Boy tragically passed away during surgery. Tabitha became inconsolable and cried for weeks.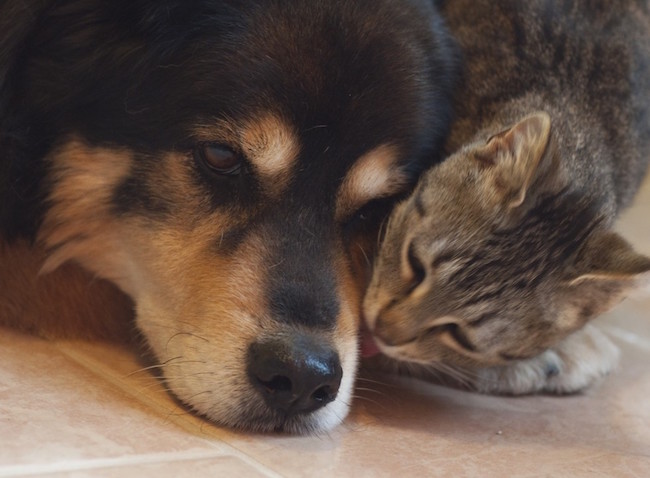 While Tabitha's loss is sad and heart-breaking, it is so poignant to see animals experience a deep, forever kind of love. We hope Tabitha still has a piece of Dundee Boy in her heart. He's always watching over his best kitty.
Dundee Boy and Tabitha's story is an excerpt from a book, "Community Cats," by Anne E. Beall.
H/t via The Dodo
Featured image via Yvette M. Piña