Pit Bulls have a huge fanbase with Hollywood stars. Don't believe us? Just take a look at all the celebs who adore their Pitties!
1. Kaley Cuoco
Kaley Cuoco is a major advocate for Pit Bull awareness. She has called pit bulls "the greatest dogs in the world" and has three bully-breed rescues, Loretta, Norm, and Shirley. At her wedding, she even had a cake made for her then-husband (they just announced a divorce), pro tennis player Ryan Sweeting, with a giant tennis ball and their three pups!
The actress frequently mentions the misconceptions about the breed on social media and has partnered with Angel City Pit Bulls to make a PSA for the dogs.
2. Jessica Alba
Jessica Alba's adorable white American Bull Dog is named Bowie, after musician David Bowie. Alba specifically found a new home after her daughter, Honor, was born but one of her major requests was a large yard for her dogs (she also has a pug named Sid). Her designer created custom-made bunk beds in the kitchen for the two pups – lucky dogs!
3. Jennifer Aniston
Jennifer Aniston adopted a Pit Bull mix puppy in 2012 with her then-boyfriend (now husband!) Justin Theroux and named her Sophie after Sophie's Choice.
4. Jessica Biel
Jessica Biel loves her Pit Bull pup so much, she's created a weekly Twitter/Instagram hashtag to showcase their love, #TuesdaysWithTina. If you live in Hollywood anywhere near Justin Timberlake and Jessica Biel's home, you are likely to spot her hiking, playing at the beach, or wandering around town with Tina by her side.
5. Rachel Bilson
Way back when, former fiancé, Adam Brody, gifted Bilson with a Pit Bull named Penny Lane for her birthday. When the couple broke up the pup didn't have to choose parents – the couple decided to share custody of the dog, since they both loved her so much!
6. Katherine Heigl
Heigl has always been a long-time animal supporter, and even founded the Jason Debus Heigl Foundation with her mother to promote animal welfare. In 2011, the actress pulled a two month old Pit Bull puppy from the California City Shelter who was previously used as a bait dog in dog fights. Heigl and her family have eight rescued dogs – talk about a full house!
7. Alicia Silverstone
Silverstone has three rescued pups, and one is a Pit Bull named Butterfly, and nicknamed "The Pig." The actress has claimed that Butterfly is the "princess of the house" and advocates for the breed on her website, The Kind Life. Like many other advocates, Silverstone states that Pit Bulls are not only misunderstood, but that the people who train them to be aggressive are the real problem.
8. Marc Jacobs
Fashion designer Marc Jacobs' Bull Terrier probably has better style than you. That's because he is constantly hanging with his dad at work! He has his own Instagram account, @nevillejacobs, where he posts all of his photos hanging with his friends. He may be spoiled, but this dog also has busy days just like the rest of us!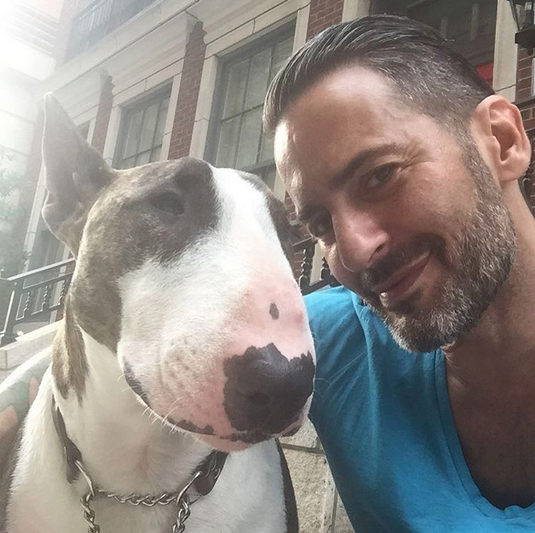 9. Jon Stewart
Jon Stewart is a huge canine fan and has three rescued Pits named Shamsky, Champ, and Monkey. He has worked with the non-profit shelter, Animal Haven, where he adopted his three-legged pup, Champ. While hosting The Daily Show, staff members were allowed to bring their dogs to work. "Dogs are allowed at my work," Stewart has said. "Because people are, you know, meaner."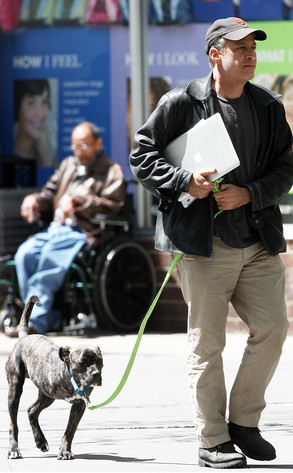 10. Sophia Bush
Sophia Bush adopted a Pit Bull puppy in 2012 and it appears that the two are inseparable! Griffin, a blue Pit Bull, came from a litter of eight pups who were set to be euthanized but were saved by the rescue group, Wags and Walks. Griffin joined the family with two other rescued Pitty siblings named Patch and Penny.
[bp_related_article]
11. Gisele and Tom Brady
Super couple, Tom Brady and Gisele have always been dog lovers! Their adopted Pit mix, Lua is nearly as famous as they are – she starred in her own UGG Australia commercial with her Dad.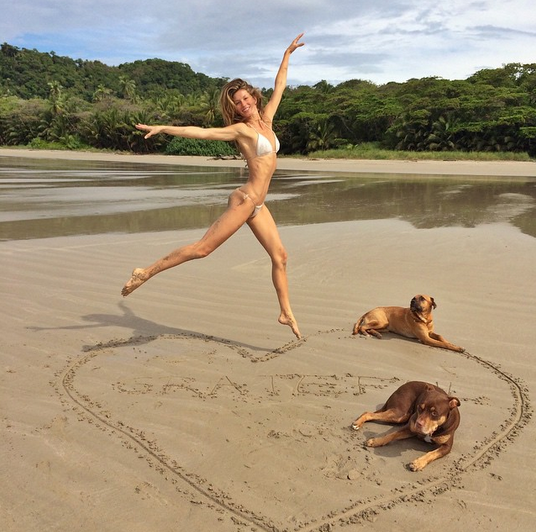 12. Kevin Bacon
Kevin Bacon's favorite girl has four paws – his Pit Bull Lilly. The actor and his wife Kyra Sedgwick are huge animal lovers and Pit Bull Ambassadors. He even participated in Dog Park Publishing's #KissedByAPit campaign celebrating Pit Bulls and fighting against their stereotypes.
13. Josh Hutcherson
In 2012 the Hunger Games star adopted a three-month-old Pit Bull puppy named Driver. The pup was once a stray and was rescued by Hands Paws Hearts from a municipal Los Angeles shelter. Driver sat in the shelter for 11 days with a broken leg and was in extreme pain. Right before his surgery, Hutcherson met the pup and fell in love!
14. Rachael Ray
Rachael Ray is so in love with her Pittie, Isaboo, that she considers her a child and fixes her special dinners. The talk show host founded a line of dog food called Nutrish, which benefits shelter pets.
15. Adrian Grenier
The Entourage star frequently posts pictures with his lovable pup, sometimes in adorable poses like this bathtub snap.
16. Cesar Millan
Cesar Milan is possibly the king of working with de-stigmatizing "difficult" breeds by working one-on-one with owners to train their dogs to be better behaved. His blue-nose pit, Junior, is often seen traveling around as his assistant, attending speaking engagements all over the country and just being an allover spokes-dog for the cause.
17. Norman Reedus
When Reedus isn't spending time fighting zombies in The Walking Dead, he can be found hanging with his pitty and getting sloppy kisses. He actually tried to convince the producers of his show to allow his character, Daryl, have a dog but they knew everyone would pay way more attention to the pup than the actor himself.
18. Lake Bell
This actress loves her pit bulls so much, she featured them in her wedding! Texas and Margaret were "dogs of honor" in her ceremony as she wed Scott Campbell. While Bell grew up with smaller dogs, she fell in love with the crop-eared pitty, Margaret and wound up a foster failure.
19. Channing Tatum
The only thing better than Channing Tatum is Channing Tatum with a dog. Tatum and his pitty mix, Lulu can often be found out in public together or in Instagrams with his wife, Jenna Dewan-Tatum. Tatum rescued Lulu when she was only seven weeks old in a shelter in his Alabama hometown and they've been inseparable ever since.
20. Miranda Lambert
This country star is notorious for being a dog lover! She has six rescued pups of her own and while none of them are actually pit bulls, she has started a non-profit organization called MuttNation which has an initiative to end animal abuse and homelessness. And she often poses with adorable pitties on her Instagram account, like this one above.
21. Betty White
Betty White is a huge dog lover and she doesn't discriminate! Above, you can see her petting and loving on the 2013 Hero Dog of the Year, a pit bull named Elle.
22. Liam Hemsworth 
Liam Hemsworth almost broke the Internet when he posted the above photo with his rescue dog, Tani. While this Hemsworth might not be Thor, he's certainly a superhero to his pitty. Keep the blue-eyed pics coming, Hemsworth.
Interested in more content like this? Sniff this related article: 26 Of The Most Influential And Inspiring Internet Dogs Of Our Time.
Does your dog get more likes than you do? We'd love for you to join our BarkPack. BarkPack is for pups with an engaged social media presence interested in getting paid to spoil your dog. Head to www.barkbox.com/barkpack to sign up!