This article is part of our BarkPost Wedding vertical, The Dogified Wedding, full of tips and tricks for creative ways to include your dog on the big day!
Part of the fun of having something to announce to your family and friends is coming up with a creative way to do it. We've all seen the gender reveal cakes with the blue or pink inside and the new baby announcements telling everyone how many pounds your little bundle of joy weighs.
But what about including your tail-wagging best friend in sharing the great news? Get ready to Pin away!
New addition to the family? Check these out:
Hoomans and doges alike should be preparing for the new baby.


Pups, a pun, and various expressions of derpiness.


You can have your pups wear plain tees and just Photoshop words onto them.


Many treats must have been sacrificed for this one. Totally worth it, though.


The pitter-patter of small feet…and paws.
This pup looks like it's his first time hearing the news too.


Super cute. Super simple. Guaranteed aww-worthy.
Baby announcement out of the way? How about doing a gender announcement too?
Um. Ovaries just exploded.


Balloons + bulldogs? Sold.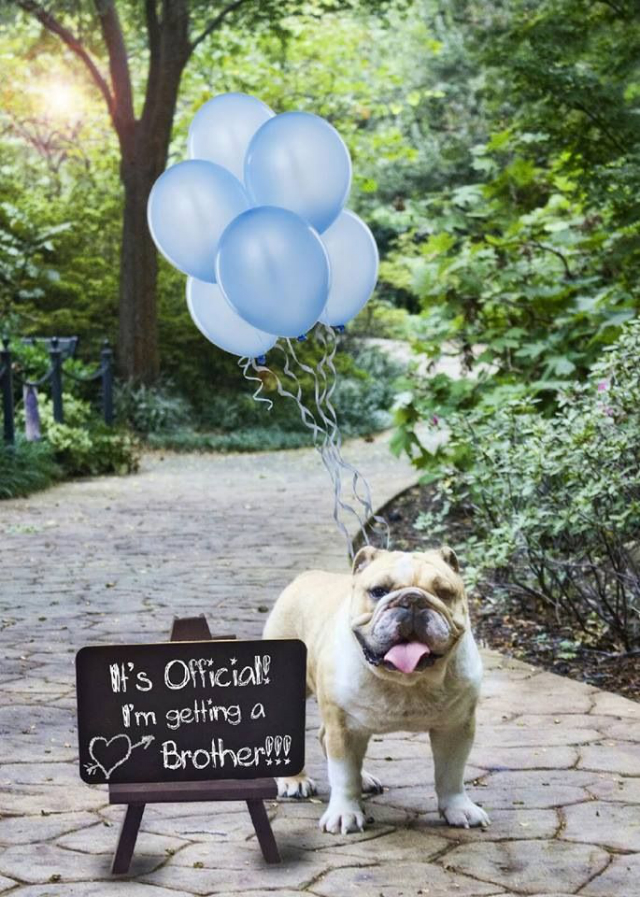 Perhaps you'd like to send your loved ones a save-the-date for your upcoming wedding?
Someone's supaw excited about the upcoming nuptials!


This pup knows a wedding means extra table scraps.


Any news delivered by a puppy is great news.
Got a new pad? Let your pup tell the world!
"I have no idea why I'm standing here."
Follow us on Pinterest for more adorable dog-friendly ideas!