Lauren Birney from Australia has a stalker. She says she, "always feels watched" in her home, and wakes up every morning with the creep staring at her from the foot of her bed.
Don't worry. Birney's stalker is her two-year-old Bullmastiff, Cyrus.

Cyrus is one of three of Birney's dogs. Each of them with their own, er, unique little quirks.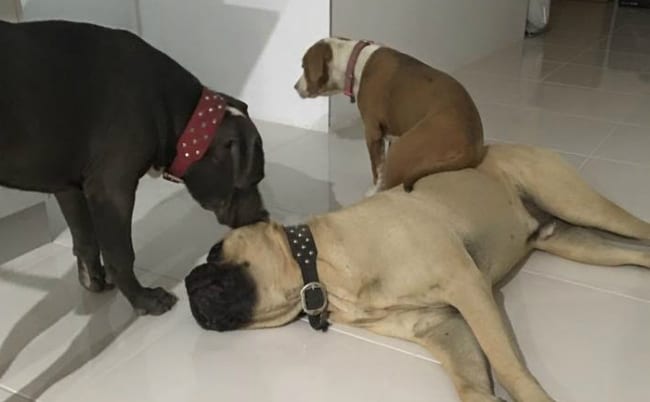 From left to right: Beerus, Cyrus and Lou Lou.
Birney says that Cyrus has always had a "creepy side," but it wasn't until recently that she began documenting her lovable lurker and the internet took notice.
"Cyrus has always been a very laid back, gentle giant. He is so loving and he'll do anything to get your attention." Birney told BarkPost. "I have this theory that he just needs to know that I am okay all the time. That is why he is constantly creeping on me. Even when I am sleeping, he is laying in his bed staring at me sleep."
D'awwwwww! Cyrus may be a certified creeper, but he's also a life-saver!
"Cyrus donates blood every four months at WAVES (an emergency veterinary clinic in Perth) to help dogs in the case of an emergency."

What a caring, little creep!
Click through to see some of our favorite pics from Birney's Creepy Cyrus album.
Featured image via Lauren Birney