There is nothing worse than leaving your dog at home with his big sad puppy eyes, while you head out for a day of (brutal) holiday shopping. Here is a list of stores that allow you to bring Fido with you!
*Note: If your dog is not a service dog, do not bring them into a store that is not dog-friendly. Additionally, many chain stores (including ones on this list) leave it up to the manager to decide whether their individual locations allow dogs or not. The best way to ensure you can bring your pooch inside is to call ahead and find out that specific store's policy.
1. Marshalls/TJ Maxx/Home Goods
Looking for a new set of dishware for Mom or a cute sweater for your friend? Let you pup help you pick it out! Bonus: Home Goods has a TON of great stuff for dogs!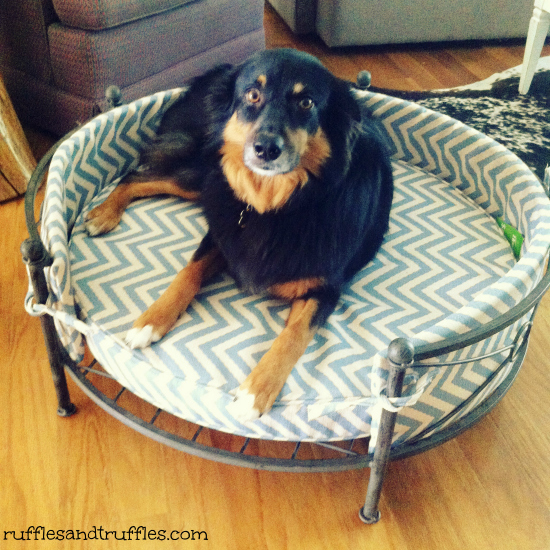 2. Petco/PetSmart
This is a total given, but bring your four-legged family member to the store with you to pick out his own Christmas gifts!
3. Bed Bath & Beyond
This may be good for small dogs, but watch out for your big tail-wagging buddy in the ceramic dish aisle and avoid hearing "clean up in aisle four!" over the loudspeaker.
4. Home Depot
If you're getting ready for a big home project around the holidays, make it a family affair and bring your pup with you to help pick out all the essentials.
5. Michael's
Michael's is perfect for picking out all the goods to deck out your house in Christmas spirit. Bring Fido along for extra inspiration. #CraftyDog
6. Macy's
Some individual locations allow four-legged friends to join their hoomans! But be careful – the legendary department store might turn your pup into a shopaholic.
7. Anthropologie
Is your dog hip enough? If not, he will be after walking out of the bohemian chain, probably decked out in a flowing, floral dress.
8. Urban Outfitters
Some dogs are allowed in certain locations of this trendy chain. If your dog has a mustache or a beard of any kind, even better.
9. LUSH Cosmetics
Make sure you hold tight to your pooch in this store so he doesn't eat the handmade soaps and bath bombs that smell so good!
10. Old Navy
This family-friendly store is perfect for buying gifts for everyone – even the dog in your life! The chain is known to sport a few doggy goodies like leashes and toys up near their checkout lines.
11. Saks Fifth Avenue
If your dog is more Blair Waldorf than all the other pooches in the dog park, you may find her perusing the designer dog carriers at Saks.
12. Gap
Gap is perfect for everyone on your list. Take your pup with you to help pick out the preppy goods.
13. Free People
Another boho boutique that sometimes allows pups! Get Fido ready for festival season.
14. Bloomingdale's
This big department store will have you and your pup shopping until you drop.
15. Barnes & Noble
The famous bookstore has some locations that allow dogs. But watch out – he will probably lead you to the "pets" section and try to teach you a thing or two.
16. Restoration Hardware
Your pup will most likely want to run all over all the furniture in here, but make sure the salespeople approve "testing" the couches.
17. Apple
There is NOTHING worse than standing in the long line for the genius bar with a broken phone or computer. Bring your pup to help entertain you (since you can't play on your phone – for obvious reasons).
18. Sephora
Give your pup the full beauty treatment by taking him to the huge makeup store.
19. Ann Taylor
Looking for some new work clothes? Make sure your dog approves.
20. Strand Bookstore
A New York City landmark, Strand allows pups to come in with their owners! It's usually pretty crowded, especially around the holidays, so it's probably best to bring a small pup in.
21. Hallmark
Those holiday cards aren't going to buy themselves! Pick out the funniest ones and laugh hysterically with Fido by your side.
Featured image via To Dog With Love