This article is part of our BarkPost Home vertical, The Dogified Home, full of tips, tricks, product suggestions and styling ideas for creative ways to show off your dog love in your home schweet home.
When it comes to adding touches of pup love to your home, it's hard to find one-of-a-kind items that will show-off your doge loving personality without compromising your existing decor. String art is a craft that is fun, interesting, and so easy to personalize! All you need is a template, nails and some string! Go forth and dogify your walls.
1. Black Lab
Lab fans, rejoice! This leaping black Lab perfectly captures the energetic spirit of this puptastic breed. You can find the instructions to make your own here.
2. Woof
Make string art in your pup's native tongue. P.S.- Little known fact: dogs love cursive!
3. Yorkie Silhouette
Get creative by using a map background to add extra detail and color. Here's a great DIY tutorial that can help you with the directions. 😉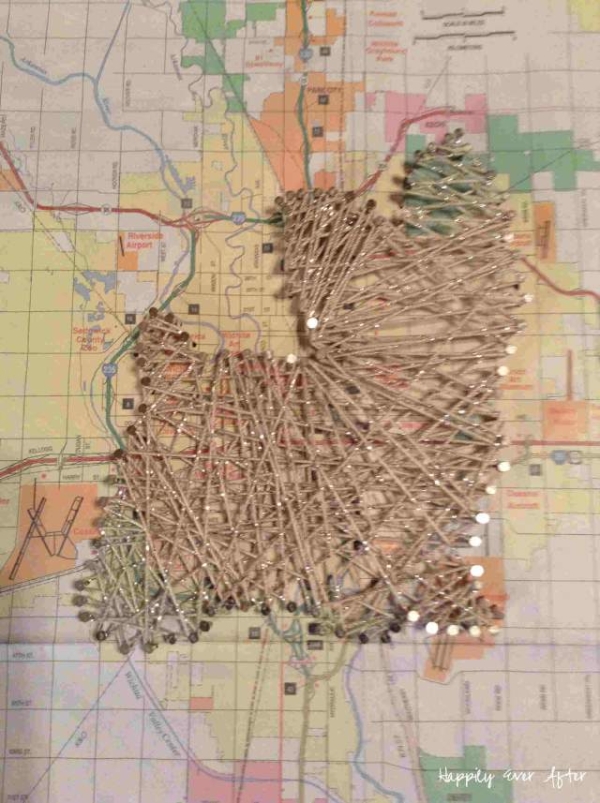 4. I Heart Beagles
Calling all Beagle fans! This one's for you. It adds a fun heart outline to show your little buddy just how much you love them! It's so cool it should be an emoji. DIY here!
5. Furry Friends
Cats and dogs side-by-side showing all is right in the world! This one can be modified for parents of multiple pets. Check out how to make one of these babies here.
6. Puppy Silhouette
Want to keep it simple? This easy tutorial can help you start off the string art path. You can customize by choosing string colors that match your tail-wagger's fur.
7. Dachshund Design
Let this gorgeous picture inspire you to make your own Dachshund work of art. Use this Doxie template and follow these basic string art directions.
8. Friendly Face
Use this tutorial as inspiration to make your pup's pawdorable face! A picture of your pup can be the template to a unique piece of pup art.
9. Boston Terrier
Use this Boston Terrier template and follow these directions to get a one-of-a-kind piece of pup art.
10. Paw Heart
Show your four-legged friend how much you love them with this design using colored string for added pizzazz. Make your own here!
11. Colorful Paw
This one is kid friendly! Try adding a pop of color to your paw string art. This diagonal design shows this off well. Make your own here.
12. Doggie Initials
Understated and tasteful. Make your own here.
13. Corkboard Initials
This cool twist on string art uses pushpins instead of nails. Hammers need not apply. Make your own here.
14. Pet Name
Spell out their name and make them feel special with personalized string art! Make your own here.
Now! Arm yourself with string and go forth! Go forth and craft!
Featured image via Ammo the Dachshund