If you love dogs as much as we love dogs, there's very little you won't do or buy for them if it means improving their lives (well, within reason). Thankfully, there are all kinds of Kickstarter projects that aim to do just that.
Here are 7 of the best ongoing canine-themed Kickstarter campaigns. If any of them interest you, you should definitely consider backing them and getting in on the ground floor.
1. Apartment Pet Door – An easy, lightweight, modular pet door for sliding glass doors.
Ah, the apartment life. While it certainly has its upsides, being unable to significantly alter your surroundings is definitely not one of them. Let's say, for example, you want to install a doggie door for your dog (or cat, I guess, if that's your thing) to go in and out whenever he or she feels the urge, but your landlord won't allow it. Fortunately, with the Apartment Pet Door, you don't need his permission. All you need is a sliding glass door, a minimal amount of effort, and voila – no more having to open and close doors every five seconds for your dog or cat.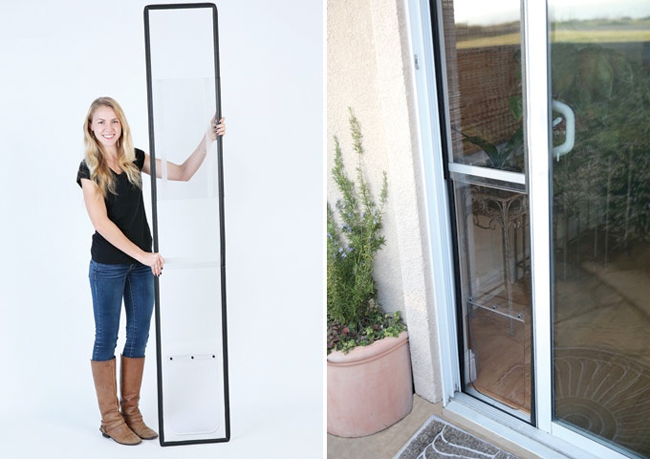 2. ZugoPet – A pet carrier that's a car safety seat, airline compliant designer bag, hands free leash, and dog bed all in one.
Have you ever said to yourself, "Man, I really love taking my tiny dog literally everywhere I go, but none of the dog carriers available for purchase are fashionable enough for my delicate sensibilities"? If you answered yes, then the ZugoPet is for you. The cool thing about the ZugoPet is that it's not just a really attractive dog carrier/handbag, it's also a car safety seat, a hands-free leash, and a super comfortable bed for your Benji. (Benji here means dog.)
3. Injured Pets Project – Help put injured pets back on all fours with 3D-printed prosthetics.
I'm of the firm opinion that all dogs – even those dogs that win "Ugliest Dog" year after year – are utterly adorable. Big, small, wire-haired, hairless, smoosh-faced, long-nosed, special needs – you name it, all adorable. Dogs without limbs? Oftentimes they're even more adorable than their fully-limbed brethren! This is all a roundabout way of saying that those dogs deserve love, too, and they deserve to be able to run and play just like any other dog. The Injured Pets Project wants to make that a reality. Using 3D modeling and printing, they produce custom-fit prosthetics and braces for dogs who need a little help getting up and around.
4. Double Doodie Bag – An effective poop bag-carrying/containment system.
The Double Doodie Bag is basically the Ghost Trap from the Ghostbusters movies, but instead of trapping ghosts, it traps the terrible stench of your dog's excrement. Have you ever been on a walk with numerous dogs and numerous bags full of numerous poops with nary a trash can in sight? It's not exactly a pleasant experience. Thankfully, The Double Doodie Bag will make your poop-carrying woes a thing of the past.
5. Convertible Leash System – A custom-sized adjustable dog leash with six different functions.
If you've been a dog parent for a while now, chances are you have about a hundred different leashes at your disposal. While some of those leashes are just old and no longer in use, others likely perform specific tasks. There's the long lead for letting your pooch have the lay of the land, there's the the hands-free leash for going jogging or hiking, and so on and so forth. Well, go ahead and throw all of those babies in a garbage can and light them on fire, because the Convertible Leash System is pretty much every conceivable leash combined. Through a series of buckles, it can be a 3-foot leash, a 6-foot leash, a hands-free over the shoulder leash, a hands-free around the waist leash, a no-hassle (temporary) tether, and a two-handed traffic leash. In short: it may well be the Holy Grail of leashes.
6. The Davy Rule – A children's book about bullying and real-life dog Davy Whippet, a 2-time Guinness World Record holder and 4-time World Frisbee champ.
As a childless dog parent, I often find that I have little to no interest in children's books…unless they're about dogs. In fact, if you were to take Everyone Poops and re-title it Every Dog Poops, I'd go out and buy several copies right now. The point is, children's books about dogs are the best because dogs are the most sympathetic characters in existence. (FACT.) Take The Davy Rule – it's about an adorable Whippet named Davy Whippet (a real-life Guinness World Record holder and World Frisbee champ) who has to overcome bullying from other bigger dogs. Aren't you invested in his struggle already? Of course you are! But if that's not enough, just look at his cute Whippet face and you'll be backing this book at the highest tier in no time.
7. Homes 4 Dogs – Match fun dogs with happy homes in this novel strategy card game.
From Apples to Apples, to Cards Against Humanity, to the most-heavily funded Kickstarter game in history, Exploding Kittens, card games are all the rage these days. That last one is particularly relevant, because the creators of Homes 4 Dogs – a strategy game for matching adoptable dogs with suitable families – didn't take too kindly to the concept of detonating domesticated animals, even in card form. In fact, Homes 4 Dogs is basically the antithesis of Exploding Kittens. It's all about teaching kids how fulfilling it can be to bring adopted pets into their homes.
Featured Image via InjuredPets.org