Finally, a decisive answer to the age-old question of who's a good dog, who's a good dog—Maxx here is a very, very good dog.
[bp_related_article]
On Monday night, the German Shepherd led firefighters to her two human siblings, trapped inside the family's flame-engulfed home outside Orlando.
"The family canine was just absolutely remarkable leading firefighters inside," Seminole Chief Deputy Dennis Lemma told the Orlando Sentinel. "It absolutely saved their lives."
The fire—thought now to be an accident—began while the family was asleep. Quick-acting neighbors, who saw the house burning, called the fire department and used a chair to break through a front window.
They were able to help Margo Feaser, who is an investigator with the sheriff's office, out of the burning house. Firefighters then broke down the front door and rescued Feaser's husband.
The kids, a 2-year-old girl and her 4-year-old brother, were in another room—so then Maxx, a retired police dog, showed responders where to find them.
The boy wasn't breathing, at the time. He and his sister were rushed to the hospital.
"Maxx, the family dog, is credited with assisting firefighters through the heavy smoke to the location of each of the two children," the Seminole County Sheriff's Office said in a news release.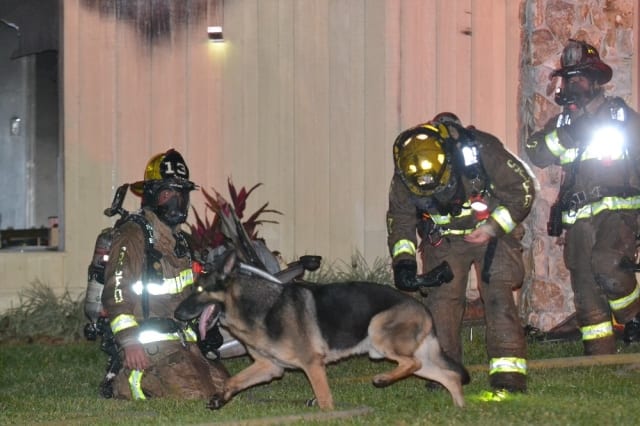 The Feaser family's house was completely destroyed in the fire.
Luckily, all four humans are in stable condition, according to the sheriff's office, while Maxx is being treated for smoke inhalation at a local veterinary clinic, "and is expected to make a full recovery."
You're a good girl, Maxx. We hope you and your family get better soon.
A GoFundMe has been set up to help the family get back on their feet and to help pay for Maxx's veterinary bills.
H/T WFTV
Featured image via Seminole County Sheriff's Office/GoFundMe