Until recently, military dogs were usually classified as "equipment" and were not allowed to fly back to the United States on military aircraft with their handlers, and the two often never saw each other again. This was often a miserable situation for many handlers who wanted their dogs returned to the United States, and returned to them.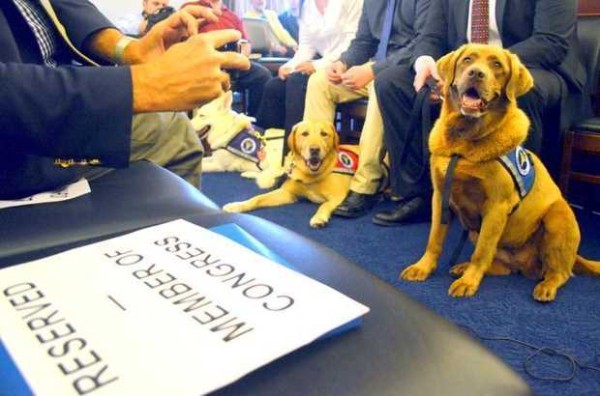 And though Congress passed a law that states that military dogs may be brought back to the United States to be reunited with their handlers, many said that bill did not go far enough.
Advocates are now pushing for a bill that would require that military dogs are given military transport back from their war zones, and that their handlers are given the first opportunity to adopt them. They also want to make sure that dogs employed by military contractors are given the same treatment.
War hero Thor takes a nap. He is with his Marine. They were together in Afghanistan. Now, together in retirement. pic.twitter.com/80umdQu4Hr

— Natalie DiBlasio (@ndiblasio) July 23, 2014
The American Humane Association, whose president, Robin Ganzert, was at the briefing, argue that the Department of Defense can change the rules for military dogs on its own, with no need for legislation.
Whether the issue will be solved through legislation or not, it already has proponents on the Hill, including Representative Dina Titus (D-NV). "We always had a rule, if you want to get your bill passed, just show up with a dog, that always won people's hearts over," she said to NPR.
During a Congressional hearing about the issue, veteran pups Ryky, Cila, and Thor came to help their humans tell their stories. Though the dogs seemed unfazed by all the attention, their owners and fellow veterans told emotional stories about their bond with their war dogs—and the bureaucratic headaches that were required in order to adopt them.
Despite all this, these dogs seem to be having the kind of retirement that every service dog's dreams are made of.
"We had some challenging times in Iraq, but we both made it out safely," Army veteran Jason Bos told McClatchy about his hero dog. "Now Cila is a couch potato. She's retired. She can eat what she wants. She can get fat…just be like a regular retired person."
h/t to NPR. All images via Chris Adams/McClatchy News.
Featured Image via Best Bully Sticks blog