A darlin' little lady named Trixie is saved from a terrible living situation, groomed for stardom, and wins the hearts of adoring fans from across the nation. It sounds like the plot for an inspirational movie or smash Broadway hit, but, to the delight of dreamers and dog-lovers everywhere, it's not only real, it's a rescue rags to riches tail! In fact, many of your favorite canines of the stage and screen (Sandy in Annie, anyone?) are so well-suited for a life in the entertainment business because of their humble shelter beginnings.
"When we look for dogs to perform, we look for ones who are friendly and handle stress well. And, unfortunately, an animal shelter is an environment with a lot of stress," says award-winning animal trainer of the stage and screen, Bill Berloni.
Trixie currently stars alongside some very talented humans in Bullets Over Broadway, but before her big break, the sweet Pomeranian was a victim of a hoarding situation in South Carolina. Eventually, the mysterious paw of fate intervened and led Berloni to a shelter in Armonk, NY during his search for Mr. Woofles – a lady dog with gender-identity issues and a host of neuroses.
"Mr. Woofles is depressed, so we needed a dog who could literally do nothing; one that could stay, be calm in a moving wagon, and run on and offstage. When I met Trixie at the shelter, this is exactly what she did," Berloni said, referring to her cheerful, comfortable demeanor snuggled on a couch in the BarkBox office.
W.C. Fields, famously said, "Never work with children or animals." But Berloni insists that performing pups like Trixie actually make actors step up their game:
"Animals don't act. With actors, we suspend disbelief. The actors don't actually want to kill each other or aren't actually in love with who they are in love with onstage. But with dogs, everything is real to them, so it reminds actors that they really have to be in the moment. They can't get lazy with a command or flub a line or goof off in the wings because the dog will look right at them!"
But before you get to thinking that the life of a doggy diva is all work and no play, just know that there is plenty of time for snuggles and treats (the preferred method of pooch payment!).
Berloni explained, "Dogs are social and they enjoy that aspect of working on a show. All of the actors say hello to her before the show starts because if she didn't get to interact with them until the scene she was in, she'd just be happy wiggling like "Oh, I'm so happy to see you again!" So, she sees Auntie Karen [Ziemba] and Heléne [York]. They all have their pre-show rituals with her. Zach [Braff] always jokes with her, "Why did we have to get such an UGLY dog?!" and kisses her head before he goes on."

Berloni has been committed to using rescue animals ever since he trained the very first Sandy for the original production of Annie. The producer gave the young actor his shot – a chance to perform professionally and earn his Equity Card if he could train their Sandy, and in turn, Bill gave a dog at a local shelter a shot at a new life. And the rest, as they say, is history.
In his nearly 40 years as an animal trainer, Berloni has seen a lot of changes in the industry. He's happy that people are embracing positive reinforcement training (which he has always advocated) and is even glad for the prevalence of CGI on both the big and small screen- even if it means that use of live animals decreases in entertainment as a whole.
"I've been doing this since the '70's, so when CGI started to be used in the '80's, it definitely hurt the business. But, I will say that it's been GREAT for the humane treatment of animals. For example, if a shot requires a dog careening down a mountain on a sled, you can just put the dog on the sled in front of a green screen instead of finding a way to accomplish it in real life that could be potentially dangerous."
But what hasn't changed in all of those years is Berloni's commitment to using rescues as his stars. In fact, when the animals "retire" from the limelight, they live with Bill and his family on their farm. Needless to say, Berloni has quite the menagerie, but to him, rescuing an animal is a to-death-do-us-part commitment.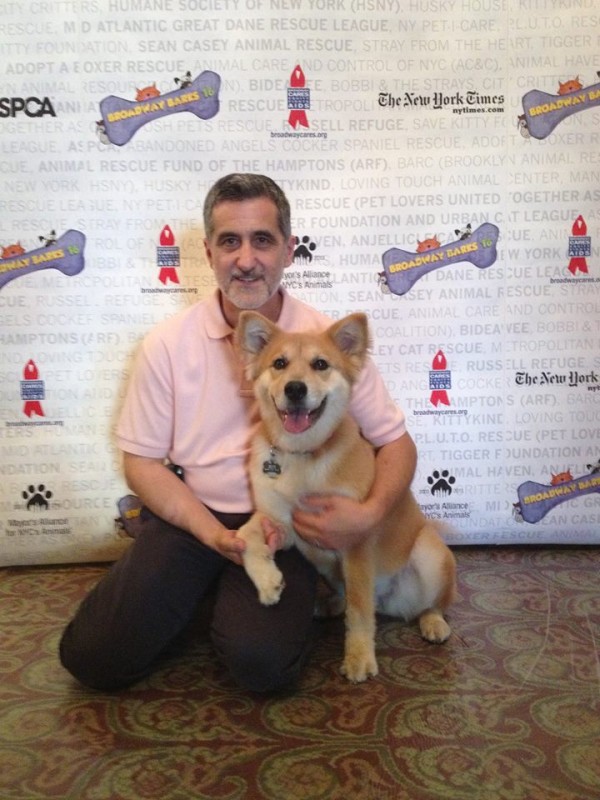 "Why shelter animals? Why not?! These are great dogs; they were great before I trained them. Anyone could have come to the shelter and adopted Trixie before I found her," Berloni said.
His dedication to rescue animals is touching, as is his desire to shout from the rooftops that anyone could find a pup like one of the stars in his pack of 26 performance-ready pooches. The key, he says, is to know what to look for at the shelter.
Just as Berloni knew that the beautiful, loving, smart Pomeranian he met at that New York shelter was the perfect fit for the role of easy-going Mr. Woofles, he stresses that people should keep their training experience and lifestyle needs in mind when searching for a new member for their pack.
"With shelter animals, what you see is what you get. Most people don't put in the time or have the skills needed to see major change. If you want a calm dog that doesn't bark a lot, don't be fooled into thinking that the dog who comes running up to you barking is saying, "Adopt me, adopt me!" Choose the dog that is calm, even in the stress of that situation. It's a great reason to adopt senior dogs, as well. Everyone always wants a puppy, but they are unpredictable as far as the development of their personality."
Berloni, who also finds the time to serve as the Humane Society of New York's Director of Animal Behavior and Training, says that the "come as you are" approach extends to shelters. Rather than trying to make the dogs appear more adoptable by training them to come to the door of their enclosure or to look potential adopters in the eye, he suggests easing the stress of the situation through socialization or bringing the dogs to meet would-be dog parents on a one-on-one basis.
While misconceptions about shelter dogs can range from the mistaken idea that you won't be able to find a purebred dog to the fear that all of the dogs will be older, perhaps the biggest one that needs clearing up is that these dogs are "bad" dogs or "untrainable." Clearly, shelter dogs are worthy of taking center stage!
You can catch Trixie in her star turn as Mr. Woofles in Bullets Over Broadway at the St. James Theatre!
Featured Image via @santaclaritaanimals