BARK partners with shelters, rescues and non-profits to help support their efforts in many ways. Want to get your local shelter or rescue involved? Have one of their representatives visit www.barkbox.com/lendapaw to learn more!
On March 5, Kay Hyman, the Director of Community and Engagement for the Charleston Animal Society posted a photo of notorious escape artist Gumby on her Facebook page. The 7-year-old hound is pictured lying contentedly in the feathery remains of a pillow he recently destroyed. His angelic white mug has become infamous to the staff and their social media followers – and for good reason. Gumby's most recent arrival back at CAS marked his ELEVENTH return to the shelter!
Gumby has been adopted out 7 times, voluntarily surrendered to CAS 8 times, and picked up as a stray 3 times. The dedicated staff tried everything imaginable to place Gumby in a forever home – from working with rescue groups to pairing him up with a female hound as a package deal to training sessions with the shelter's exemplary behavior team. Finally, they realized Gumby was trying to tell them something. As far as he is concerned, CAS was home.
[bp_related_article]
Gumby is the typical Hound mix in many ways – tall, lanky, energetic, and possessed of a braying bark Kay Hyman can easily pick out from a crowd. But in her 23 years of shelter work, she has never met a dog with Gumby's escape skills.
Hounds are quite common in the Southern states, and Gumby probably began life as a farm dog or hunting dog. Known for their stubborn nature, hounds that fail as hunting dogs may run away from home or find themselves abandoned. The staff first became acquainted with Gumby when he was brought in to CAS as a stray in September 2014. He was healthy-looking and well-fed, not your average stray. They figured he was a recent runaway or castoff.
Kay Hyman with famous CAS rescue, Caitlyn!
His first adoption lasted just 3 days. The next, just 6 days. At first, CAS thought that the third time was going to be a charm. Gumby's newest adopter was extremely devoted to making things work, but the precocious hound had other plans.
During his time at his third home, Gumby returned to CAS 4 times – dropped off once by a good Samaritan, once by animal control, and twice by his adopter. Although it broke his heart, the man feared that Gumby would become lost for good, injured, or even killed during one of his escapes. Finally, he returned Gumby to CAS permanently.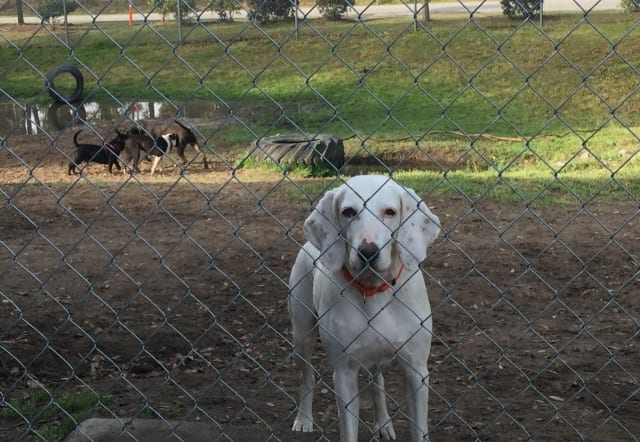 Each new family interested in Gumby was warned of his Houdini-like escape skills. On March 12, 2015, a fourth brave soul brought Gumby home. The staff at CAS were delighted not to see or hear from Gumby for nearly 4 months. But on July 5th, a familiar face arrived at the facility, again branded as a stray.
On August 22, Gumby was adopted by Owner #5. Less than 2 months later, he appeared at a sister shelter to CAS located in Berkeley County – about 30 miles from Charleston! Kay calls this excursion Gumby's Walkabout. His sixth adoption was even briefer – the adopter's current dog didn't take to Gumby's buoyant personality.
The final attempt to find Gumby a forever home began on December 6, 2015 and lasted until January 4, 2016. When he surrendered Gumby, the adopter told staff that he had escaped 3 times in less than a month. One time he even busted out of the man's screen door. The adopter also reported that he could not housebreak Gumby. Was this just a stubborn hound refusing to brave the cold in order to poop? Or an evil genius method of making his way back to the shelter once again? We may never know.
Regardless, the folks at CAS were done placing Gumby for adoption. They realized that he rarely ever tried to escape while in their care, and adored the staff members who doted on him. They noticed something else about Gumby's demeanor at the shelter. He seemed to have a natural ability to read the emotions of other dogs. New arrivals dealing with fear and anxiety seemed comforted by the hound. Gumby knows just how to adjust his own behavior in a way that settles fearful dogs, and soothes reactive dogs.
Donya Satriale is a Behavior Team Leader for CAS. She told me by phone that Gumby keeps returning to the shelter because "he knows he has work to do." Now that he has become a permanent fixture at the shelter, Gumby is earning his keep by assisting Donya and the behavior team. He is their go-to dog for behavioral demonstrations and for acclimating new pups – a true "Ambassa-Dog"!
The Charleston Animal Society is proud to be a No-Kill shelter. A troublesome pooch like Gumby may not have received so many chances at another facility. Had they given up on him, they never would have discovered his incredible gift for helping other dogs. There is a perfect place for every dog in this world. For Gumby, it isn't the traditional home setting, it's helping rescue dogs and amusing rescue workers at CAS!
Be sure to follow this fabulous facility on Instagram, Twitter, and Facebook for Gumby updates and lots of adorable, adoptable pups! If you'd like to meet some of the other CAS residents who do want to be adopted, click here!
Looking to make a difference right now? Use code BARKGIVES on BarkBox.com for 50% off your first box on any 6 or 12 month plan PLUS we'll donate $10 to our rescue partners with every redemption!
Featured Image via Kay Hyman/Charleston Animal Society