We all know the age old rivalry between cats and dogs, but not everyone accepts that cats are to blame. Now, we have the proof. Meet the cats who continue to instigate the ancient feud.
Here are 23 of the most evil things cats have ever done to dogs.
1. SUFFOCATION. Only something with nine lives would try to smother the one life out of a dog.

2. ABOMINATION. Skateboarding cats rebel against the natural order by doing cooler tricks than dogs.
3. TORMENT. Observe as the cat mercilessly toys with the dog's expectations: will the feline strike, or not? In the suburban jungle, the dog lives in constant fear.
4. DECEPTION. "Alright, my BarkBox is here…"
5. HYPNOSIS. Cats brainwash humans into shaming dogs for their justified fear of cats.
6. INDOCTRINATION. They learn to be evil from day one.
7. AMBUSH. This poor pup never saw that cat coming.
8. ARROGANCE. Nothing is more evil than a stylish getaway.
9. ABUSE. "You smell like booze again."
10. TEMPTATION. Tease, tease, tease.
11. ARMAGEDDON. The Dogpocalypse will begin when four cats ride robots into the kitchen. One down, three to go.
12. SAVAGERY. The cat must obey its primitive instinct to chase lasers.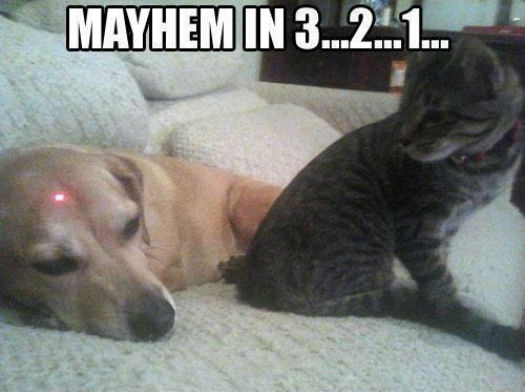 13. BUFFOONERY. Usually, it's a knock-knock joke.
14. STALKING. Nothing is scarier than not knowing where the cat is…
15. DEPRAVITY. The beatings will stop when the morale improves.
16. CHEATING. An honorable cat would give the dog the other lightsaber.
17. SKULDUGGERY. "But it's called a 'doggie door!'"
18. HOSTILITY. Cats reject yet another peace treaty offered by dogs.
19. ABANDONMENT. Leaving dogs hanging.
20. SERVITUDE. This dog is on his way to the Kitty Litter Mines.
21. INTIMIDATION. "It's okay, Mom, we'll share. "#OrTheCatWillHurtMe
22. FRAUD. The truth at last!
23. REFUSAL. Even when dogs try to make a connection, cats just aren't ready…
Featured image via YouTube