Time to bring the sweaters out of storage, go apple picking, and
plan out the ultimate costume
for your pup to wear on Halloween! Whether you celebrate by hosting a spooktacular Monster Mash Bash for all your ghoulish pals, or you spend October 31st eating candy in your bedroom while hoping no one rings your doorbell, there are some things you should keep your pup away from this Halloween.
1. Jack-o-lanterns
[caption id="attachment_25572" align="aligncenter" width="640"]
Image via Better Homes and Gardens
[/caption] Pumpkins are safe for your dog to be around, but an open flame is not. However, this doesn't mean you have to give up that most Halloweenie of decorations. Swap out the candles for
battery-powered lights
that mimic the real thing. Just make sure your pup doesn't visit the neighbors and knock over
their
jack-o-lantern!
2. Pumpkins
[caption id="attachment_25574" align="aligncenter" width="640"]
Image via petcentric
[/caption] Speaking of pumpkins, some of us have those neighbors who cling on to their autumn decorations way past the expiration date. Though pumpkin guts are
usually safe for your pup to have
, you might want to make sure he doesn't get into any of the pumpkins sitting on people's stoops. You don't know how long those have been there, and they might be infested with all kinds of nasties.
3. Costumes
[caption width="600" align="aligncenter"]
Image via @zoilagram
[/caption] Ok, so not
all
costumes are bad. But you should keep an eye on your dog while he's parading around in his spupghetti and meatballs costume. Watch out for dangly bits that can become a choking hazard, and make sure your pup actually fits in his clothes. Any signs of discomfort, such as difficulty breathing, should not be taken lightly. If your dog gives you signs that he's not happy, let him wear his birthday suit instead.
4. Makeup
[caption id="attachment_23861" align="aligncenter" width="640"]
Image via imgarcade
[/caption] If you're planning on wearing makeup with your costume this year, please keep it out of your pup's paws. Yes, it might be funny to catch him after he's smeared clown makeup
all over his face
, but the ingredients in your face paint might not be safe for your doggy to eat.
5. Escape arftist
[caption width="640" align="aligncenter"]
via Giphy
[/caption] You know how it goes: some tiny trick-or-treaters come up to your door and politely accept the delicious candy you hand out. As they're turning away to hit up the neighbor's house, your pup decides he'd like to join in on the festivities and he barrels out the door like a bat out of...well, like a dog who's just tasted freedom. Having a collar with identification on him might be the difference between having your dog home for the night or losing him for good. Extra points for microchipping, btw.
6. Candy
[caption width="640" align="aligncenter"]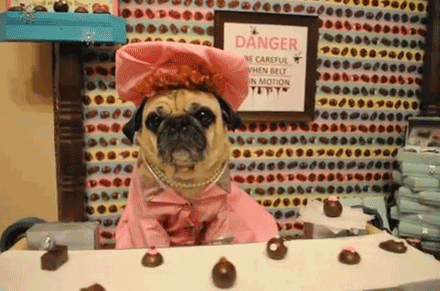 via Giphy
[/caption] You know the deal, keep your dogs out of the candy -- especially chocolate! If you have small children in your house, now is probably a great time to remind them that leaving candy out might make their furry BFF sick. Besides, who wants to share their candy anyway? Not us, that's for sure! ;) We hope you and your loved ones have a safe and fun time this Halloween! Any cool plans? Think we forgot anything on this list? Let us know in the comments below!
Featured image via Jersey Girl Talk