Every pooch deserves a birthday party. Luckily, with a little planning, celebrating your dog's birthday (or adoptiversary!) can be super exciting and easy. While it's probably best to avoid the cake candles and balloons, your special pup will get excited about this yearly ritual as soon as you bring out the bacon-flavored treats. So, let the fun begin!
Here are some tips for celebrating your dog's birthday:
Throw A Big Ol' Puppy Party…
To celebrate your dog's birthday or adoption day to the max, consider throwing a doggie shindig that both humans and canines will approve of. A fenced-in backyard is the perfect place to host a small gathering. Or, pick a local dog-friendly park to meet up in. For a more formal occasion, consider reaching out to a doggie care or dog training club in order to ask about rental options.
…Or Just A Casual Get-Together
While a blow-out party can be fun to plan, remember that some dogs may enjoy a small get-together just as much or more. In order to keep things casual, consider inviting a maximum of 2-3 dogs over to your house or apartment. Celebrating with a few of your closest friends means that you'll have the opportunity to relax and give your birthday dog the attention they deserve. Furthermore, you won't have to deal with cleaning up after a whole pack of pups.
Activities 
Depending on the weather, a (well-monitored) pool party makes for a dream day for any lucky retriever. For a less chaotic cool-down option, bring out a kiddie pool or two and watch the celebrations begin. If available, dog beaches also lend themselves to great games of chase and fetch.
Then again, summertime pups shouldn't have all the fun. Unless the temperature is dangerously low, don't let a bit of cold weather deter your dog's day. Meet-ups in the snow may have to be cut short, but even 15 minutes of play can lift winter spirits.
Fresh-baked doggie birthday cake is all the rage, as are homemade biscuits. Humans might be the only ones who appreciate the cute dog-themed cookie cutters or decorations, but dogs will dig the dog-friendly ingredients. When short on time, local pet bakeries often offer birthday goodies as well.
But you don't have to shell out for cake when there are so many other amazing options for treats. For instance, these birthday-themed vanilla BarkDay Bites are decorated with festive sprinkles. ($4.50 for bag.) This darling Bark Beef Jerky Bow is also a great gift to pass around to all the pups. Its beef flavor and long-lasting texture will keep everyone occupied for at least a few minutes. ($3 for one.) Or, for an extra special b-day, consider ordering these tasty Bark Steak Chews. ($21 for 8.) Dogs everywhere go wide-eyed at the sight—and smell—of this hunk of meat.
Toys and birthday-themed decor aren't only for human kids. Dogs will get a kick out of these "Bark Funfuzzi Cake" toys, especially since Bark toy designers snuck a squeaker inside. ($14.) These pup-sized "Bark Party On! Hats" also help create perfect party pics. ($12.) Other toys fit for the best birthdays include this "Bark Full o' Fluff Piñata" ($12.60.) or this squeaky stack of presents toy, called "Whole Lotta Loot." ($14.) When in doubt, simply spring for this birthday "Big Ol' Bash Bundle." ($56.) A combo pack like this one turns any regular ol' birthday into seriously fun day.
Other hints for throwing a birthday party: 
No one wants to hurt a best friend's feelings. Still, it's important to only invite pups who are well-socialized and friendly, especially since they'll be immersed in a group of hyped-up dogs. If the party pups haven't been introduced before, consider a joint walk or a get-together in a park before the day of the event. Remember: nothing can ruin a good day quicker than a bad fight.
Make sure lots of fresh water is available on hot days. Bulldogs and other short-nosed breeds are more prone to overheating than others, but all dogs can experience the effects of too much fun in the sun.
When distributing treats and toys, keep an eye out for squabbles and rivalries. If the doggie goodie bags become a source of discontentment, it's best to remove the party favors. There's nothing wrong with enjoying the activities now and saving the yummy food for later!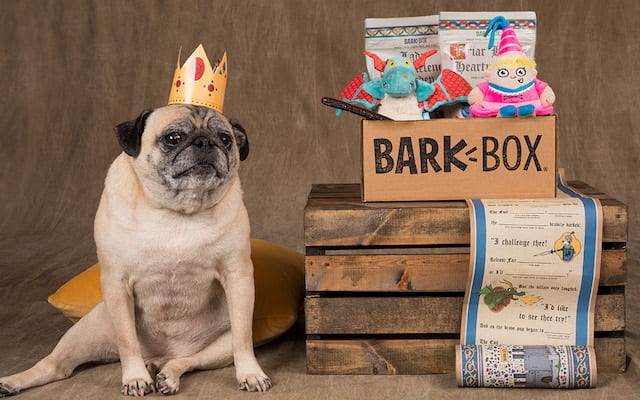 Everyone knows that BarkBox is the best possible gift you can get your dog, whether it's for their birthday, Christmas, or just the heck of it. For as little as $21, you can get 2 incredible, original toys, 2 delicious bags of treats, and a meaty chew delivered to your door every month. Sign up here and receive a free extra toy every month. <– This deal is worth up to $120 in value if you sign up for a 12-month subscription! 🙂
And for just a tad bit more – $29 – you can upgrade to the Super Chewer variant, which has 2 super-duper-durable toys, 2 delicious bags of treats, and 2 meaty chews.
For more gift ideas, check out these articles!
18 Gifts for Ginormous Dogs Who Still Think They're Lapdogs6 Awesome Gifts To Make Your Dog's Birthday EpicWhat is the best gift for a dog?10 Dog Gifts For Spoiled Dogs Who LOVE Their Humans