This Tuesday, we'll pick the next President of the United States (check your registration & polling place here!) The candidates have made their case for why they should be our next leader and a role model to our children.
But our favorite candidate ain't running this year. And that's a shame! Because our best President would clearly be: The Dog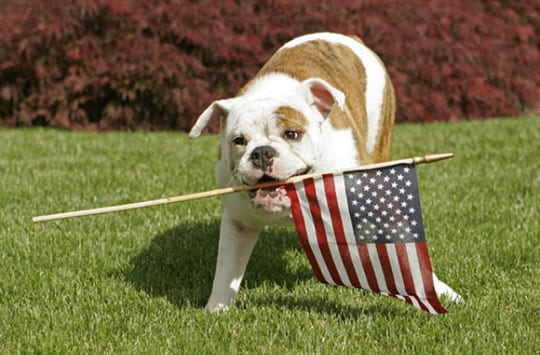 The Dog is dependable, smart (sometimes), well-trained (sort of), and amazing (always). And The Dog is ready to take the reins of this country.
7 Reasons we want The Dog for President
1. The Dog will work like a dog
As you probably would have guessed.
2. The Dog knows what America needs
The Dog's campaign slogan is "Eat. Poop. Sleep. Repeat." It's a message we can all agree on. And let's be honest, it's exactly the life we'd want for ourselves.
3. The Dog is loved by everyone
Building alliances and negotiating treaties comes naturally to the much-loved Dog (provided other world leaders are not cat people or, God forbid, cats themselves).
4. The Dog is an expert negotiator
The Dog knows how to win: not bullying, but cuddling. Arguing over tariffs? Cuddle The Dog. Disagreement about a canal somewhere? Cuddle The Dog. Debating sending cats into space? Cuddle The Dog. Just like that, any disagreement melts away!
5. The Dog treats everyone equally
It doesn't matter who you are, how you were raised, or where you were born — The Dog will sniff any and all butts.
6. The Dog embraces bi-paw-tisanship
The Dog genuinely loves everyone. The Dog is more than willing to extend a paw, or all four paws, across the aisle.
You might be wondering to yourself now, do any of the other candidates have four paws?
I checked. And the answer is…no. Not one paw.
As you can clearly see from my painstaking research, each of the other candidates have TWO hands and ZERO paws. What good is that when you could have FOUR paws reaching across the aisle?
The Dog might also pee in the aisle, but weirder things have happened on C-SPAN.
7. The Dog would assemble an excellent Cabinet
A Dog-led Cabinet would undoubtedly consist of amazing snacks.
Thank you, and as always, Dog Bless America.