We've all been there: you've just adopted your new pooch and you're hitting up your local pet store to pick up supplies. Right away, you know you'll need food, treats, a bed, a bowl, a leash, a collar (dang, this dog is expensive!) and… what are we forgetting?… oh, duh, a dog tag! While many pups are microchipped these days, having a good ol' fashioned dog ID tag hanging from their collar is still a great idea. And so we can't blame you if, like most of us, you use one of those handy machines to print your new friend's name and your number on one of those shiny blue or gold bones or hearts. It's easy, it's cheap and it works.
But we know how obsessed with your dog you are, and how over-the-top you often go to pamper and accessorize them in the coolest, most fun ways. So we're betting plenty of you have graduated from those initial purchases to flashy new harnesses, collars, and maybe even more unique dog tags. There's tons of fun finds once you start digging, so if you're thinking it's about time to gift your pup with a shiny new ID tag, you've come to the right place. We searched handmade haven Etsy for fifteen amazing handcrafted dog tags that we're pretty sure no other pooch at the park will be caught sporting. Go ahead, show a little personality and get your best friend ID'ed in style!
It wasn't easy to narrow it down, but without further ado… here's our top picks in no paw-ticular order! Like the general style but not feeling the exact tag? Each hyperlinked shop is chock full of awesome options, so be sure to do your own perusing and share your favorites in the comments!

#15. Pretty good, right? This 1-inch custom tag is made from 18-gauge Nu-Gold (also known as red brass) with your pet's name and phone number stamped on the back. Tags are carefully stamped by hand into the metal and then tumbled for several hours to polish before being hand polished. Split rings will be included for attaching tag to collar. (Critter Bling, $12)



#14. This stainless steel tag is perfect for the rough and tumble pup, as it's incredibly durable and will not scratch or break. Available in bronze, a dark antiqued bronze and gold plated. (Flash Gordon Designs, price varies based on finish)

#13. Sometimes, you just want to keep it simple and cute. This shiny and sweet ID tag measures 1 1/4 inches or 1 inch depending on which size you order and is made with German Silver (nickel) copper and a brass heart. There are a lot of steps to making your pet's tag: metal is cut, pounded, stamped, soldered, tumbled, polished and sealed with a clear coating to protect the metal from natural tarnishing. (Island Top Custom Tags, $26)

#12. I fell in love with this tag when I found it, but my own dogs name is super long. The artist worked with me to find a way to make his name fit in keeping with the design. It turned out stellar, so I can't recommend this particular tag or the seller enough! The Soaring Heart design is four fun layers of metal (copper and nickel silver) that are soldered and riveted together. The tag is approx. 1″ tall and 1 1/2″ long and can fit a name up to 6 letters in the heart, or a longer name will fit under the winged heart on the silver backing plate. On the back you'll also be able to include one number and a short message or 2 phone numbers. The seller has TONS of awesome tags and it was hard not to fill this post with many more of her creations. (Doggone Tags, $33)



#11. First things first… that Aussie Shep puppy up top? GAH! Secondly, how gorgeous is this tag? Made from sterling silver, brass & copper, the copper is stamped using vintage silver stamps, and then it's shaped to form a western-style concho. A sterling silver bone goes on the top. Everything is soldered together to make a sturdy, substantial tag that measures 1 3/8″ in diameter. The tag comes with a sturdy stainless steel split ring, ready to hang on your pup's collar. (Urban Puppy, $38)




#10. This shop is fully stocked with hilarious doggie tags. One of our favorites is this Sir Mix a Lot "Baby Got Back" inspired tag. Made out of hand cut copper, all tags are finished with a clear coating to protect the metal and keep it from tarnishing. (Fun Paws Pet Tags, $15)

#9. This shop is known for their tags featuring matching charms, but we also love their simple rocket ship stamp. Features a hand-stamped rocket and star grouping in your choice of a 1″ solid copper, solid brass or solid nickel. Add your pet's hand-stamped name on the front in a whimsical font style' – up to eight (8) characters. You can choose to have your info either engraved or hand-stamped on the back. (The Mad Stampers, $10)

#8. Speaking of charms, we're digging this girly sweet tag with added bling. This cute little pet tag is made from a sturdy 1″ piece of brass. It will come stamped with your pet's name and your phone number on the front or back. Select your color choice of rhinestone in an antique brass setting: green, clear, amber, light blue, dark blue (pictured), red, purple or pink. (Tag Me Pet Tags, $13)

#7. Is your furry friend the missing piece to your puzzle? If so, this could be the perfect tag to complete their collar. The personalized hand-stamped tag is 1" x 1 1/4″ inch in size and made with a copper puzzle tag as it's base and features two paw print stamps. Your pups name and phone number is sported on the front. This tag is available in both natural or oxidized antique. Best part of buying this tag? They donate to rescues worldwide to help furkids in need. You can read about each story on their Facebook fan page. Pawesome! (Fetch a Passion Tags, $13.50)

#6. You dog will look pretty snazzy in one of these awesome leather dog tags! There's enough room for a name up to 9 letters long in the small font and 5 letters long in the large font (as seen on the CJ tag) and a 10 digit phone number. Comes with a small split ring to attach to their collar or harness and measures 1.75 inches in diameter. You choose from a symbol chart and stain chart to pesonalize your tag. (Mesa Dreams, $20)

#5. Speaking of tags using unexpected materials, we adore this pet id tag made of polymer clay. It's lightweight, durable and coated with a non-toxic glossy sealer. Can be made in any size (free of charge!), from very small to Great Dane big. Your pets name will be stamped on the front and your phone number will be hand-painted on the back side. Comes with a silvertoned ring according to the size of the tag. Handmade without the use of molds. All materials are non-toxic and durable. (Leyres Corner, $9)

#4. Ain't that the truth! Adorable tag for rescues of all shapes and sizes. Simply choose "I Rescued My Humans" or "Rescued with Love" from the drop down menu at checkout. In addition, you'll leave your pet's name & number to be stamped on the back. Tag measures 1.2″ (32 mm) across and includes 0.25″ (6 mm) and 1″ (25 mm) diameter split rings. (Love a Canine, $16)

#3. We love this idea, which pairs the first letter of your pet's name with a Scrabble tile of the same letter. All Scrabble tiles are authentic wood and vary in color, which makes each tag truly one of a kind! The tags are very light weight which makes them an ideal option for small dogs especially. (Scarlett and Co., $9.50)

#2. Now you can tell everyone that they're officially in the lick zone! 1″ round matte aluminium. The tag slides onto the collar or can be put onto a tag you already have on the collar. (Billets Doux, $15)

#1. Let your pup step out in style with this wood argyle bow tie tag. Charms are laser-cut, hand-sanded, hand-engraved and finished with a non-toxic matte varnish to ensure maximum strength and weather resistance. Your pet's name and your phone # are engraved onto the back of your tag. (Crop Scotch, $16)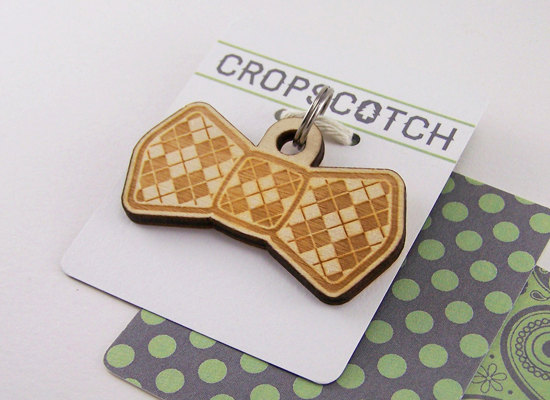 All photos from the items Etsy listings. See store link for more info and photos!
Featured image from Urban Puppy.