In an age where technology reigns Queen perhaps rather than denying its capabilities, we embrace them. And look, we get it, it's really hard to meet that special "someone", that doesn't play too rough, wants to meet around your schedule, and knows how to share their toys. Get your head out of the gutter human! This app is for the dogs… literally. Thanks to Harry Boileau (and his pup, Bobbie McGee) there's finally an app to "make dogs happy and bring people together." Need to find a playmate for your active pup, in your hood, when you get off work? Pupular is here to help!

BarkPost: Hey Harry, why did you invent Pupular? What need does it serve?
I created Pupular to make dogs happy and bring people together. Pupular addresses the need for a fun, easy, and safe way for humans to socialize their dogs. Bobbie is extremely social. I would walk her in the neighborhood, she would hit it off with another dog, and then this awkward moment would occur. Both the other dog's human and I realized we would love to connect our pups for a future play session, but felt pretty weird about exchanging cell phone numbers. Bobbie is always happier when she has a chance to get a good play session in and there needed to be a better way to optimize the process.
BarkPost: Did you invent the app on your own? Do you work with partners/ dogs?
Bobbie is really my co-founder. I've had help along the way from other humans, but on a day-to-day basis, it's just me and my pup.

BarkPost: What would Bobbie McGee's Tinder bio look like?
Her name is Bobbie McGee. Her dating app bio would go something like this: 5 years young, but definitely an old soul. Not afraid to play rough, both with the boys and the girls. I typically have the best time with bigger dogs, but not the overly alpha. My main move is to go for the legs. Always down to roll around in the dirt.
BarkPost: How did you test the app out?
We built the most basic features necessary to facilitate a playdate: create a profile, join a Pack, Wag, and Message. We started from the very beginning by introducing the app to small groups of dogs and their humans in New Orleans and getting their feedback. We then began working with dog rescue groups and pet-related businesses. These networks were really helpful in getting deep into the behavior of different types of dog parents. We work closely with our beta group everyday to improve the experience.

BarkPost: Be honest, did you invent this app to bring dogs together or to pick up chicks?
I personally don't use the app to pick up chicks, because I'm married. But a lot of my dog friends and a good portion of the beta group overall are single and certainly have discussed this topic with me a lot.
BarkPost: Has Pupular sparked any lasting love between owners, I mean dogs?
There are a lot of very strong dog relationships that I can honestly say have happened because of Pupular. The dogs tend to hit it off a little faster and more consistently than the humans, but Pupular certainly brings people together. In the last few months of beta testing, there have been some instances of the puppy love spreading to the two-legged users.
BarkPost: What would you say is the best dog park pickup line you've heard?
I think it's a tie between "What a gorgeous dog. She must get her looks from her mom," and "He only does that to dogs he really likes.."

BarkPost: So, are you telling me I could meet someone on this app that's as dog crazy as I am?
For many of the people on Pupular, their dogs are the single most important thing in their lives. They spend as much or more on their dogs than on themselves. And when faced with big life decisions, their dogs are always one of the major deciding factors.
BarkPost: If my dog Ziggy wanted to make a profile what kind of questions do y'all ask?
Right now the profile is pretty basic. It includes important info needed prior to a play session: gender, age, size, breed, personality type, spay/neuter status, human's name, and a photo of your pup. We're working on ways of making the profile both a better match-making tool and also a means of showcasing great meet-up spots that members have discovered.

BarkPost: Do you swipe like a dating app?
We have a feature called Flip Pup, where you can flip through nearby dogs, and if they seem like a good match, invite them to join your Pack.
BarkPost: I prefer dogs to most humans. Do their owners always have to be present in the meetups?
I'm with you on this one, but we haven't completely figured out how to get around having the humans present. We're working on getting them to Uber.
BarkPost: What other features of the app are y'all working on?
Adding Pupular-curated locations to our map, custom profiles for dog-related and dog friendly businesses, creating neighborhood-specific Super-Packs, and continuing to squash bugs.

BarkPost: How many people said they'd use this app to meet people as well as their dogs? If so… are they men?
I'd say about a third of the folks are just as interested in meeting people as well as dogs. Right now there are a lot more women on the app than men. However, out of the men that are using the app, there are some very eligible dog dads.
BarkPost: Where was Pupular born?
The concept was conceived in Los Angeles, but the app was born in New Orleans.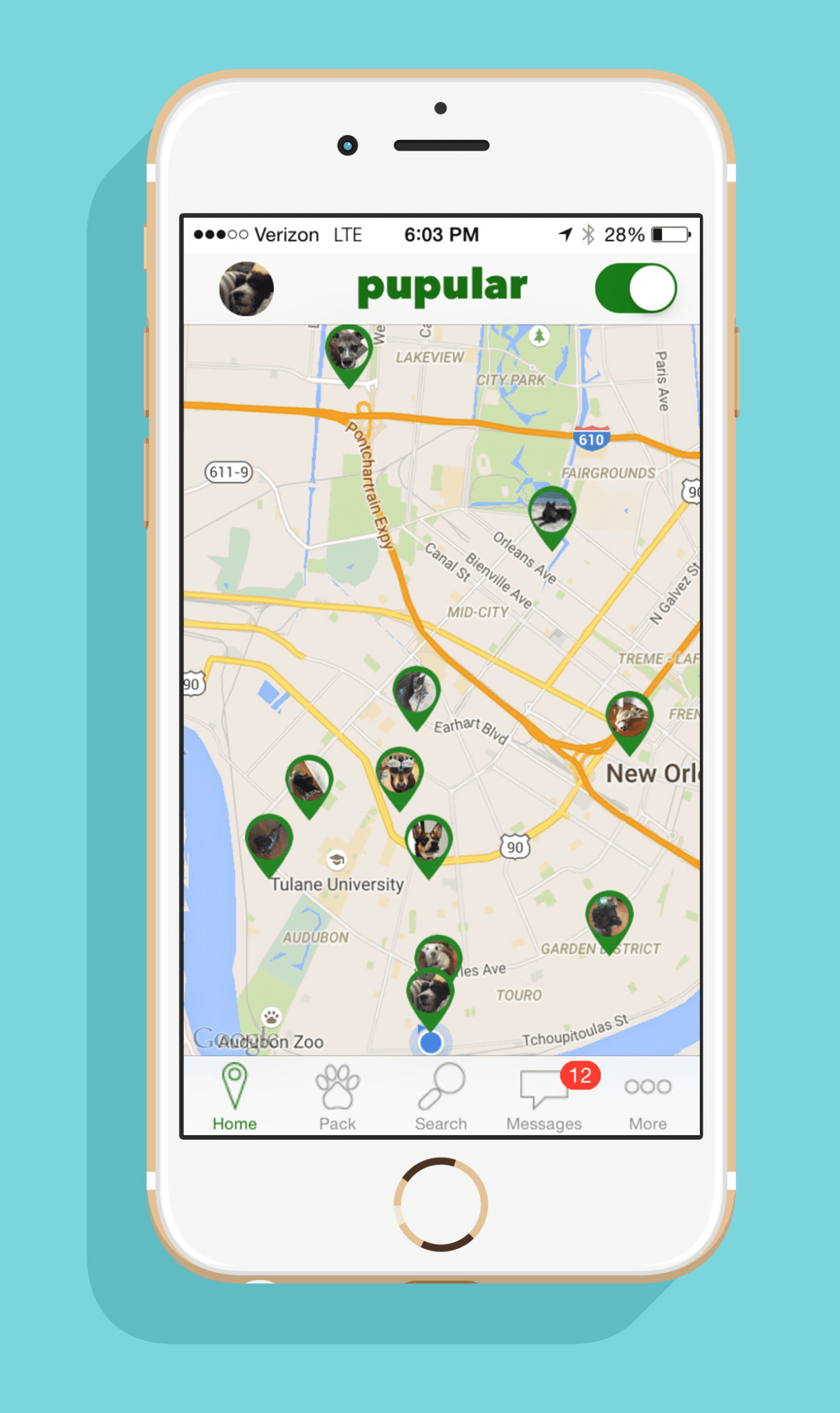 BarkPost: Is Pupular just for meeting up at dog parks? Or can you use it for other locations? Like let's say… a bar?
Pupular is for meeting up anywhere that's dog-friendly and safe for dogs. People turn on their dog's Wagging when on their usual walk, just to meet up for a quick romp. They use it to meet up at dog-friendly bars here in New Orleans, of which we have a decent amount. I see dogs Wagging pretty late at night sometimes, so it's really up to the dog and their human where and when to meet up.
BarkPost: What kind of dogs are on Pupular?
There's a very wide range, from 7lb terrier mixes to enormous Mastiffs. Bobbie is an unidentified mutt, with a scruffy face and a body resembling a sausage. One of her favorite Pack members, Stormie, is a 6 month old Great Dane, and their play sessions are a sight to behold.

BarkPost: What's animal rescue's have you been involved with and which local New Orleans rescues would you like to steer people thinking about adopting towards?
We rescued Bobbie from Jimi's Angels at Bark n' Bitches in Los Angeles, so they have a special place in our heart. There are many awesome rescues here in Louisiana that we support: LASPCA, Zeus Rescues, Jefferson SPCA. Through our partnership with LASPCA, all of their newly adopted dogs are introduced to Pupular to help their socialization process and also to create a support network of fellow new dog parents.
BarkPost: This app sounds amazing! Where and when can I get it!
We're doing an open beta, so you can download it here! Thus far we've only been focused on growing our community in New Orleans. It takes a critical mass of dogs in one area to leverage Pupular's potential. We'd love to get feedback from small groups of dogs and their humans in other cities, as long as they understand they might be some of the first in their area.

BarkPost: What's on the horizon for Pupular? How do we get this on every phone in every city? Dog Lovers Unite!
If you want a Pupular presence in your city, you can do two things: First, go to pupular.co, select 'Wag at Us', and send us an email with your city in the subject line, e.g. 'NYC is So Pupular'. Whichever city has the most requests will have the next Pupular official launch (and party!) Second, vote for Pupular in the finals of The Big Idea, a New Orleans based startup competition. This will help us reach your city even sooner!
Featured image via Pupular