***Looking for a gift to reward your pup for being such a good travel companion? Spoil them with a BarkBox! Every month BarkBox delivers 2 original toys, designed in-house, 2 full bags of all-natural treats, and a chew. Sign up here and receive a free extra toy every month. <– This deal is worth up to $120 in value if you sign up for a 12-month subscription! 🙂
There's nothing like bringing along your dog to make a road trip even better. From hiking to camping to cuddling, vacation is far more fun—and more memorable—when your most loyal friend plays passenger. Still, traveling with Fido requires some extra planning. Therefore, give yourself plenty of time to prepare and consider the following advice before hitting the open road.
1. Plan Ahead Where You'll Stay
Unfortunately, not all hotels, Airbnbs, or campsites allow dogs. Or, even if they do, some places may have weight or breed restrictions. Therefore, it's wise to always research and book places ahead of time. The websites Bring Fido and DogFriendly.com are great places to start your search.
2. Do NOT Leave Your Dog In The Car Alone
Wherever you stay, just remember that leaving your dog in the car alone can be dangerous. According to the Humane Society, even a "cool" 72 degrees Fahrenheit outside can rise to 116 degrees Fahrenheit inside the car in just one hour. This means that wherever you lay your head for the night, your dog always needs to be right there with you. And if you happen to get hungry, make sure it's a quick stop – maybe even fast food – instead of sitting down for an hour to eat.
3. Acclimate Your Dog To The Car Before Embarking
Not all dogs immediately enjoy riding in a vehicle. For those pups unaccustomed to driving, being in a car may make them feel trapped, anxious, and even frightened. Thus, before heading for the hills, make sure to get your dog comfortable by taking a few test drives first.
As you build up positive experiences and associations with being in the car, your dog should get more excited about coming along. Taking your pup to her favorite place is a great way to create positive memories, as are providing treats once she hops in. Overall, aim to make driving a happy and relaxed experience.
4. Pack A Travel Bag For Your Pup
In order to stay organized and ensure that you have everything your dog may need, pack your pup his own travel bag. You should, of course, always pack lots of cold water and food. But don't forget the other necessities. These include:
Travel bowls for both food and water
Grooming supplies (don't forget the shampoo!)
Medications
Updated tags
An extra leash and collar
Just because you're on vacation doesn't mean you can neglect to pick up your pup's poop. Make sure to be respectful of other people and the towns you drive through!
With BARK's poop bags, you'll be doing the right thing in style. Every poop bag has a hilarious joke scrawled on the outside, so even when your dog's poop is the opposite of funny, you'll still be laughing your tail off.
Driving all day can make for stiff joints and cramped muscles. Thus, ensure your traveling buddy's comfort by investing in a high-quality bed, such as BarkBox's Orthopedic Dog Bed. Place it in your dog's safety-approved crate or directly on the backseat, depending on how your pup likes to travel. For those using safety accessories, such as doggie seat belts, your dog will still be able to lie down and nap in luxury.
While road tripping can be the greatest week of any good boy's life, remember that traveling can also stress some dogs out. There are lots of new smells, unfamiliar territories, and long hours cooped up in a car. Thus, consider bringing a bottle of BarkBox's Organic Full-Spectrum Hemp Oil along. This safe oil made specifically for pets can help calm your dogs' nerves and reduce anxiety.
Plus, this hemp oil can also help with pain, swelling, and stiff joints. Therefore, a quick rub of this may help even the youngest pups feel refreshed after a full-day drive.
7. Plan For Emergencies
Although your dog-friendly road trip will likely consist of walks on the beach, visits to national parks, and super cute photo ops, it's still best to plan for emergencies. In fact, packing a pet first-aid kit is always advisable. This article from the ASPCA recommends some of the following items:
Absorbent gauze pads
Adhesive tape
Tweezers
Antibiotic ointment
Alcohol wipes
Towels (these also come in handy after swimming or mud rolling)
Small flashlight
Saline eye solution
As well, remember to carry a copy of your dog's medical and vaccination records and get your dog microchipped beforehand. If your pup gets lost in an unfamiliar area, the situation could quickly become very dire. Lastly, creating a list of nearby vet clinics and pet hospitals can also be vital to have during an emergency.
8. Don't Feed Your Dog Right Before A Long Drive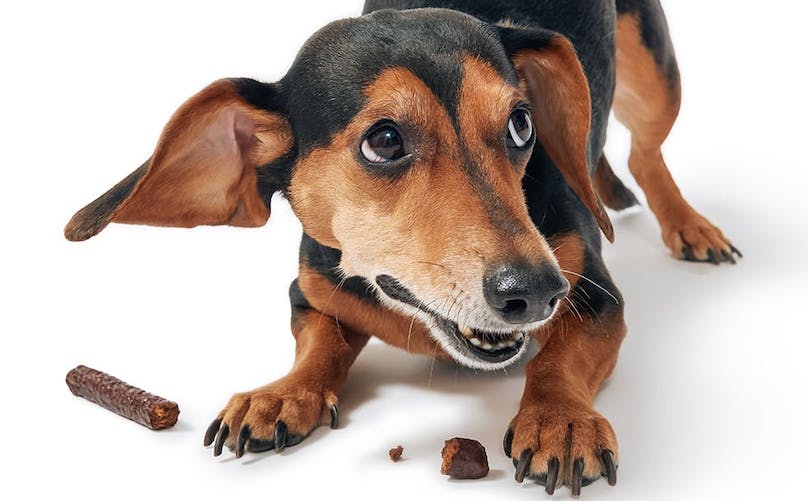 For road-trips that cut into meal time, try and feed your dog a light meal a few hours before departure. While you don't want your dog to go hungry, eating a full meal immediately before hitting the road might end in a bit of a mess. To prevent any road sickness, make sure you also provide your pup with water and a sun-free, cool spot in the car.
Just in case your best friend does get struck with nausea, always have car cleaning supplies on hand.
9. Plan frequent stops
When traveling with your pup, remember to build frequent stops into the itinerary. A good rule of thumb is to stop every three to four hours for a quick walk and potty break. Visiting dog parks or open natural spaces will also let your dog stretch her legs. Your pup's energy will build up from sitting in the car for long periods of time, so getting a little exercise is the best way to burn it off.
Plus, you'll make even more lasting road trip memories.
Looking For More Helpful Posts Like This?
What Supplies Should You Buy For Your New Dog?
Where Should You Get Your New Dog?
How To Train Your New Dog To Be A Good Boy Or Girl
What Toys Should You Buy For Your New Dog?