Ruthie started her life as a stray living on a beach in Puerto Rico with her puppies. A volunteer from Stray from the Heart Rescue made sure this sweet and non-feral dog was well fed while rescuers worked to get her out of Puerto Rico once she was spayed.
The rescue first transported her puppies to Bideawee, a rescue in New York, and then it was Ruthie's turn. Ruthie was then adopted by Steven and Gabi, who fell head over heels in love with her.
While Ruthie's adoptive pet parents found their girl to be shy and afraid to make eye contact with them, she slowly adapted to life in the Big Apple. Once out of her shell, Ruthie transformed into a sweet, intelligent, and food obsessed pup who quickly began making doggy pals. A year later, Ruthie and her humans took a long trip to their new home in Tampa, Florida, where she thrived.
Recently, Ruthie got the chance to have A Gold Photo do an adorable and funny photo shoot to promote adoption. These images show one awesome pup who adores peanut butter. For Ruthie's full photo shoot, click here.
The shoot was shared with the rescue that brought Ruthie to New York, and in an adorable response, they shared pictures of two of Ruthie's puppies.
Steven and Gabi are working on trying to coordinate a visit to see their grandpup, Lila, one of her pups. But while Ruthie will not be able to make this trip, we're sure her pet parents will tell her all about Lila when they get back.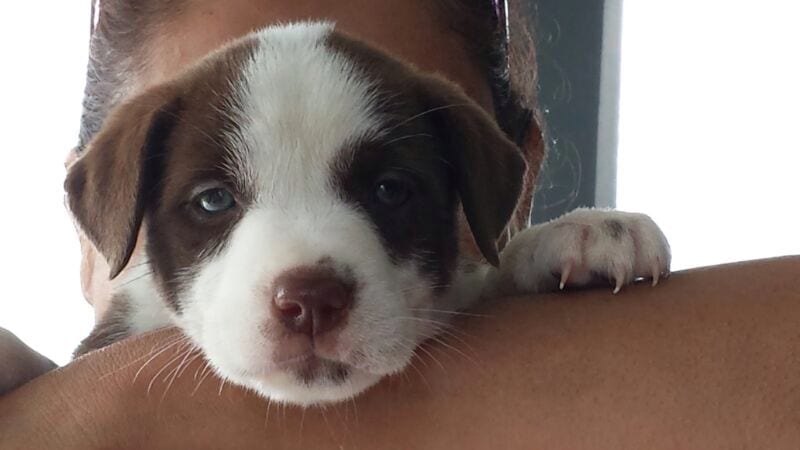 Stay tuned, we'll update you after we hear how everything goes.
Featured Image: A Gold Photo