I've been working here at BARK for over 7 years and there've been many moments where we've made mistakes, bumbled a joke or 5, and generally just put our foot in our mouths. It is the price of trying to make jokes and have conversations on the internet.
Each year, we design over 432 toys for all of our different business lines. Our main goal is to make dogs happy, and we know that playtime lasts longer if the *humans* find our toys interesting as well. So because of that, we WAY overdesign our toys. We make these things called "Inception Toys." We launched a whole subscription box called Super Chewer for dogs who demand a challenge. And we are constantly trying to make ourselves (and our customers) chuckle with hidden innuendos and jokes.
Sometimes we'll be a bit heavy-handed with our jokes… We've made not 1, but TWO red rocket toys…
And this summer for our "Dog Daze" BarkBox full of psychedelic designs and all of our toys… Had "played out in the sun a little too long!" ¯_(ツ)_/¯
So we definitely try to be cheeky with our toys… But yesterday I got a Slack from my co-worker:
You see we launched our "Overstuffed" BarkBox for November this week:
Obviously we all noticed how… spicy… the Pigs in a Blanket toy is. They're butts! Butts are hilarious. BUTT– we didn't know HOW spicy this toy really is. (See the whole comment string here, and another share here hahahha)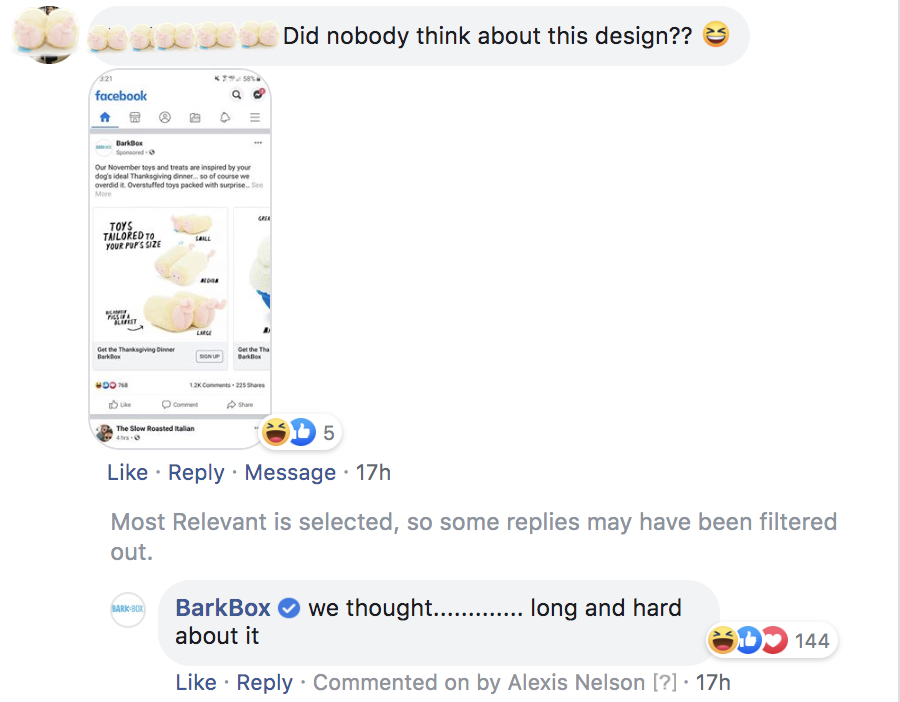 So after some Googling, some questioning of the toy designers, and a bit of education on a LOT of words we did not want to learn…
What started as a funny little joke about cute piggy butts TOOK A COMPLETE 180-DEGREE TURN and we then proceeded to fuel this gorgeous internet dumpster fire of epic proportions. 🤣🤣🤣🤣🤣🤣🤣🤣
In the last 24 hours, I think we've all learned something about how to make ads fun, be careful with flesh-colored toys of any design, and that CONFLABBIT NO MATTER WHAT YOU DO dog toys just ALWAYS LOOK LIKE DURN SEX TOYS.
SHEW. If you want to get a "Big Honkin' Pig in a Blanket" toy, you can get it with our Double Deluxe BarkBox! Use this link to double your BarkBox for FREE with any multi-month subscription! (Your first box will have 4 toys, 4 treats, and 2 chews but you'll pay the regular price of a single BarkBox. This is only available when you select the the Thankstuffing-themed BarkBox! Do NOT select the Mystery box, no pork butts in that box! )
Below is a sample of a Double Deluxe Thankstuffing BarkBox!
P.S.- AN UPDATE, JENNY MADE A CAT TOY!!! 🙌🙌🙌 And you can buy it here. 🙂