What do you do when a stolen van crashes and leaves a huge hole in the wall of your dog shelter? You build a doggy door, of course! That's the kind of positive attitude Rocket Dog Rescue founder, Pali Boucher, had when a stolen van crashed through the dog fence and straight into a wall just inches from where the live-in caretaker was sleeping on April 18th.
This gaping hole caused by the stolen van will become a dog door to the play yard. Photo: Kristen Seidle
"Luckily, no one was hurt," said Pali, but the damages put an incredible amount of financial stress on a shelter that serves the impoverished communities in the Bay area that surround the Oakland rescue. Pali says, "We are in the trenches. We take the hardest cases and there are times we have to stagger our resources in order to keep up without exhausting them."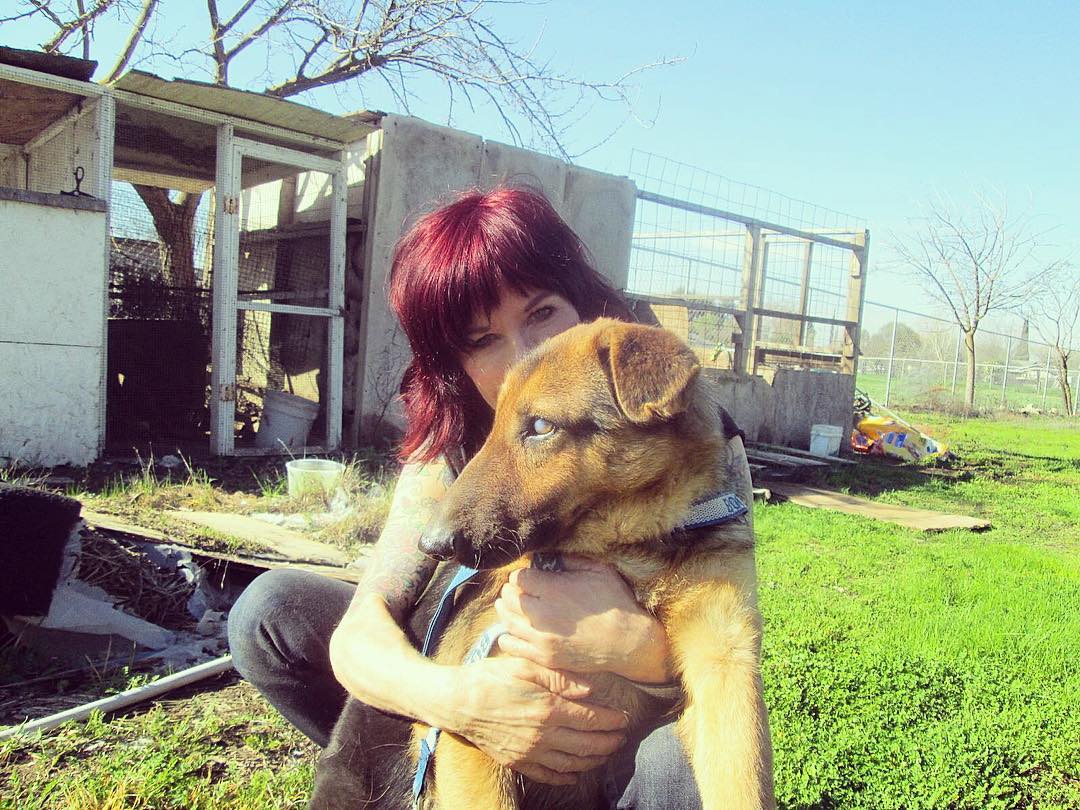 Volunteer-based Rocket Dog Rescue works off euthanasia lists at shelters and responds to people in impoverished areas who have lost the resources to take care of their own animals. In fact, Pali was on her way to pick up 24 dogs from a hoarding situation at the time the van hit the shelter.
Rocket Dog Rescue relies solely on donations and every bit goes to the animals. They respond wherever help is needed and have saved dogs between Los Angeles and Mexico in addition to those saved within the community.
Pali knows what those suffering from poverty are experiencing. She truly knows. Born to a drug-addicted mother, she became a ward of the state and essentially homeless by the time she was ten. She found friends in the strays – both human and animal – while beating the odds to become the woman she has.
Because of her past, she finds the cases she loves the most are the most difficult. The rescue even offers hospice care to sick and elderly dogs whose owners cannot afford but do not want to lose their companions. Pali explains, "I see the imperfect dogs and it feeds that part of me that is still that homeless, dirty kid."
Grimly (below) is a tan and white dog who was bitten in the head when he was just five weeks old. This led to his disfigurement and seizures. He also happens to be exactly the kind of dog Rocket Dog Rescue founder, Pali Boucher, is attracted to. She loves the perfect imperfections in dogs.
The shelter is actually an old veterinarian's office and it is an ideal place for Rocket Dog Rescue's "urban sanctuary." Pali said her volunteers are a diverse group of people that range from punk rockers to lawyers to disabled kids. Pali says she is honored to work with them. The rescue is currently in dire need of monetary donations to fund the construction to repair the damages. While they are also looking into insurance, the investigation into the case – including an arrest of the driver of the van – will take time and time is not what they have.
Still, Pali manages to find the positive in such a dire situation. One of the local police officers on scene fell in love with a dog and is seeking to adopt him. A construction worker fixing the shelter also adopted a dog he met while at the shelter. It is impossible not to admire Pali and Rocket Dog Rescue for seeing the good in everything, and every dog.
If you can donate to Rocket Dog Rescue, please do so here.