"Swamp cancer" isn't actually cancer. It's a name given to a parasitic infection that is extremely dangerous to dogs. One woman in Florida is speaking out about the dangers of this deadly infection in the hopes that he'll save lives.
Doctors diagnosed Efram Goldberg's dog Darwin with pythiosis in July of this year. The White German Shepherd had a lesion on its tail. Skin infections are only the first phase of the parasitic spores' effects on the body. It also infects the lungs, brain, sinuses, and gastrointestinal tract.
The dog contracted the parasite when he chased a ball into a nearby swamp. This is something that thousands of dogs do every day and pups parents never think twice – and most of the time, you only end up with a soggy doggie, not with dangerous spores.
Sixty percent of dogs with the parasite survive, but once the infection spreads to the lungs, there is little chance that a pup will live. Sadly, the spores are in Darwin's lungs.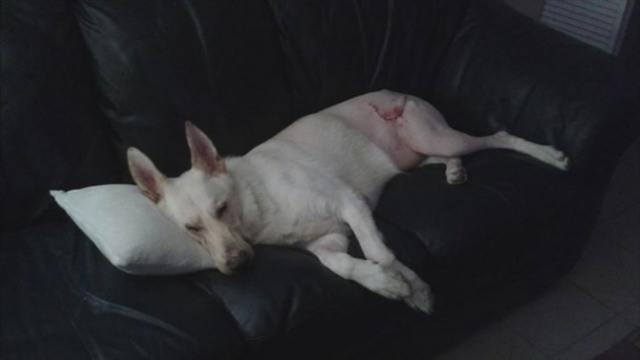 Efram is doing what he can to raise awareness about swamp cancer. His efforts are paying off. The story has already gone viral and is trending on Facebook.
Darwin is undergoing experimental treatments to save his life and Efram has set up a GoFundMe campaign to offset the costs.
Learn more about their story by watching the local news report below.
Feature image and h/t Fox 35.