Every shelter pooch has a back-story, and Drew Carey's is no different. Drew Carey, previously known as Rosey, arrived at the
spcaLa South Bay Adoption Center
as a 6-week-old stray. The sweet tempered Cocker Spaniel was in perfect health when she was dropped off at the shelter. And it seemed like no one wanted this beautiful fluff-butt. [caption id="attachment_34137" align="alignnone" width="640"]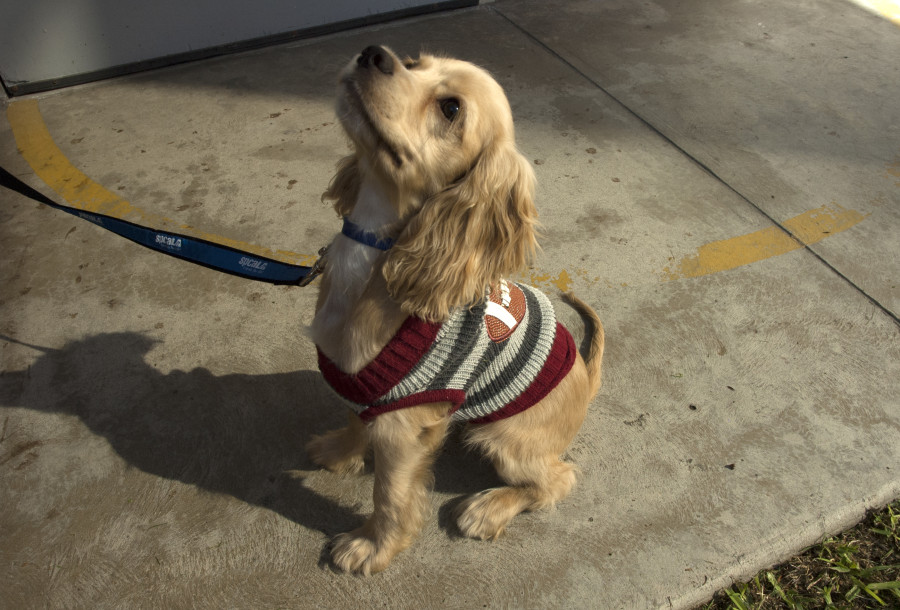 Image courtesy of spcaLA
[/caption] Ana Bustilloz, Director of Communications and Marketing,
spcaLA
, said, "She was too young for adoption, so she was fostered in a home through the spcaLA Foster Care program." But after being fostered for just about a month and a half, the shelter manager saw the glimmer of Puppy Bowl pawtential in her. The spcaLA checked the pup's temperament and found that she indeed had starting lineup qualities coming out the wazoo. [caption id="attachment_34168" align="alignnone" width="640"]
Image courtesy of spcaLA
[/caption] Thus began the wildest ride of this lucky pup's life. Drew flew to NYC, courtesy of
Virgin America
, to shoot the Puppy Bowl. "She had a blast on game day. She played her little heart out," said Bustilloz. "Her favorite part of NYC was seeing a pigeon for the first time in Times Square. She had no idea what to make of them! She was a great passenger on the plane and we were amazed because she didn't make a peep!" [caption id="attachment_34135" align="alignnone" width="640"]
Image courtesy of spcaLA
[/caption] Drew, AKA Rosey came back from NYC a star. Not only that, she was adopted by her foster family once she was home! Bustilloz says that Drew is very happy in her furever home. She loves her humans very much and basically wins over everyone she meets with her utter cuteness!
We're just happy this pupper found her perfect family! If you'd like to help other pooches like Drew get their well-deserved happily ever afters, bounce on over to
BarkBuddy
. You can also check out the spcaLA's adoption page
here
. Don't forget to tune in to
Animal Planet
on February 1st, to watch Drew Carey represent spcaLA on TEAM FLUFF!!!!