Since the 12th century, Spanish Greyhounds, or Galgos, have been bred as hunting dogs. They were once so esteemed that noblemen listed them in their wills. Today, they're not quite considered royalty, but still as elegant and aristocratic as ever.
Every year, an average of 30,000 Galgos are abandoned when they can no longer keep up with their demanding sport. Photographer Martin Usborne visited a Galgo rescue center in a remote area in Spain where the plight of the hunting dog's career was most evident.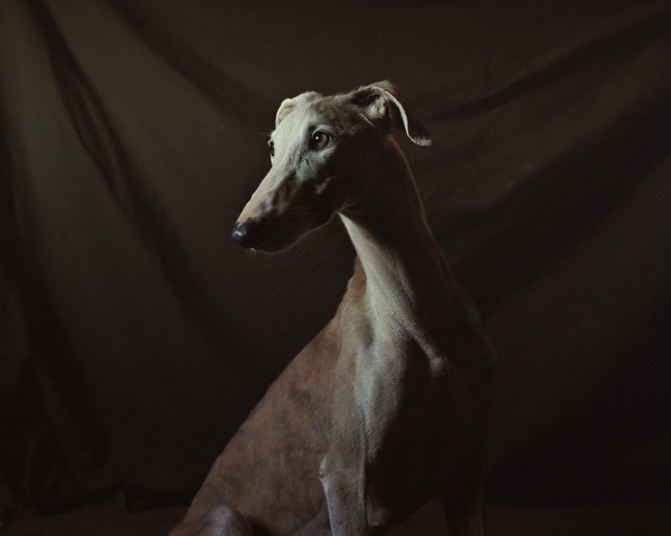 In his project The Story of the Spanish Hunting Dog–A photography book, Martin juxtaposes the Galgo's majestic vigor with the downfall of their noble past.
All photographs were taken in the rescue centers where the pups were staying.
We spoke with Martin for a little more insight on his beautiful project.
BarkPost: The unfortunate fate of so many of these dogs seems like such a critical issue but it's almost unheard of. How did you first come across it?
Mr. Usborne: I was researching for a book I was (am still) writing about helping animals around the world. I saw an image of a Greyhound hanging from a tree 'playing the piano' (feet still touching the floor) I knew I had to do something.
BarkPost: You mentioned how important it was to show the majesty of the dogs without denying the misery. What kind of energy did you feel from spending so much time with them?
Mr. Usborne: Actually I felt pretty broken. A lot of them of course were wonderful and playful but there was so much fear there. So much fear. I came away feeling pretty awful about the whole thing. I wish it were other but unfortunately not.
BarkPost: Do you have any particular style of approach when working with so many different dogs?
Mr. Usborne: Not really – I try and respond to the dogs in a very honest way. If they are active I work with that, if they are not I try to work with that too. It's hard to be prescriptive. Especially when the dogs are traumatized.
BarkPost: At what point in your creative process did you discover Diego Velázquez? Did his work inspire yours or did it veer your initial vision in a different direction?
Mr. Usborne: About a third of the way through. I was taking much brighter, lighter pictures before that.
BarkPost: What do you hope your book will do for the future of the Spanish Galgos?
Mr. Usborne: Raise awareness – I hope. Make people think a little. Tell their friends. Who knows!
Martin started a Kickstarter to help raise funds to help his project come to life. A portion of the proceeds are being sent to the Galgo rescue centers in Spain. He's also pre-selling signed copies of the book! You can learn more on how to help here!
Featured image via Martin Usborne