Image via Gambaren
It's the holiday season – a time for sugar plums, stuffed stockings, trees, sentient snow people, and Elf narcs on shelves. You're probably curling up with your canine companion as we speak next to a cozy Christmas fire, or similar. It's also that time of year when our TVs and Rokus are flooded with holiday programming. It can all be a little overwhelming. Where do you start? Hard decisions do not a Merry Christmas make. Thus, I have compiled today a list of the best dog-centric holiday entertainment. After all, when a holiday special or film stars a cat, THIS can be the result. Nobody wants that. So, without further ado…
1. How The Grinch Stole Christmas (1966)


Image via Planet Zot
Sure, the big green jerkface may be the star and focal point of HTGSC, but it's his trusty dog, Max, who steals the show. In Max, the Grinch has a sidekick who can't exactly argue with his plans to steal Christmas, but also really seems like he wants no part of it. As a result, Max becomes the most RELATABLE character in Seuss's yuletide rhyme-orgy. NOTE: This is in reference to the 1966 Chuck Jones animated version, NOT the 2000 Jim Carrey ABC Family prosthetics nightmare. (shudder)
2. A Charlie Brown Christmas (1965)


Image via IMDB
…and to a lesser extent, I Want a Dog For Christmas, Charlie Brown.
It's not Christmas until A Charlie Brown Christmas has aired on ABC at least three times. While the classic mostly follows Charlie Brown, the real action belongs to Snoopy, who acts as a necessary agent of chaos throughout. He makes fun of Lucy from behind her back, he boos his own owner at the pageant, he rocks out on guitar during the classic dance sequence. Most notably, his doghouse wins first prize in the decorating contest…before the other Peanuts then sabotage it in order to fix up Chuck's Christmas tree. Seriously, what was with those kids? I blame their trombone parents.

3. Santa Buddies (2009)


Image via IMDB
Who says every dog in the Air Bud franchise needs to play a sport? Who even says Buddy himself needs to be featured? Step aside old man, the Santa Buddies are changin' the game! In this 2009 direct-to-video spinoff, the Air Buddies save Christmas – obviously. I bet you didn't even remember that the Santa Buddies saved the Christmas of '09! So ungrateful! Anyway, George Wednt plays Santa in this, and Tom Bosley voices his dog, Santa Paws.
https://www.youtube.com/watch?v=OR4NDVg18sA
Speaking of which…
4. The Search For Santa Paws (2010)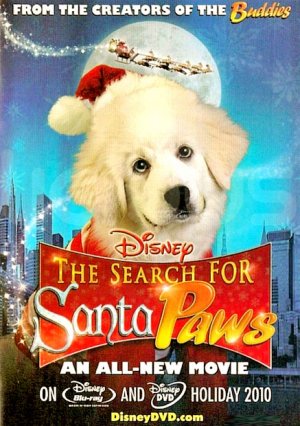 Image via WikiPedia
I know what you're thinking – "Wow, Tom Bosley's dog character got his own film?" Nope. The Seach For Santa Paws is a PREQUEL to Santa Buddies. The plot involves Santa's visit to NYC, where he gets HIT BY A CAB and loses his memory. So, it's up to young puppy Paws to save Santa's brain and, thus, Christmas.  So if you're keeping track – The Search For Santa Paws is a prequel spin-off to Santa Buddies, which was a sequel to Air Buddies, which itself was a spin-off of the Air Bud series. The Air Bud series in a tangled web, indeed. Don't believe me?

5. Santa Paws 2: The Santa Pups (2012)


Image via IMDB
Will the madness never cease? Santa Paws 2 involves Mrs. Claus's trip to the town of Pineville. Unbeknownst to lady Claus, the Santa Pups (children to Santa Paws) sneak onto her sled and join her in granting wishes to the happy children of Pineville. Adorable tidings ensue! So, basically the film follows up The Search For Santa Paws with what is essentially the movie THAT movie was a prequel of – Santa Buddies! 
https://www.youtube.com/watch?v=4fI9jskXc1k

6. Beethoven's Christmas Adventure (2011)


Image via Parent Panel
Here, we are released from the Air Bud franchise…I think. Beethoven's Christmas Adventure centers around everyone's favorite St. Bernard on a quest to save Christmas. Oh, did I mention Beethoven speaks in this? Beethoven speaks in this. I don't know if he just learned how after the original films from Bonnie Hunt or what, but the point is, Beethoven's a talking dog now. This is a world we're just going to have to get used to.


7. 12 Dogs of Christmas (2005)


Image via Play
Here's a film about a girl, Emma, who teaches people about the true meaning of Christmas through dogs during the Great Depression. Have you seen this one? It's pretty amazing. Never has the Great Depression looked so merry! Kids! Dogs! Small miracles! 12 Dogs has it all! (The cool kids just call it 12 Dogs. Ex: "Yo son, you catch the Hallmark Channel's airing of 12 Dogs last Sat afternoon? Cowabunga!")
On that note…
8. 12 Dogs of Christmas 2: Great Puppy Rescue (2012)


Image via IMDB
…Seven years later, someone finally continued the franchise. I don't even want to guess what those "mild themes" might be!

9. A Dog Named Christmas (2009)


Image via IMDB
A Dog Named Christmas sounds like the ultimate title of a Hallmark movie right? But how can that be if it initially aired on CBS? Ohhh, it aired on CBS as a Hallmark Hall of Fame movie. That make more sense. Anyway, ADNC centers around Todd, a man with a learning disability who helps animals at a shelter find homes, while growing an attachment to one particular dog! However, Todd's father does not fully approve of this new dog companion. So basically, it's Footloose.


10. The Dog Who Saved Christmas (2009)

Image via Wikipedia
2009 was a banner year for doggie Christmas TV movies. It's kinda like when A Bug's Life and Ants came out at the same time. See also: Dante's Peak/Volcano, Finding Nemo/Shark Tale, Friends With Benefits/No Strings Attached, and Schindler's List/Homeward Bound:The Incredible Journey. Part of ABC Family's 25 Days of Christmas Countdown, TDWSC stars Dean Cain and the voice of Mario Lopez as Zeus.


11. The Dog Who Saved Christmas Vacation (2010)


Image via Wikipedia
The public demanded it! Mario Lopez reprises his definitive role, along with the voice of Paris Hilton. Together, they save a family vacation at a ski lodge.


12. The Dog Who Saved The Holidays (2011)


Image via StarzGlobal
Jeez, does Zeus have to save every holiday for these people?! This is starting to feel like an unbalanced relationship – really hope Zeus finds a lower maintenance family at the end of this. However, the existence of this, indicates otherwise. Poor Zeus.

13. Simpsons Roasting On An Open Fire (1989)


Image via The Companion Project)
This was actually the first episode of the show EVER aired! Some 15,248 episodes later, it's still probably the best Christmas episode they've done. So why is it on the list? The Simpsons, after all, are not dogs! (At least not in this episode…they need every idea.) Well, the premise of the show is that Homer has not received his Christmas bonus this year and Marge spent her Christmas money removing Bart's "Moth__" tattoo, so Homer needs to earn some quick cash to ensure a merry Christmas. After a short stint as a mall Santa, Bart and Homer end up at the dog track in order to multiply Homer's paltry check. Rather than betting on sure thing Whirlwind, Homer bets on a new dog – Santa's Little Helper – whose name he sees as a sign. Well, SLH loses miserably. In the parking lot afterward, Homer and Bart wallow in misery, as they watch Santa's Little Helper essentially get the boot. SLH jumps into Homer's arms and he's instantly "a Simpson." At home, everyone is so delighted by Santa's Little Helper that no one even notices the lack of any other presents. Since then, Santa's Little Helper has been the Simpsons' dog in every single episode, give or take a Laddie.
Any favorites I missed? Probably another Santa Buddies sequel, right?


Featured image via arts-wallpapers.com