Robert Bow-wowney Jr., Jennifer Pawrence, Bark Ruffalo – there are plenty who have lit up the silver screen with their legendary feats of cinem-acting. However, limiting an overview of cinematic history to merely the hooman contributions is a fool's mistake. Let's take a look at some of the most iconic doggie roles and the actors and trainers who brought them to life, shall we? YUP!
DISCLAIMER: No animated dogs or Beverly Hills-based Chihuahuas were considered.

11. Buddy, Air Bud (1997)
dir="ltr" style="text-align: left;">

dir="ltr">The Film: Is your pup athletic? Never mind fetching a stick or catching a frisbee – I'm asking can your pup shoot hoops, play soccer and "golden receive?" That's why Air Bud will be the king of cinema hounds. He's spawned a franchise that single-handedly revolutionized the "Animals Playing Sports" film genre as we know it today. No small feat.
The Actor: Golden Retriever Buddy (his real name) was found as a stray and also played Comet on Full House. He also made appearances on America's Funniest Home Videos and Letterman's Stupid Pet Tricks where, naturally, he dunked a ball. Reprised the role for Air Bud: Golden Receiver and Air Bud: World Pup. Buddy was trained to play various sports by Kevin di Cicco, who found Buddy as a stray. This real rags to riches story really should have probably been the actual plot of Air Bud.
More disturbingly, this means the Full House creative team knew Comet could play sports and did NOTHING with that information! Can you imagine a "Comet hilariously schools Uncle Jesse on the court" episode? Heck, Full House even had a basketball episode! It's all very upsetting.
10. Marley, Marley and Me (2008)
The Film: If it weren't for Old Yeller, Marley would take the crown for movie dog most likely to fetch tears from inside your face. Marley and Me (MAM to the kidz)
The Actor: MAM wouldn't cause us to shed such tears if it weren't for the sterling performance at the center. No, I don't mean Owen Wilson (although the same applies.) Rather, I refer to the work of 22 different labradors, who were trained by a crack team of veteran movie animal coaches including Raymond W. Beal (Norbit, Snow Dogs, 102 Dalmatians, among many others) April Mackin (Charlotte's Web, George or the Jungle) and Candace Cothern (Marmaduke, Trouble With the Curve.) All proof that effective emotional devastation is a team effort!
Ugh, now I'm thinking about it and getting all misty – damn you MAM!
9. Beethoven, Beethoven (1992)
The Film: Its common knowledge that among Beethovens, the dog > the composer. I mean, this isn't even close. One sparked Charles Grodin-related family antics, the other composed boring orchestra music that didn't even have lyrics!
Sequels included Beethoven's 2nd, 3rd, 4th, 5th (the Sequel Naming Department had it real easy) and Beethoven's Big Break. There was also an animated TV series released in 1993 that I bet you don't remember.
The Actor: Beethoven was this St. Bernard's real name, so he essentially played himself, and was trained by Eleanor Keaton (Buster Keaton's widow, you guys!)
8. Skip, My Dog Skip (2000)
The Film: No "Frankie Munez Movie Marathon Party" is complete without My Dog Skip, the World War II-era tale of canine camaraderie.
The Actor(s): Skip was played by six Jack Russell terriers, but primarily by Moose and Enzo, who also teamed up to play Eddie on Frasier! Trained by William Shane Grisco, who worked as a stuntman as well as an animal trainer on dozens of Hollywood projects. The original Skip was a fox terrier, but apparently fox terriers make for poor actors, as there were none available during filming.
7 & 6. Shadow & Chance, Homeward Bound: The Incredible Journey (1993)

The Film: Chance, the plucky narrator, and Shadow, the wise old-timer, are the heart and soul of Homeward Bound: The Incredible Journey. Along with wildly unrealistic kitty pal Sassy, Chance and Shadow endured some treacherous elements (ugh, that porcupine scene, ugh) en route to reuniting with their family…before then immediately getting lost in San Francisco in the sequel.
Homeward Bound: The Incredible Journey was actually a remake of a 1963 Disney film similarly titled The Incredible Journey. However, the characters and names are all entirely different in the original which also, in this movie goer's opinion, suffers from a severe lack of Michael J. Fox.
The Actors: Chance, an American Bulldog, was played by Rattler, who reprised the role for the sequel. Shadow was played by Ben, a Golden Retriever. Though they both played talking dogs, neither could actually speak English in real life. The animals in the film were trained by a large team headed by Joe Camp, a Hollywood veteran who most recently worked on The Hunger Games.
5. Hercules AKA The Beast, The Sandlot (1994)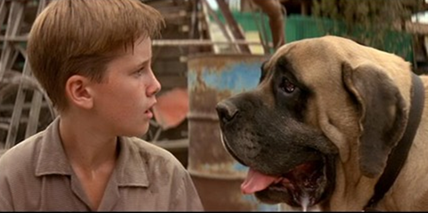 The Film: What's more American than baseball? The Sandlot, that's what.
Among that lovable gaggle of Squints, Smalls, and Redhead from Big Green, who could forget The Beast – that mythical, baseball-slobbering creature of legend? I, for one, avoided seeing The Sandlot for years simply because the Beast looked scary in the trailer, and I was a very weak, sad young man. However, I should have realized any pet of James Earl Jones's can't be all that bad.
The Actor: If you're wondering how a kindly English Mastiff became so beast-ified, well, that's because Hercules was primarily played by a mechanical puppet, operated by a whole team of technicians, effects artists, and puppeteers. At least it must have been an easy training process…
4. Hooch, Turner & Hooch (1989)
The Film: Turner & Hooch would be considered Tom Hanks's crowning achievement were it not for every film he made after it. Still, the film remains in the higher echelon of human-animal buddy comedies. Top 35, for sure. Where's Buzzfeed when you really need them?
The Actor: Beasley, a Dogue de Bordeaux, was trained during the film by Scott Rowe, who went on to lend his services to Babe: Big In the City, True Blood, and others.
3. Milo, The Mask (1996)
The Film: Prime, mid-90's Jim Carrey may get top billing, but for many a-viewer Milo steals the The Mask. I don't mean literally, although he does steal and wear the actual mask. As a true man's best friend, Milo basically saves the day for Stanley Ipkiss, who would surely have otherwise failed spectacularly. Thanks to animal cruelty restrictions, Milo was not on hand for 2005's Son Of The Mask.
I sure hope he's house brrrrrroken! (Like smmmokin? From the movie? Forget it.)
The Actor: Milo was portrayed by Max, a Jack Russell Terrier whose only other on-screen role was as Audrey in Mr. Accident. (2000) He was trained by Joseph McCarter (The Air Bud franchise, Shallow Hal) but also worked a lot with Jim Carrey on the set, as a lot of their scenes together were completely ad-libbed.
2. Toto, The Wizard of Oz (1939)
The Film: That trusty "little dog too" has become as iconic as ruby slippers, munchinland, and lacking a brain. Toto, in general, remains a passenger through Dorothy's wacky Oz misadventures but remember, Toto outs the Wizard by poking his adorbs wet nose behind that curtain. Without Toto, the people of Oz would still be living in fear of a giant fire head. Thus, Toto truly liberated Oz as a society, like any good dog would.
The Actor: Played by Terry, who was the Judy Garland (that's right, Toto was a girl) of canine thespians, appearing in 15 films between 1934 and 1945. He was trained on Oz by an uncredited Carl Spitz.
1. Baxter, Anchorman (2004)
The Film: Everyone's favorite Spanish speaking, miniature-Buddha-covered-in-hair got punted into our hearts in the 2004 comedy classic. If he's #1 in Ron Burgundy's heart, he's #1 in ours.
The Actor: Ron Burgundy's beloved Baxter was played by Peanut, a mixed-breed Border Terrier, and trained by Matilda de Cagny, who also worked on Back to the Future, Hugo, and Frasier (where she worked with Enzo and Moose – it's a pawll world after pawl!)
 Runners Up: Marmaduke, Old Yeller, Benji, all of the Air Buddies.
Who didn't make the list, film ruffs?