A New York Daily News review of photographer Traer Scott's Street Dogs reads, in part, "Nobody can break a dog lover's heart like Scott." And once you see her pictures, it's difficult to disagree.
Scott captured a collection of photos that depict the lives—raw and uncensored—of Puerto Rico and Mexico's stray dogs. "I traveled extensively with animal rescuers throughout urban and rural areas of both countries in an attempt to document the many facets of animal abandonment and abuse as well," she writes on her website, "along with the efforts being made to bring about change."
[bp_related_article]
The dogs in her stunning photos are frozen in time—in populated city-streets…
… nearby trash dumps…
… and even the infamous Dead Dog Beach in Yabucoa, Puerto Rico, where people frequently abandon the dogs they no longer wish to care for.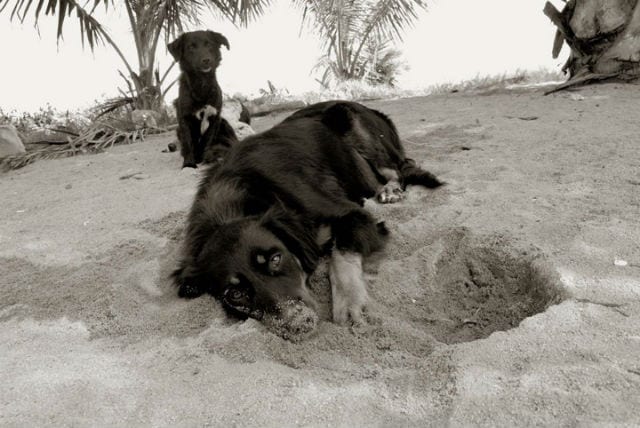 And while there is a great deal of sadness, sometimes exhaustion, and sometimes a peculiar "wildness" in their eyes, there is also a fierce love and devotion among families.
Dogs will not pause to sulk at their circumstances. They live in the moment, and at any given time they have a purpose. It's this beauty that fuels the power in these photos in its own curious way.
Scott, who is also very well-known for her photos of shelter dogs, has a certain knack for capturing moments we don't typically see, or which we prefer not to see. There are hundreds of thousands of stray dogs in Puerto Rico and millions more in Mexico, and that is not an easy pill to swallow.
As dog lovers, we hate to know that any dog lives without love, food, or shelter, and that many of them suffer from abuse and neglect at the hands of humans. We can do a lot to educate owners on the importance of spaying and neutering, and emphasizing that dogs are not objects that can be thrown away when no longer wanted—Scott, an animal lover and rescuer herself—hopes to impart this message.
Each of the dogs included in Street Dogs were rescued and matched with loving homes, though not all of them are so lucky. You can donate to The Sato Project to help rescue Puerto Rico's strays on Dead Dog Beach, and Compassion Without Borders to help save Mexico's strays. Of course, this is a VAST underrepresentation of rescues doing amazing work, but it's a start.
Scott's book is no longer in print, but you can purchase one of the remaining autographed copies on the photographer's website.
h/t One Green Planet, featured image via Traer Scott Photography