A lot of incredible tails of adoption cross our desks at The BarkPost, but Tuna has pawsitively melted our hearts! We ruv that this spirited rescue pup has made it big while giving back. That's why BarkBox is proud to present The Tuna Tour:
Tuna's taking his do-good ways on the road for an East Coast tour to help pups-in-need! Get ready for pawsome meet and greets and fundraising dinners in select cities, all in the name of bringing awareness to local shelters! Stay tuned for exciting pupdates on the tour and how you can get involved.
Grand Rapids, MI: Tuesday, April 15th
*Chicago, IL: Saturday, April 19th
Cleveland, OH: Monday, April 21
Boston, MA: Thursday, April 24th
*New York City, NY: Saturday, April 26th
Washington DC: Wednesday, April 30th
*Atlanta, GA: Saturday, May 3rd
Nashville, TN: Monday, May 5th
* Benefit dinners will be held in the following cities that evening. Please visit, www.tunameltsmyheart.com/tunatour for more information.
You may recognize this charming chiweenie's trademark goofy smile from his widespread fame on the interwebz! His Instagram account alone has over 700k followers. With a mug like that, it's not hard to see why!

Yes, these days "The Underdog with an Overbite" is livin' large. He hangs out with celebrities like Cesar Millan…

And he's even hittin' Hollywood parties! Check out the strut on this mutt at the Mr. Peabody and Sherman premiere!
But if you think that this Red CarPET darling has let fame go to his head, think again! Sweet Tuna hasn't forgotten his very humble beginnings. As a pup, he was found discarded on the side of the road near San Diego, likely because of his unconventional looks. Luckily, fate and a farmer's market adoption event in Los Angeles conspired to help him find his furever home with his mamz, Courtney.
Courtney knew Tuna was special and set out share the happiness he brings to her life with the whole world! "I had no agenda to garner a large following. I did, however, recognize that Instagram could be a catalyst to bring people joy through Tuna's pictures that showcased his cartoonish looks and charming personality. I am grateful that I have been given the opportunity to utilize it as a platform to encourage people to love the seemingly unlovable," Courtney tells Darling Magazine. Who wouldn't ruv this little guy?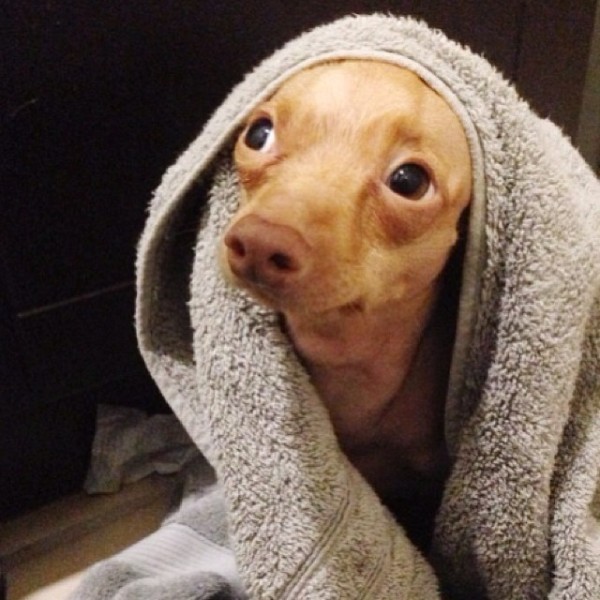 She continues, "People around the world are showing me what that looks like by the way they love Tuna through his Instagram account. I've been posting a daily picture of him for [over two years], and in that time he has garnered a following that adores him for his differences! I am overwhelmed by the impact that he is having on so many people. It appears that he is restoring hearts again by melting them, and when I read the comments that are uplifting, edifying and encouraging, my heart melts too!" To see the effect Tuna has on peoples lives, you need look no further than the pawsome fan art Courtney posts on #tunartuesdays!
Source
Not only is Tuna spreading joy, he's using his fame to lend a paw to others! Tuna gladly played the role of Santa Paws back in December, leading a successful toy drive for pets in need!
Source
High paws for this rescue pup using his fame to reminds us that ruv can be a powerful, transformational force. We hope you'll join Tuna during his tour and do your part to lend a paw.www.tunameltsmyheart.com/tunatour
To see more of Tuna's heart-melting anticis, visit his Instagram: @tunameltsmyheart and Facebook Page.