Jhumpa Jones, 8 of 51. "I know that Jhumpa Jones is indeed one of these magical, mystical creatures that has been given the life and breath to grace us here on Earth. She is a bush full of hydrangeas coming to strength in the Spring. She is a beam of light at high noon. She is those butterflies, and bunnies, and all good things that sparkle." – From "Jhumpa Jones, Happiness Extraordinaire"
The legacy of the fifty-one dogs rescued in the summer of 2007 from NFL player Michael Vick's fighting ring isn't one of violence and bloodshed but one of survival, courage, and the love that can only be found in the hearts of dogs. Painter Levity Tomkinson vows to paint each one of the surviving dogs of Vick's Bad Newz Kennels operation for her ongoing body of work The Re51lient Project (pronounced "resilient"), a tribute to the dozens pit bull type dogs who were given a second chance and went on to become the gentlest, most devoted, and affectionate of dogs. To accompany and illuminate her portraits, Tomkinson writes lyrical passages about each dog and what they mean to her, some of which are excerpted here.
Georgia, 1 of 51. "I wanted her fur to exude the same warmth as her eyes, to make whoever views the painting immediately feel comforted by this sweet girl – like they would love nothing better than to curl up on a couch with sweet Georgia, their toes tucked under her fur, while her head would drape over their legs and she would just stare and stare and stare." – From "Sweetness"
When Tomkinson heard the news of the rescued victims of the Bad Newz ordeal, she knew instantly that she would devote her brushes and fingertips to telling their stories. With her own muse Rinlee, a pittie, German Pointer mix, by her side, she began by painting Georgia, a tan-colored girl who was taken in and cared for at Best Friends Animal Sanctuary in Kanab, UT, where many of the "Vicktory Dogs" were rehabilitated. By the time the artist stumbled across her picture, Georgia had learned to trust both people and dogs; she had been placed in a new and loving home, where she happily lived out the rest of her days. Her tongue dangled a bit because of the injuries she sustained during her time at the ring, and yet she became known for happily toting her favorite fluffy about in her mouth.
Jonny, 4 of 51. "Even if people who Jonny Justice passes [on the street] have no idea who he is, and the importance of his being saved and giving hope to other dogs, they see him, he comes into their lives and awareness, even if only for a split second with the flit of a glance. And technically, he wasn't supposed to be alive. They are essentially witnessing a walking miracle – a very happy, springy, walking miracle." – From "Jonny's Walk: Seeing Beauty in Simplicity"
Of the fifty-one "Vicktory Dogs," forty-seven survived through their rehabilitation. They were the first dog fighting rescues, reports Tomkinson, to escape euthanasia, thanks in large part to Best Friends. Not only did they survive, but they also entered into their new lives with tender and hopeful spirits. Some have gone on to become therapy dogs, like Jonny Justice, who provides moral support and a compassionate ear to children who struggle with reading aloud. Many provide unconditional warmth in homes with other dogs and children; some have had non-profits set up in their honor, and their influence helps other dogs abused in fighting rings get a fair chance at a new life. Because of the ignorant and unfounded stigma that surrounds pit bulls and dogs rescued from the ring, others, like Lucas, a former Vick "champion," were court ordered to remain at the Best Friends Sanctuary. Still, Lucas bears the epithet "the happiest of them all" for his joyful and affectionate personality.
Ellen, 5 of 51. "[When I] looked at photos of Ellen, all I saw was a beaming girl, full of love, smiles, and life. Her spirit came through so much that the pain and scars from before melted into the background, literally. How can we all focus on being so full of the present and the happiness we have now that we can allow our past hurt to blur to the back, that what people see is who we are now, not who we were?"- From "Positive Pits: Remembering Ellen and a Festival Celebrating the Blockheads We Love"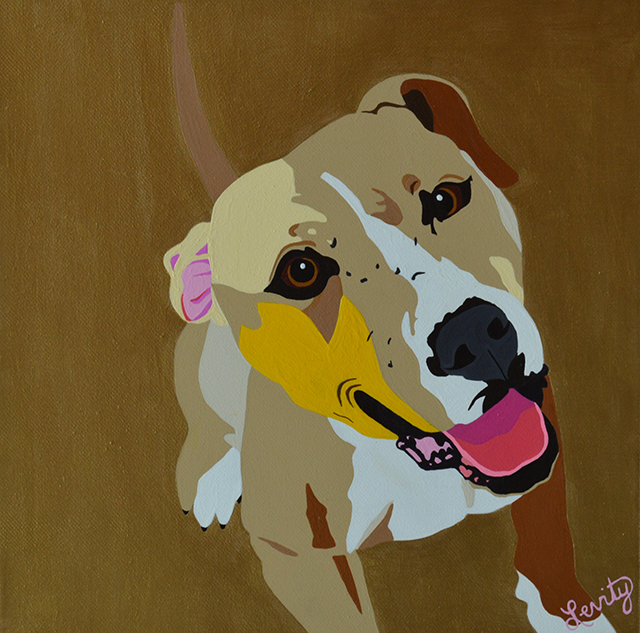 Although Tomkinson works from photographs and has not yet met the thirteen dogs she's painted thus far, she feels that she knows them intimately. She's studied every crease in their brows, every tilt in their eyes, every contour of their ears. She's spoken with many of their families, and sometimes, when she is alone with their paintings, she speaks aloud to them. Capturing the essential sweetness, playfulness, and sensitivity of each and every dog is imperative, even if that means sketching and erasing over and over again until she gets it just right. Dogs can be so expressive, she suggests, and from their pictures, she can read the nuances of their unique dispositions.
Lucas, 2 of 51. "If this dog, who was thrown into a ring of blood, fur, saliva, money, curses, and brutality time and time again, can be described as 'the happiest of them all,' don't you think we all could follow his example and do the same? If in your life you have experienced a tragedy or something extremely painful, think of how beautiful it would be, despite all that you've been through, to hear someone describe YOU as 'the happiest of them all.'" – From "The Happiest of Them All"
These dogs, many since their birth, had been subjected to unspeakable tortures– whether they had been unwillingly sent into the ring and gravely harmed in the process, had been used as bait dogs (timid, more helpless dogs used to test the fighting abilities of others), or had been mothers forced into overbreeding. Still, despite their traumas, each held within themselves an innate and burning flame of goodness, vulnerability, and purity that could not be extinguished. These dogs had fallen prey to the worst cruelties of mankind, and yet in and through them, Tomkinson found our redemption. Their stories, stresses the artist, aren't about what was done to them; it's about their inexhaustible courage. It's about their recovery.
Mya, 10 of 51. "Mya has helped to open my eyes to the fact that where we are in life doesn't have to have all the loose ends tied up. We don't have to be in that place that seems perfect. What is entirely a non-negotiable essential is our perseverance. Our determined ability to believe in, and choose, positivity. Our re51lience." – From "Mya: The Journey"
From these dogs, the artist explains that she's learned forgiveness and empathy. Perhaps most importantly, they've taught her hope and positivity. In their new homes–whether they be forever or temporary– they wake each morning less afraid, greeting the world with bright eyes and wagging tails. For this reason, she paints them in vivid Pop-Art-inspired colors and soft brushstrokes that dance hither and thither across the canvas. She sees them as they are today, healed and at peace, rather than as they had been once upon a time. When painting Lucas, she traced his every scar, but beneath them she found his face parted in a big, open smile. There's delight to be found in the details, moments of wonder and surprise that are at once spontaneous and deliberate.
Hector, 12 of 51. "Do not do something for the admiration of others. Do something that your own heart admires. Do not be afraid to walk down a pathway that is overgrown and neglected when everyone else is pointing you towards the prim, well-manicured path. That pathway has been waiting for you to tend to it. It is saying, 'Come, talk a walk. Show me your love and desires and together we will build something far greater than either of us could have ever comprehended.'" – From "Because I Must Be Me: Hector's Lesson"
The "Vicktory Dogs," admits Tomkinson, have become a palpable presence in her life, whether they are still with us or not. Their stories have altered her, and lines and curves of their faces have been memorized by her hands. To Oliver and his family, she became known as "Aunt Levity." Oscar's mom sent her a set of the pup's paw prints in thanks, and she treasures them dearly. When Ray was laid to rest just a few months ago, his portrait was drawn in stone on his memorial plaque, with Tomkinson's signature included. "I feel like a part of me is now with Ray forever," says the artist.
Oscar, 7 of 51."[Oscar taught me that] scars don't heal overnight, or even over weeks or months. Sometimes healing is even years in the making, and we all need someone there to help us heal, to tell us we're normal, we're okay, to hold our hand or rub our fur, to tell us we're brave and they are proud of us. But I think most of all we need love – love for ourselves and love from others." – From "Oscar: The 7th Re51lient Pup"
In the end, suggests the artist, it all comes back to where it started, to her own pup Rinlee. She tells me about how he slathers her face in kisses and curls up her arms. She introduces me to a new term: "the zoomies," used to describe the way pit bull and pit bull type dogs run and play—wild and uncontainable—when they're happy beyond belief. The fifty-one rescues–and their ability to find joy and hope in even the scariest of circumstances– linger with her long after she's seen their faces, inspiring her to hold on to her own best friend just a little more closely.
Squeaky Jean – 6 of 51. "[T]o see such a beautiful, organic example between these two dogs, Squeaker and Oscar, of how just simply being there for one another can help life carry on, it makes you realize that helping people doesn't always mean grand, over the top gestures. Helping people is loving them. It's in the moments we share together, and the time we take not only to listen, but to understand and relate. To be human with each other." – From "When Friendship Heals: Squeaker's Story"
Thus far, Tomkinson has been funding the project entirely by herself. Her goal is to devote herself to The Re51lient Project and to telling these stories full time for one year, but she needs our help. Please consider donating to her GoFundMe page to help her complete the project.
Ray, 9 of 51."How [Ray] spreads happiness and love was clear to me from the start. Love is essential to our functioning, and forgiveness is a grand act we can all perform. Learning respect for ourselves and for all living creatures. Empathy. Smiling for every reason and no reason. That we can learn from those gentle nudges from a paw or a blockhead pressed against our bodies that say, 'I'm here. I love you. I won't leave you.'" – From "Ray: The Dog That Sticks"
If you suspect dog fighting, please contact the Humane Society of the United States hotline by phone at 1-877-TIP-HSUS. To help dogs in situations similar to those rescued from Vick's ring, please consider donating to one of the rescues that took them in after the incident and provided them with safe and happy lives. Tomkinson recommends the Best Friends Animal Sanctuary in Kanab, UT, BAD RAP and Our Pack. Other amazing organizations have been founded in honor of the dogs who suffered at Bad Newz, including Handsome Dan's Rescue, Gracie's Guardians, and Jasmine's House. Every bit helps.
Little Red, 3 OF 51 "Little Red came to Best Friends as a very nervous, very scared dog and was wary of new people. But boy, how that has changed. Now Little Red will go bounding up to a dog, lick their face and run off, expecting them to chase and follow. Whenever I think of her I can't help but see the word 'playful' flash in my mind, in no color other than bright green, mind you." – From "When Life Gets Serious, It's Time to Do Some Face-Lickin'"
Oliver and his momma, Erika, 11 of 51. "I know in Erika's mind and heart, without a doubt, Oliver was the biggest rescuer of all. When we rescue others, we allow ourselves to be rescued. Dogs, well, they do what they do. They save us." – From "Olive-art: Who We Are Meant to Be"
All images © Levity Tomkinson