We all know how smart dogs are. They can learn almost any trick with just a handful of enticing treats. Check out these weird tricks that people have actually trained their four-legged friends to do.
1. Use a men's urinal. Because going on the grass just isn't classy enough.
2. Walk on their front paws and weave around cones. Walking is overrated, this is how REAL dogs get around town.
3. This. We're not sure how they trained their dog to do parkour… but it's pretty freaking awesome.
4. Catch a bucket, and then catch a ball with the bucket. All while the second pup leans on a bucket wondering what the meaning of life is.
5. Watch nature documentaries. And then promptly fall asleep 37 minutes later.
6. Scoop their own poop. The most responsible dog owners make the most responsible dogs.
7. To be a misogynist pig. Because it's only sorta kinda okay when it's coming from a dog.
8. Push their own shopping cart. Apparently strong, independent pups don't need no human.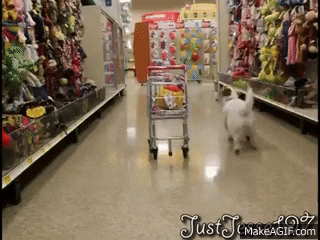 9. Synchronized back flips. That is all.
10. To smile creepily. That's one way to impress the ladies — or scare the ladies.
11. Tightrope walking. As if doing it on two legs wasn't hard enough already.
12. To keep you awake while studying. If only we had this dog in college.
13. Skateboarding with ramps. It's what all the cool kids are doing these days.
14. Walk another dog. Careful – before you know it, they'll be walking us.
15. Play the piano. Sight-reading is next on this musical pooch's list.
16. Roll themselves into a burrito. If you can't have Chipotle, at least you can have this.
17. To do squats. The best kind of workout buddy.
18. Ride a horse… and smile and wave while they're at it. Okay, serious talk. This pup has better balancing skills than quite a few humans out there.
Feature image via Petful