***Looking for a gift for your dog with treats that are guaranteed safe and delicious? Try BarkBox! Every month BarkBox delivers 2 original toys, designed in-house, 2 full bags of all-natural treats, and a chew. Sign up here and receive a free extra toy every month. <– This deal is worth up to $120 in value if you sign up for a 12-month subscription! 🙂
Dogs, of course, are notorious for eating just about anything they can get their paws on. Carrots and other veggies are often no exception. But are carrots safe and healthy for canines to consume?
Luckily, just like apples, carrots are a great nutritious snack for those pups that enjoy them. Whether you want to serve them up raw as treats or meal supplements, freeze them for use as teething chews, or cook them with minimal and healthy fat, here are a few things to know about feedings carrots to dogs:
The Nutritional Benefits Of Carrots
First off, there's a reason why your parents always told you to eat your carrots. They're packed with vitamins and minerals, including beta-carotene (which is converted to vitamin a in the body), vitamin b6, vitamin k, potassium, and fiber. As well, carrots are a low calorie and fat-free sweet treat.
Carrots can also support your dog's dental health. Not only do the vitamins found in carrots make for stronger teeth and gums, but the dense crunchy texture is great for removing plaque. Furthermore, teething puppies will find relief from sore gums by gnawing on carrots, particularly if they've been placed in the freezer first.
Can I Give My Dog Carrots As A Treat?
Due to their many nutritional benefits, carrots are an acceptable daily low-calorie treat, yes. But like all foods, they should be given in moderation. 1-3 baby carrots are great, but forty is way too many.
How To Give Carrots To Your Dog
When feeding Fido carrots, it's best to stick to small amounts of raw, washed, and peeled carrots. Why peeled? The outer skin of the carrot can contain dirt, bacteria, and pesticides that could potentially lead to nasty stomach upset or illness. Pre-peeled baby carrots are also a good option for dogs.
Due to their circular shape, it's important to note that this vegetable can be a choking hazard, particularly for small dogs. Thus, also cut full-size carrots into smaller bites before using them as treats or sprinkling them over your dog's food.
Are Cooked Carrots Okay For Dogs?
Roasted or steamed carrots, once cooled down in temperature, are also okay for your pup.
However, if you've doused your cooked carrots in oil, butter, salt, and/or other seasonings, it's advisable to store them as people leftovers—not dog food.
Over time, the dietary additions of fat and salt can lead to obesity, heart disease, high cholesterol, and other health issues. Raw is always best when possible.
What About Other Root Vegetables Like Parsnips?
Parsnips, turnips, and sweet potatoes are all safe to feed your dog. Like carrots, these root veggies also contain numerous vitamins and minerals. That said, sweet potatoes (and regular potatoes) should never be served raw due to the substance known as solanine, which can be poisonous in high amounts.
Other root vegetables, such as ginger and garlic, are potentially toxic for dogs and should always be avoided.
Thus, when in doubt, check with your veterinarian on which fruits and vegetables you can supplement your pup's diet with.
Can I Feed My Dog Carrot-Based Treats?
For those who enjoy baking, there are dozens of different carrot-based dog treat recipes to try out in the kitchen. In fact, carrots are super easy to add to any doggie dough. Simply wash, peel, and shred or grate them, just like you would do when baking carrot muffins or cake.
This carrot and sweet potato dog biscuit recipe is super easy and contains no sugar, salt, or oil. Instead, the addition of an egg adds a bit of healthy fat and chewy texture.
Ingredients
3 cups whole wheat flour
1/2 cup baked sweet potato
1/2 cup finely shredded carrots
1 egg
3/4 cup water
Directions
Preheat oven to 350º
Line baking sheet with parchment paper
In a large bowl, add the flour, sweet potato, carrots, egg, and water.
Mix well until all the ingredients are combined.
Continue to knead until you get a big dough ball.
Either with your hands or a rolling pin, flatten out the dough ball to about 1/4″ in thickness.
Cut out shapes with a cookie cutter and place them onto the parchment lined baking pan.
Bake at 350º for approximately 30 minutes, until biscuits are golden.
Cool on wire rack.
Store in an airtight container in the refrigerator for up to 1 week OR freeze for up to 3 months.
Or, try your hand at peanut butter and carrot dog treats. Although the combination may sound less than scrumptious, dogs love the soft texture and flavor.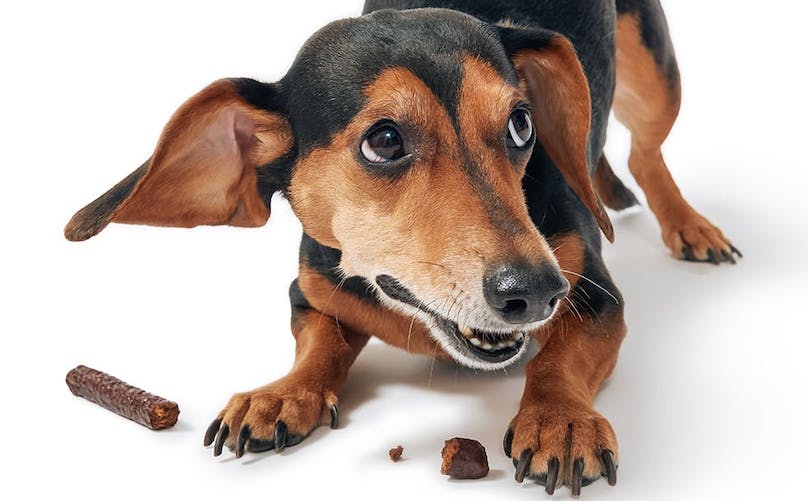 Ingredients
1 cup (255g) natural creamy peanut butter
3/4 cup (180ml) skim milk
1 large Eggland's Best egg (or 1/4 cup unsweetened applesauce)
1 large carrot, shredded (or 8-ish baby carrot)– around 2/3 cup shredded
2 and 1/4 cups (290g) whole wheat flour1
1 Tablespoon baking powder
1/3 cup (30g) oats (either whole-rolled or quick oats are fine)
Directions
Preheat oven to 325°F (163°C). Line two large baking sheets with parchment paper or silicone baking mats. Set aside.
In a large bowl, gently mix the peanut butter, milk, egg, and carrot together with a wooden spoon or rubber spatula. Add the flour and baking powder. You may need to turn the dough out onto a floured work surface and use your hands to work in the flour. Mix in the oats. The dough is extremely thick and heavy.
Using a floured rolling pin, roll the dough out into 1/4″ thickness. Cut into shapes using cookie cutters. Arrange on the baking sheets. Bake for 15 minutes, or until very lightly browned on the bottom. Remove from the oven, and flip the treats to bake the other side for 10 more minutes. Want the treats to be a little more crunchy? Bake for 5 more minutes.
Allow to cool completely before serving to your pup. Store at room temperature or in the refrigerator for up to 1 week.
Make ahead/freezing: Since the pups can't eat the whole batch in a week, I usually freeze them. Jude loves them right out of the freezer too! The treats freeze well up to 2 months.
If you're not in the mood for making a mess in the kitchen, or your pup just isn't a fan of carrots, consider feeding your dog treats from BARK instead. From Crunchy Biscuits to Freeze-Dried, Jerky-Style, or Soft-Baked treats, BARK's treats are all natural, delicious and conveniently shipped to you. There's no shame in dogs turning up their wet little noses to vegetables.
Looking For More Articles Like This?
Can Dogs Eat Apples?
Can Dogs Eat Strawberries?
Can Dogs Eat Lettuce?
My Dog Ate Grapes: What Do I Do?
What If My Dog Eats A Toy?