Playing fetch with your pooch is amusing for a while. But even a ball-oriented Labrador Retriever can do with a game change-up from time to time. Introducing new games and activities into your dog's daily life can be mentally stimulating, as well as a great source of exercise. In fact, depending on your individual dog, the following games might become Saturday afternoon staples.
Here are 7 (super fun) dog game ideas to get you started:
Play With A Frisbee, Not A Ball
Want to try something new with a fetch-obsessed dog? Sure, it's a simple swap, but using a frisbee instead of a ball engages your pup in different and interesting ways. Catching a frisbee in the air requires timing and coordination, which can take days, weeks, or even months for your pup to master. Depending on the size of your dog (or, more specifically, the size of your dog's mouth), there are also options from large rubber frisbees, to small flexible fabric ones. Even if it seems easier to switch back to a ball, give these flying saucers a chance. Once dogs get a hang of it, the frisbee opens up more opportunities for tricks.
Engage With Your Pup Over A Puzzle
Most people will toss a plush toy or ball for their dog in the house. Yet, sitting down with your dog to do a tricky puzzle can not only be mentally stimulating, but surprisingly enjoyable. While puzzle toys are often designed for solo play, joining your dog in the game builds the connection between the both of you, as well as encourages and rewards your dog for solving a brain teaser. If you're searching for the best puzzle for your pup, Bark carries a variety of "Thinker Toys" that challenge canine minds. Here's a hint: Timing your dog to see how fast they can complete the game is a great way to monitor their progress and up the excitement.
Create A Simple Agility Course
Not all dogs are built for professional-level hurdles and hoop jumps. Still, introducing a few small obstacles in your backyard or living room can be fun for even the clunkiest of pooches. A simple low leap over a yardstick or a hop across a pillow can be achieved through rewards of treats and affection. Or, teach your dog to crawl under a bedsheet or jump up onto a footstool. These simple games can improve your dog's strength and coordination, fight back against boredom, and even raise self-confidence. The only limit is your creativity, as well as—of course—your pup's health, interest, and physical abilities.
Try A Game Of Hide And Sniff
We reward our pups for coming to us, sitting, laying down, and rolling over. But what about letting the act of finding the treat be the grounds for reward? Hiding a few treats around the house or in the yard is a smart method for engaging your dog's nose and attention span. For first-timers, start off easy. A treat placed on top of a tree stump or under a chair should get most dogs going. As the game goes on, try more complicated locations, especially if your best friend is an instinctual nose-following hound dog! Note: Healthy, small, and savory-smelling treats are the best choice for this game. Look to Bark for a variety of perfectly hide-able treat options.
Challenge Your Pup To A Game Of Tug Of War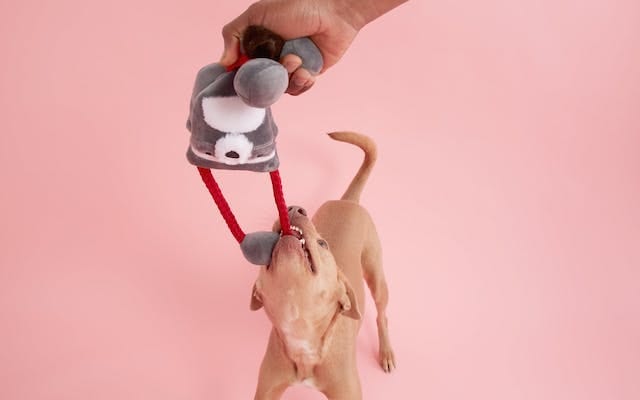 Most puppies play the game of tug of war from an early age. Yet, as your older dog might not always have a playmate to pull a rope with, make it your goal to engage with your friend over tug toys more. Luckily, Bark carries a range of durable, unique, and even animal-themed Tug Toys. Just remember: Tug of war can be a high-energy, intense game that should be prevented from getting out of hand. Practicing "drop it" and other tasks during play will help make the activity even more fun for the future.
Break Out The Water Toys
Not all dogs are enthusiastic about swimming. But for those that are, introducing new aqua games can be serious fun in the summer. A game of fetch with a floating ball or tube is standard fare, but has your pup tried pool-diving for a light but sinkable toy? What about fetching a toy attached to a rope, or running and jumping in after a frisbee? By getting more actively involved with your dog in the water, it ups the enjoyment, as well as presents new challenges. Still, time in the water should always be closely monitored. And, if you pup doesn't want to dive, jump, or get within ten feet of what may look to them like a giant bathtub, never force the activity.
Try A Flirt Pole Or Solo Tugger
If you have a high-energy and toy-motivated dog, consider purchasing one of these unique toys. A flirt pole is essentially a long pole with a rope and toy attached at the end. By flicking or spinning them around, you can engage your dog's prey response, as well as practice commands that deal with impulse control. Flirt poles are easy to make, or can be purchased in a variety of designs on Amazon. Hanging "Tugger" Toys can also be a great way for your dog to burn some energy in the backyard. After well-secured, these long ropes can be batted around, grabbed and tugged. The important point is this: High-impact movements like chasing, jumping, and pulling can be hard on your dog's joints. These activities should always be monitored and limited.