Maybe it's in their genes, or maybe they just appreciate the comfort of curling up beneath a blanket, but a burrower will not rest until they're, well, buried. If you're in the habit of patting piles of blankets on the couch before sitting just to make sure there isn't a dog hidden underneath, you know what I mean. And your pup will LOVE you for providing them with any of the burrow-friendly beds I've approved below.
Best For Most Dogs:
ETHICAL PETS SLEEP ZONE CUDDLE CAVE PET BED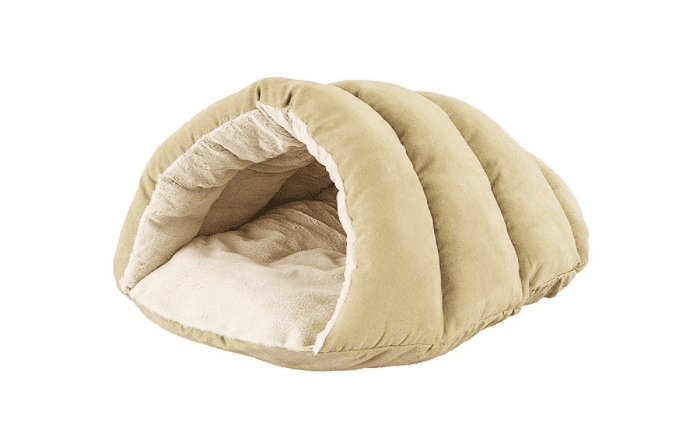 With 4 colors to match any decor and a super soft plush interior, this bed is out to please both your dog and you. To be honest, I'd crawl inside one of these myself and disappear for a while. Like most burrowing beds, it's geared more toward small dogs (think no more than 10lbs of pup). Many reviewers claim their dog won't sleep anywhere else after receiving this bed—and really, who would want to?
WHY WE LOVE IT:
– Soft plush material
– Recyclable polyfill provides ultimate comfort
– Matches any home decor
BUY HERE, $19.99-32.18
Best For Dog Parents On A Budget:
FULLY SLEEPING BAG PET CAVE
If my actual bed looked like this, I might actually try to be in it before 11PM every night. Then I'd never leave. My favorite thing about this particular bed is that it comes in 3 sizes ranging from small (28x38cm) to large (48x58cm) to satisfy a variety of small animals. It's made with fleece & a spongy material on the inside, and even claims to be washable, though I would recommend the gentle cycle on your machine.
WHY WE LOVE IT:
– Comes in 3 sizes
– Made of soft, washable fleece
– Very reasonable price
BUY HERE, $13.88-17.33
Best For Dogs Who Love Blankets:
STUFT SNUGGLE SACK
This is exactly how it sounds: a really soft bag-like "bed" that's really more of a warm blanket. It's EXACTLY the kind of thing my dachshund would go nuts for. The opening of the sack is bolstered with a thick, cushioned support to act as a pillow, and you can throw the whole thing in the wash with no regrets. The Snuggle Sack also comes in 3 sizes.
WHY WE LOVE IT:
– Just like a warm blanket
– Comes in multiple sizes
– 100% machine washable
BUY HERE, $23.99-34.39
Other Burrowing Beds We Love:
Snoozer Cozy Cave Pet Bed

This bed wins the race in terms of plush-ness. The inside is lined with warm sherpa material, and the "hood" is stiff to keep it propped up. The outer cover is removable for washing. You might not see your pup for a while after crawling in this one…
BUY HERE, $68.34-99.95
Best Friends by Sheri OrthoComfort Deep Dish Cuddler
My dog loves a good bolster on her bed, but this one knocks any of hers out of the park. The Deep Dish Cuddler is all that and more—it's great for pups up to 20lbs, is coated in soft sherpa fabric, and is pretty much just a big, cozy hug in bed-form. Drape your dog's favorite blanket over the top and you're good to go.
BUY HERE, $19.99-41.95
Best Friends by Sheri Cozy Cuddler
I couldn't resist adding another bed from this company. The Cozy Cuddler—unlike the Deep Dish Cuddler above—comes with a hood sewn into the bed to serve as a pseudo-blanket and provide something to actually burrow underneath. It's super soft on the inside and is covered on the outside with durable corduroy fabric.
BUY HERE, $38.16-41.89
~Not a bed~ This nifty device is a cozy blanket uniquely shaped to wrap around the bed you already have at home. It covers small beds up to 22″ long and secures on the underside with velcro. Then, viola! Your dog has an instant cave in which to disappear for a few hours.
BUY HERE, $25
Here's to lots of dogs ready to hibernate this winter. Go forth and burrow!
Featured Image via Kerri/Amazon