We look forward to the holidays for so many reasons, and one of them is finding the best gifts for all the pups and pup parents in our lives. This season, we picked out the most delightful toys, treats, and gifts that make great stocking stuffers for dogs and dog people!
1. Personalized Merry Woofmas Dog Treats
We're obsessed with these homemade Merry Woofmas dog treats made with human-grade, dog-safe ingredients. We also love that you can personalize them with the recipient's dog's name. We don't need a repeat of last year when grandpa thought the dog treats were for him!
Why We Love It:
Handmade in Delaware, USA.
Made with human-grade honey, peanut butter, rolled oats, whole wheat flour, cinnamon, & yogurt
A lot of bang for your buck! Lots of treats in one package.
BUY HERE: $19.99 from Etsy
2. BARK Gnawty Dog Stocking Stuffer Toy
What's better than a stocking for a stocking stuffer?! You probably considered leaving a lump of coal in your dog's stocking after that day your Roomba smeared their poo all over the house—and now you can! Luckily, this coal is also a chew toy inside of a plush stocking. After all, your pup's still a good boy… most days!
Why We Love It:
Christmas budget friendly.
Two toys in one!
Gives them something to chew on instead of your presents!
BUY HERE: $14.00–$16.00 from BarkShop
3. Red Velvet Christmas Bow And Collar
For a pup who needs to look extra dapper for the holidays, this red velvet Christmas bow will do the trick! If you're on a budget this year, you can purchase the bow separately to add some Christmas flair to your dog's own collar. You also have the option to go all out with a matching velvet collar and leash.
Why We Love It:
Handmade in Australia.
It's freaking adorable and soft (like your dog's velvet ears!).
You have the option to buy the bow alone, or with a matching collar & leash.
BUY HERE: $13.89–$59.84 from Etsy
4. BARK Airpawds Toy
They're the gift that's on everyone's wish list this year—even your dog's! Except with BARK Airpawds, it won't be music that's tugging on heartstrings, it'll be… well… your dog tugging on this soft and stretchy rope toy.
Why We Love It:
You and your dog can have matching gifts!
Made with soft, stretchy t-shirt rope.
All your dog's friends will be jealous.
BUY HERE: $12.99–$14.99 from BarkShop
5. Personalized Dog Bandana
We're really digging the cozy look of this plaid flannel bandana from Ohbarks. This shop has tons of color and size options for your pup's own personalized Christmas bandana!
Why We Love It:
Personalized with your dog's name.
Lots of color and size options.
Made in Nevada, USA.
BUY HERE: $10.80–$25.20 from Etsy
6. Personalized Dog Fart Candle
We all know someone who has a dog with weaponized farts. Heck, there's probably some human-only households out there who could use this candle, too.
Why We Love It:
Haha, farts.
So many delicious scents to choose from to cover up the fart smell.
Made in Rhode Island, USA.
BUY HERE: $12.60–$28.80 from Etsy
7. BARK Chestnuts Fire Toy
No chestnuts were harmed in the making of this toy, but we can't say the same once your dog gets a hold of it! Made with t-shirt rope that's begging to be tugged. Plus, your dog will go nuts for the crinkle fire and squeaky chestnuts!
Why We Love It:
This toy has everything! It's got rope. It's got crinkle. It's got squeaks!
Festively adorable.
Budget-friendly stocking stuffer.
BUY HERE: $10.00 from BarkShop
8. Knitted Dog Scarf And Hat
This incredibly adorable matching hat and scarf set will keep your dog cute 'n' cozy this winter. The hat has ear holes and an under-chin tie to help keep it in place—more importantly, both pieces have fuzzy pom-poms that kick the cuteness into overdrive. This will definitely be an Instagram-worthy stocking stuffer.
Why We Love It:
Made in New York, USA.
Matching set for easy gifting.
Stinkin' cute winter pattern will keep your pup warm and fashionable.
BUY HERE: $14.44–$25.49 from Etsy
9. BARK "Pumpkin Spice Up Your Life" Topper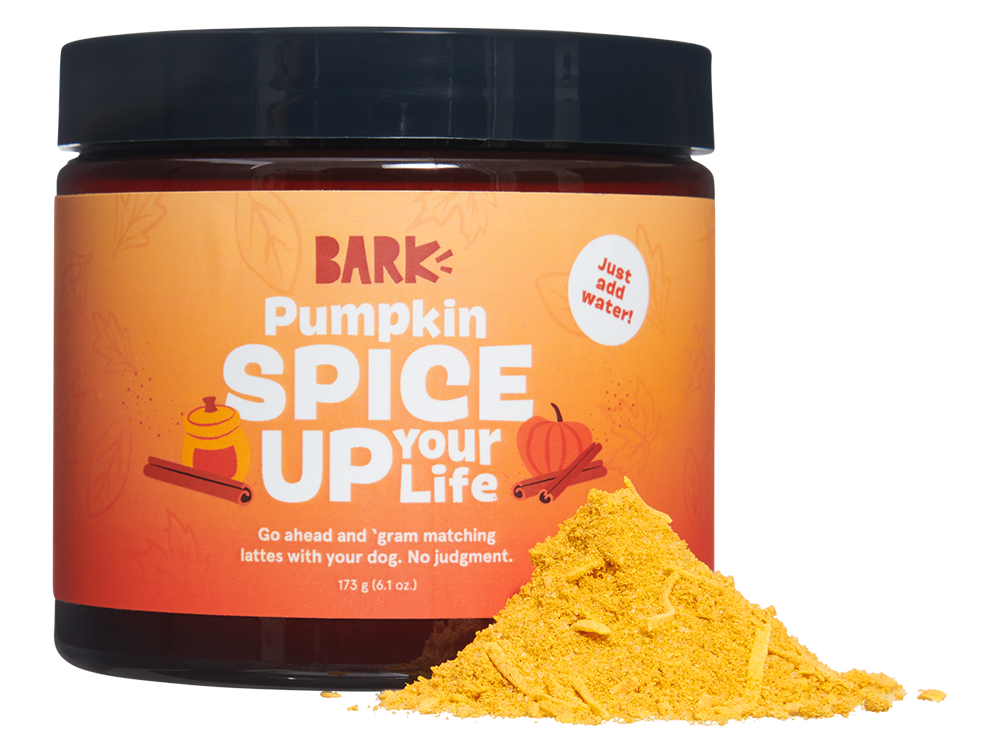 Make pumpkin spice season last all winter long with this tasty topper! BARK's Pumpkin Spice Up Your Life topper can be added as a broth to kibble for extra flavor! Better yet, use it in powder form to top off a pup cup from your local dog-lovin' coffee shop, so you can both enjoy a pick-me-up while the house is invaded by relatives.
Why We Love It:
Sprinkle powder (or add water to make a broth) over your dog's food for added flavor.
6 simple ingredients: pumpkin, honey, cinnamon, coconut flakes, vanilla, & ginger.
Pumpkin is rich is soluble fiber that helps support healthy digestion.
BUY HERE: $15 from BARK Food
10. Pooping Pooches Dog Calendar
The best purchase you will ever make for that person in your life who loves potty humor. Who are we kidding, if you're anything like us you're probably purchasing this for yourself. And we applaud you!
Why We Love It:
It's pooping dogs. What's not to love?!
Ideal for the dog person who already has everything.
Add appointment reminders and other very important non-poop-related tasks.
BUY HERE: $14.99 from Etsy
11. BARK Bada Bing! Bada Beef! Topper
Dogs may not be picky about the garbage they filch from the trash can, but they can sometimes be fussy with food. Just sprinkle this 100% beef liver topper over their meals and they'll be ready to join the Clean Bowl Club.
Why We Love It:
Single-ingredient—100% beef liver.
Add a burst of meaty flavor to your dog's food.
Easy-to-use flip top shaker.
BUY HERE: $10 from BARK Food
12. Dog Ring Holder
This 3D-printed geometric dog will guard your jewelry like his life depends on it! Luckily, this pup is rolling over for belly rubs, which gives you four little leggies to stack all your rings onto.
Why We Love It:
Made in Illinois, USA.
This pup's roll-over position gives you 4 legs to stack rings on.
Neutral color options to match any decor.
BUY HERE: $14.50 from Etsy
13. BARK Ho-Ho Cookie Dough Tennis Balls
With a squeaker freshly baked into each tennis ball, the games of fetch can last all season long. Your pup will be saying "Let it throw. Let it throw. Let it throw." Oh. You didn't know your dog calls you "it?"
Why We Love It:
These tennis balls squeak!
Who would ever buy a regular tennis ball when these are an option?!
Your dog has their own cookies, so they don't need to steal Santa's.
BUY HERE: $8.00 from BarkShop
14. Custom Dog Socks
Silly socks are always a go-to stocking stuffer. Even if your family's sock collection is overflowing, there's always room for socks WITH YOU DOG'S FACE! Plus, there are tons of background colors and options to choose from.
Why We Love It:
Your dog can lay on your feet at all times—even when you're at work.
23 different backgrounds.
Made in Oregon, USA.
BUY HERE: $6.29 from Etsy
15. BARK Marv & Harry Toys
Go ahead dog, do your worst! Chomp on Marv or Harry's squeaky head! Grab their floppy legs and thrash them around! They can take it… but he is NOT going out the window.
Why We Love It:
Christmas classics!
Squeaky, squishy, floppy, and great for indoor fetch.
Use as an apology for leaving your dog home alone.
BUY HARRY HERE: $12 from BarkShop
BUY MARV HERE: $12 from BarkShop
16. BARK Hedge On A Ledge Rip N' Reveal Toy
Awwww, how cute! This lil' holiday hedgie is watching your every move, silently judging you. Tear the top layer for more fun, :and more than you bargained for.
Why We Love It:
Hidden squeaky surprise inside!
Eerily adorable…
Less haunting than your kid's elf on a shelf. Or is it?
BUY HERE: $12.00 from BARK
17. Friendship Collar Matching Dog Collar & Pet Parent Bracelet
Does anything feel more like the holidays than a good buffalo plaid print? We don't think so. That's why we found this matching dog collar and pet parent bracelet, so you and your pup can both enjoy some plaid this season.
Why We Love It:
Made with waterproof vegan leather.
Sizes XXX Small–XXL. 👀 (No, not that kind of XXX!)
Tons of color options to match with your pup.
BUY HERE: $45.00 from Friendship Collar
18. BARK Gingerbrew Man Toy Bundle
This coffee and cookie dog toy is for pups on the move. A dynamic duo made up of a gingerbread cookie and coffee drink, this toy is great for small dogs who love squeakers and crazy crinkle. See if your pup can catch up and keep up with these seasonal snack toys.
Why We Love It:
Two toys in one!
Squeakers, crinkle, & packed with fluff.
If your dog can share, you can keep one & gift the other.
BUY HERE: $7.99 from BARK
19. Custom Dog Ornament
The Fancy Fanny Shop (stop laughing, Brits!) makes personalized ornaments printed with permanent ink. Each ornament can be personalized with your pup's name and photo, and you have bunches of ornament colors to choose from.
Why We Love It:
Your choice of ornament color & name color.
Customized with your pup's adorable face.
Made in Kansas, USA.
BUY HERE: $18.23 from Etsy
20. Corgi Butt Heart Shape Cookie Cutter
It's a universal truth that no matter what type of dog a person has, corgi butts are loved by everyone. They're made of fluff and magic—just like cookies.
Why We Love It:
Made from food-safe PETG and PLA plastic.
Comes in multiple sizes.
Made in Florida, USA.
BUY HERE: $6.75–9.25 from Etsy