The stars have aligned for BarkBox and Super Chewer subscribers this March—zodiac toys are here! Check this squeak's horoscope below each snuggable, gnawable, rip-and tear-able pair. The opportunity is yours, the playtime is now. Add these toys to your box via your account dashboard before the planets turn tail in retrograde. If you're new here, sign up for BarkBox or Super Chewer and choose a FREE zodiac toy!
What Toys Are In The Zodiac Collection?
Aries
Chew beginnings are on the horizon, Aries, as you finally meet your playtime match. A new friend bearing squeaker and crinkle, or perhaps a tough rubber core, could help release your restless energy.
Taurus
Taurus, you're good at staying grounded, but these fetching toys may have you jumping to new heights. A stretchy t-shirt rope and nylon horns are calling you to tug. Don't let go. Ever.
Gemini
Gemini, now's your time to start a new playtime project. The Chewniverse brings a gift that you can snuggle, fetch, chew, or toss! Accept the offering with open paws.
Cancer
Cancer, don't shy away from playtime. When you see a tuggable t-shirt rope or corduroy nylon straps, grab hold. It's not a challenge from your favorite human. It's an invitation.
Leo
The muse of playtime is squeaking to you, Leo. A new opportunity has arrived, and it brings endless fun and a roaring squeak. It's time to pounce.
Virgo
The wolf inside you has been softly woofing for a while, Virgo. It's okay to bust out a happy butt wiggle at playtime. Listen to the songbird's squeak, the dispensing treats… and lose yourself in the moment.
Libra
When a mysterious gift arrives, you may wonder what to do next. Do you thrash, do you tug? Listen to your tail, Libra—if it wags, you've chosen wisely.
Scorpio
Scorpio, you have trouble letting go. We know because you've already got the pull-through t-shirt rope (or tough nylon tail) in your mouth. Hear the Goddess who handed you this toy: drop it. Drop it. Drop it.
Sagittarius
The stars have aligned and brought you a companion to wrestle, chomp, and carry to the far reaches of the backyard. The playtime is now, Sagittarius. Squeak your truth.
Capricorn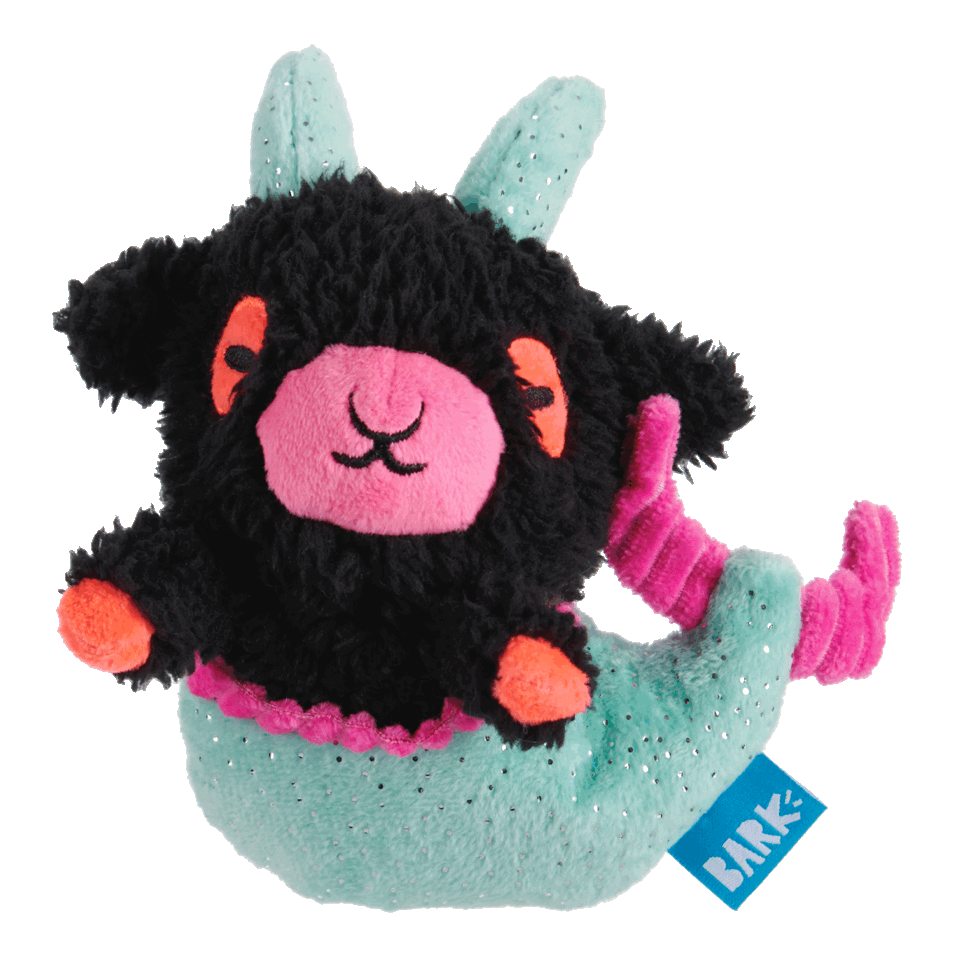 Capricorn, there's something you've been chasing for a while. It's soft, it chewable, and it squeaks. To fetch what you're after, you must jump at the right time. Mark your intention and bark it into the world.
Aquarius
Dig deeper, Aquarius: pull the crinkly, squeaky water out of the jug. Tug the flowing stream of durable nylon. A curious nose might find tasty treats, or the mouth-watering scent of vanilla-mint rubber. Unless Mercury is in retrograde. Or the human forgot.
Pisces
It's not your imagination, Pisces—the Goddess has delivered double the fun in one package. Play with a trusted friend, or save the extra fetchin' for later. Playtime is on your side.
Pay attention to the direction your zoomies take you, and add this month's zodiac toy to your next box before it's gone!