If you're a Cocker Spaniel parent, you're in good company! Many prominent figures also adore these gorgeous dogs. As a Cocker Spaniel parent, you're in the same club as Oprah Winfrey, Prince William and Duchess Kate, John F. Kennedy, and George Clooney – ever heard of them? It's no wonder they're so well-loved. Cocker Spaniels are the perfect mix of good looks, athleticism, and personality. They're the smallest member of the Sporting Breed Group, meaning they're fun-sized but are still sporty and full of energy! Plus, Cocker Spaniels are incredible sociable, affectionate, and the ultimate-people pleasers!
Cocker Spaniels are known for their sophisticated looks and long, luscious locks fit for a shampoo commercial. In fact, the refined Lady in Lady and The Tramp is a Cocker Spaniel! But don't let their petite stature and majestic manes fool you. Cocker Spaniels are active, cheeky, and eager to play!
Though playtime is an important part of every happy dog's life, it's especially important for breeds who are very food-motivated, energetic, and sociable. Due to these classic Cocker Spaniel traits, playtime is crucial in preventing obesity, restlessness, destructive behaviors, and loneliness. Maximize your Cocker Spaniel's playtime with toys tailored to the breed's instincts, physical capabilities, and preferences!
Fetch Toys are perfect for Cocker Spaniels due to their breed's background, activity level, and desire to connect with humans. Cocker Spaniels were bred to be hunting dogs. So retrieving, fetching, and catching things runs in their blood! With these hunting instincts, your Cocker Spaniel is bound to be a pro at fetch.
Plus, Cocker Spaniels are the ultimate people-pleasers. Thus, your pup will be even more driven to retrieve when she sees how much you enjoy fetch too! Fetch is an excellent way to help your Cocker Spaniel burn off excess energy and prevent restlessness or destructive behaviors. If your pup wants an added challenge, try using fetch-friendly balls with extreme-bouncing capabilities like BARK's "Best Balls Ever"!
Change up your pup's playtime with Thinker Toys! These are puzzle toys that exercise your canine's noggin. You may not think of your Cocker Spaniel as a brainiac, but don't underestimate them! With a little food motivation, a Cocker Spaniel can do anything. These puzzles will entertain you and your pup as they navigate the toy's compartments and unearth the grandest treasure ever: treats!
Thinker Toys are available in a variety of designs and levels of difficulty. The "Dog Brick Puzzle" is a fun, intermediate-level puzzle that's perfect for your Cocker Spaniel! Warning: you may end up with a Cocky Spaniel after a few puzzle triumphs.
Because of their bird hunting background, many Cocker Spaniels love soft toys they can hold in their mouths and chew. Plush Toys are perfect for your mouthy pup! They provide an appropriate outlet for your Cocker Spaniel to exercise their chewing instincts – a.k.a. you'll no longer come home to devoured shoes. And if you want to seriously tap into your Cocker Spaniel's instincts, treat them with a bird plush toy like "Flappin' Flossie." Your Cocker Spaniel will instantly feel connected to their bird-hunting ancestors while merrily munching away!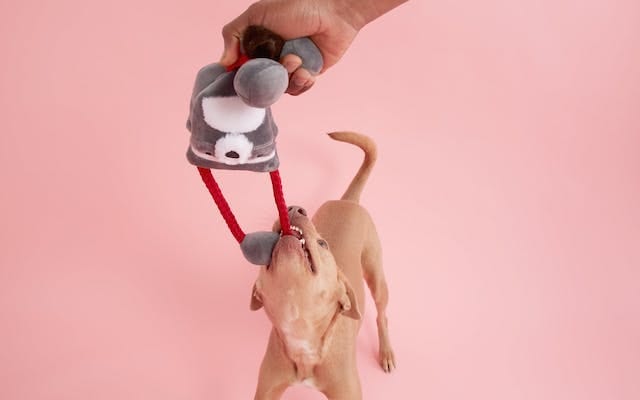 Get more involved in your Cocker Spaniel's playtime with Tug Toys! Like we said, these pups are energetic and food motivated. So games of tug-o-war are perfect for getting your Cocker Spaniel the physical activity they need to burn off extra energy and calories. Plus, Cocker Spaniels are affectionate pups who treasure nothing more than quality time with their humans (well…besides treats). Tug toys are the perfect interactive toys for high quality bonding and playtime!
Dog parents are unsung heroes. Unfortunately, we can't speak the same language as our furry babies. Until technology develops a cross-species translator, we have to guess what treats make our pup drool or what toys our dogs will go bonkers over. Don't want to take the risk of choosing a toy your Cocker Spaniel will play with for merely 2.56 seconds? Or maybe you just want to spoil your Fido with a variety of playtime goodies? Then BarkBox is calling your name!
BarkBox is a monthly subscription service that delivers a collection of dog treats and toys right to your door! Each BarkBox is curated around a unique theme and includes 2 high-quality toys, 2 bags of all-natural treats, and a meaty chew. Basically, it's a treasure chest for your fun-loving, food-crazed Cocker Spaniel!
Featured image via Salvatore Mamì