Having trouble finding creative dog toys that aren't too big or too heavy for your Maltese?
Best known for their distinctive white hair and compact body structure, Maltese pups can easily steal your heart. What they lack in height they certainly make up for with their big personalities and entertaining facial expression! This vocal and affectionate toy breed were very popular as a luxury pet of the upper-classes back in the day. No wonder they're so comfortable being spoiled by their humans!
It's not always easy to find the right toy match for your tiny one. If you're the proud parent of a Maltese, be ready to do everything you can to make sure your four-legged friend stays happy and healthy. Although your pup doesn't need much exercise, they're full of energy and need the right toys to keep them busy.
It's time to take the guesswork out of shopping for toys. No more wandering up and down the pet aisle trying to find something small enough, light enough, or noisy enough to keep your pup interested. The bold and feisty Maltese pups are also super playful and there are so many options to pick from. No worries, we've narrowed down the list of toys best suited for the pup who deserves it all!
These special dogs require a lot of care. Not only with their beauty routines, but also with picking their play items. The weight and size of a toy must always be at the front of your mind when shopping for your white haired friend. Maltese pups tend to weigh up to 6 lbs and anything too heavy will leave your pal quickly uninterested. Small squeaky toys like "Grimbold the Dragon" and "Chompin Charlie" are light and easy for your pup to play with and carry around the house. Furry toys like "Glidin' Gladys" are also top picks, since Malteses are great cuddle buddies who love snuggling up with their toys when they're home alone or tired from playing.
What's better than finding a treat inside one of your toys? Nothing! Multi-part toys give your pup tons of fun play time and can also be used for a game of fetch. With small sets like "Andi's Famous Plush Dumplings" you can even tuck the treats inside and watch your little one go to work!
These tiny pup have even tinier teeth and they enjoy a good chomping session. Baby carrots are an easy and tasty treat that can keep your pooch gnawing away for a while. When it come to chew toys you want to aim for something that will withstand the constant chewing and help with oral care. These pups often experience gum disease and tartar and plaque build-up. Reach for chew toys like Just For Puppies Key Ring and "Lil' Pup Bone" to take care of those teeth while allowing your four-legged friend to chew on something other than your shoes!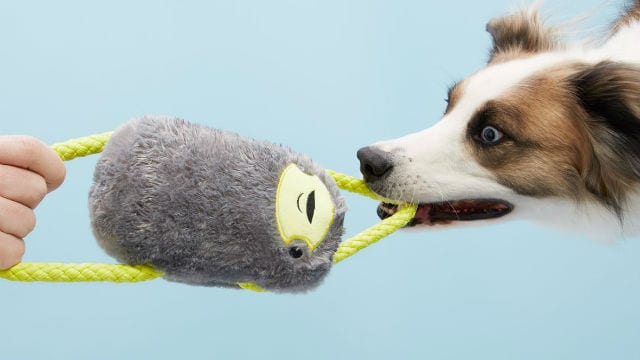 Malteses love their humans and will want to play games with them. Tug-o-War is a great interactive way to play one on one. Tug toys with rope handles are best. Your buddy can really dig their small teeth into the texture for a good hold in their tiny mouths and pull as much as their 4 to 6 lbs body will allow! The challenge is finding a toy with rope handles that aren't too big or heavy for your Maltese. Try the "Black Tie Balloons" and "Pupper Airplane." The soft and stretchy t-shirt rope will be comfortable in your pooch's mouth during your epic battle of strength.
BarkBox saves pup parents the headache of trips to the pet stores. They do all of the work to find the right toys and treats for your Maltese and sends them to your door every month! You pup gives you a lot of joy, so give some joy back to your furry sidekick with the Classic BarkBox starting at $22. Each box arrives carefully curated with 2 innovative toys to captivate your pup, 2 bags of all-natural treats, and a tasty chew. One of the best features is that you, the person who knows your pup the best, are able to tailor the box to fit your Maltese's needs! Feel free to reach out to the team on BarkBox.com or email at [email protected] if you have any questions.