When it comes to playing fetch with your puppers, not all toys are created equal! It's one thing if you've got a big dog you're playing with, but it's a whole other ballgame if you're playing with a little guy. Make sure you're playing fetch with the right toys for your small dog so you can maximize the fun times. We've pulled together the perfect options for your perfectly pint-sized pup below.
You can't go wrong with any kind of plush toy for your little dog. They're light enough that even if they're large in size, your dog will be able to pick it up and bring it back to you. Don't get something that will completely overwhelm your dog or they won't be able to drag it back, but play around with a few options to see which one they like most. BARK's large selection of Plush Toys will give you plenty to choose from.
Similar to plush toys, tuggable toys are stuffed with light, fluffy filling but have ropes on them somewhere, which make it easier for your small dog to pick them up to bring back to you. They're still light enough to fit in their mouth but sturdy enough for a serious game of fetch — and probably tug-of-war. BARK's selection of Tug Toys range in size, so you can easily find something for whatever breed of dog you have in your house.
You can't go wrong with a standard tennis ball when it comes to playing fetch. Depending on how small your dog is, you might have to find smaller tennis balls, but they do exist! Some tiny dogs love the challenge of a larger tennis ball, though, so whatever floats your doggy's boat is the route you should go.
Better yet, BARK has the "Best Balls Ever," which are like tennis balls but…you know, better. Mainly because they squeak in ways tennis balls WISH they could squeak.
Flying Discs
It's easy to send these sailing through the air for your dog to catch, and the thin plastic is easy for them to get their mouths around. Plus, they're light for them to carry back to you. You can get any kind of plastic disc to serve this purpose, but we like this Discraft Ultra Star Sport Disc for just $9.05.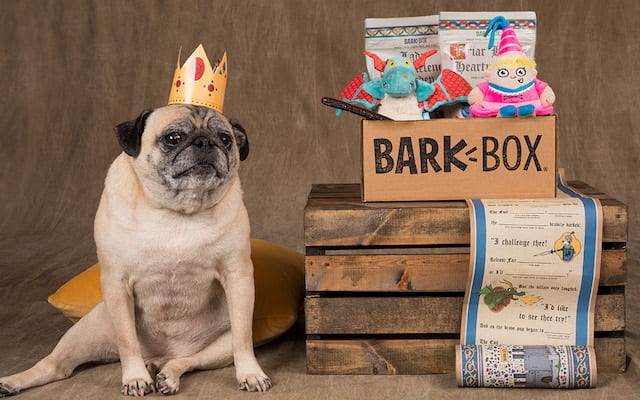 Maybe you just want a selection of toys to choose from, and maybe you want them to come right to your door every month. Guess what? WE CAN DO THAT FOR YOU. With the BarkBox, you'll get 2 original toys, 2 bags of treats, and 1 meaty chew — all tailored for your tiny pup. It'll come right to your door for as low as $29 per month, but it's valued at more than $45 for each box. What a steal!